Kale thrives in cool weather and it's plentiful at the markets right now along with onions, garlic and fresh ginger root. The addition of some crispy bacon and just about any local cheese is wonderful on this sandwich.  If you have some artisan bread, a panini is an excellent way to melt the cheese, otherwise you can put the whole sandwich in a toaster oven for a couple of minutes to finish melting the cheese and blend the flavors. This is just as good with a substitute meat or leaving it off completely. It's the perfect complement to some of the late harvested cherry tomatoes or a cup of roasted tomato soup once the weather turns chilly.
It's simple to make the base stir fry for this sandwich. Make some extra because it's also good mixed into rice as a side dish.  It only takes about a tablespoon of olive oil to get this going. The kale retains a lot of water and releases it as it cooks down. You'll only need a teaspoon of soy sauce in this so you compliment but don't overpower the ginger, garlic, onions and kale. The small amount won't compete with your bacon or cheese either.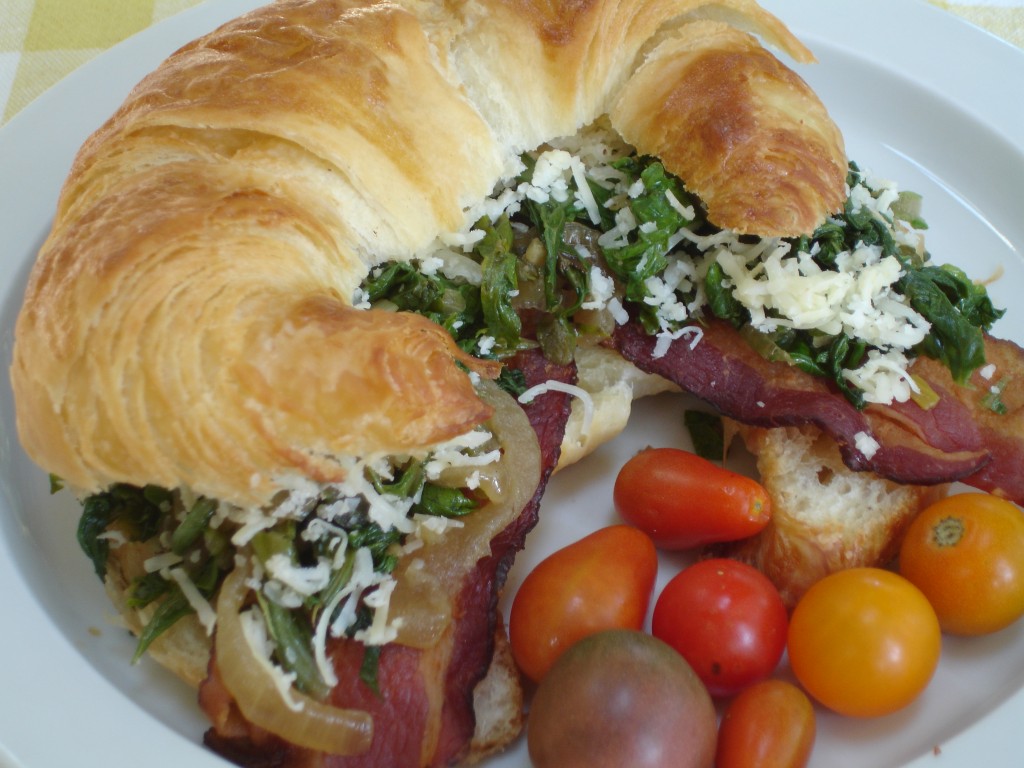 Kale Stir Fry Sandwich with Smoked Bacon & Cheese
Ingredients
4 cups raw kale, roughly chopped
If you have thick stems, cut them out and chop them more finely.
1/2 cup sliced onions
1/2 teaspoon clove garlic, minced (or roasted)
1/2 teaspoon fresh ginger, minced
2 slices cooked bacon
1/4 cup shredded local cheese (feta, swiss, asiago)
Preparation
Saute the sliced onion in about 2 teaspoons olive oil until they are golden brown on low/medium heat. If you have these already cooked and frozen, just thaw them and briefly warm).
Add the garlic and ginger as the onions finish browning and cook for about a minute on low heat. Roasted garlic works well here too.
Add the kale stems first if you have cut them separately and turn up the heat to medium/high. As those begin to soften, add the chopped kale. You may need to add a couple of teaspoons of broth, water or oil to make sure the kale doesn't stick as it starts to cook. As it cooks, it will release water. I normally cover the kale initially to keep the steam in the saute pan and then uncover to cook off any extra liquid. Cook until the kale is wilted.
Add the soy sauce at the end so it cooks for about a minute or two with all of the ingredients.
Assemble your sandwich and either toast or put into a panini pan to crisp up the outside and melt the cheese. This will cause all the excess juices to go into the bread as well, so you want to make sure you have cooked off a majority of them. '
Serve with some cherry tomatoes or a cup of roasted tomato soup, depending on the weather.