During the past few weeks, I've been going through some of my very oldest recipes, dating back more than 25 years. What I noticed was the "heavy" nature of most of them. Laden with tons of meat and sauces, they don't really fit the way I eat now. But like most people, I like my "comfort food" and many of these recipes were given to me by my mother and grandmother. So I'm spending some time changing them to fit a more active and healthy lifestyle.
One of my less favorite recipes was green bell stuffed peppers. Back in the day they were stuffed with bread crumbs and meat. I'm still not fond of green bell peppers although I recognize their importance in some recipes, I really prefer red, yellow and orange peppers. So a couple of weeks ago when I picked up a bag of paprika peppers from Wild Onion Farm, my original intent was to dehydrate them for a paprika powder. But there were so many, that I decided to stuff these to have on a salad. That was back when it was still hot. Now it's chilly and I think a bowl of warm soup would be more appropriate! These taste quite a bit different from the standard bell peppers and Italian frying peppers that I normally use. They are quite crunchy and not as sweet  or juicy as the red or yellow/orange bell peppers.  They range in size quite a bit and don't seem to have as many seeds or veins as other types of peppers so they are easy to clean for stuffing. They dry well in a dehydrator too.
I had some extra cooked spicy pork sausage,  hamburger,  and roasted tomatoes left from another recipe. I made up some NC grown brown rice and white basmati rice and proceeded to make up a simple stuffing for these peppers. It was easy to cut off their tops and get out most of the seeds with my fingers. Then I simply stuffed them with the mixture and baked them until the peppers were just soft enough to be cooked through but not mushy. It's a good example of how to use those few leftovers to pull together a meal quickly. You could use some leftover meatloaf to make this or add in some shredded greens like chard, tatsoi to add some additional color and flavor.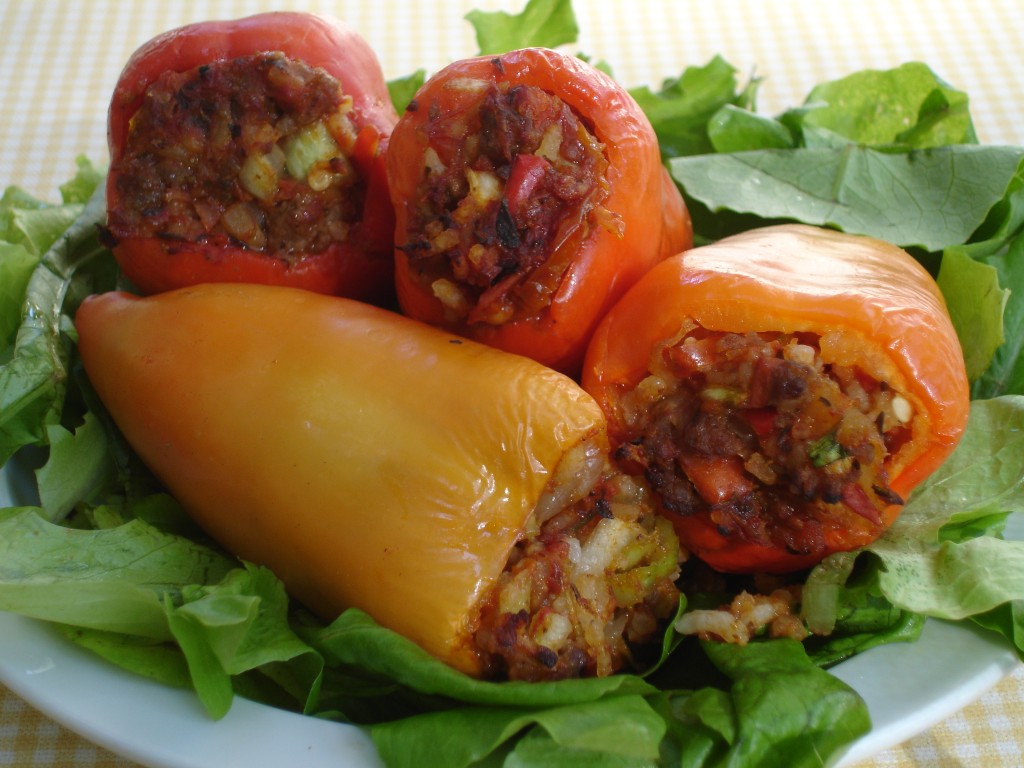 Stuffed Paprika Peppers
Ingredients
6 -8 Paprika Peppers, washed, dried with tops removed. Leave whole and remove seeds
1 1/2 – 2 cups rice (mixed brown &  basmati)
1/2 lb cooked spicy sausage (defatted)
1/2 lb cooked hamburger (defatted)
8 oz roasted onions
12 oz roasted tomatoes, pureed
1 cup shredded stems and leaves of bok choy, baby chard leaves, or tatsoi leaves
1 teaspoon Italian herbs
1 teaspoon dried basil (2 teaspoons fresh if you have it)
Chardonnay Oak Barrel Smoked Salt to taste
Ground fresh mixed peppercorns to taste
Preparation
Mix everything together except the roasted tomatoes. Add the amount of roasted tomatoes that are needed to make the rest of the mixture hold together. This will vary from 8-12 ounces. If you like the stuffing more moist, just add more.
Everything is cooked already so you can adjust the salt and pepper when you finish mixing it all together.
Bake at 375F for about 30 minutes uncovered and upright in a casserole dish.
You can use some crunched up foil in the bottom to help them stand up better. Otherwise the stuffing will fall out during the cooking process.
Remove and serve with soup or on a salad.
Notes
This could be made with chicken sausage, meatloaf or with a soy based sausage substitute
Couscous or quinoa could substitute for rice
Fresh basil is a good addition