About a week ago I started researching new recipes for turnips and ended up with this surprisingly delightful adaptation from another blog site. Since one of our local farmers has about 1,000 pounds of turnips saved up for the winter,  I know I can get them for a while, which makes testing new recipes a lot easier, so be on the lookout!  Apparently, they are easy to plant and grow and have the added benefit of storing well.  He also simply loves to eat these root vegetables above all others.
As you head out to the special Thanksgiving Farmers' Markets today and tomorrow, pick up extra turnips and shiitake mushrooms for this surprising recipe! It's an adaptation of one I found at the blog "easypeasyorganic". The original recipe uses potatoes and cabbage and a lot more milk. I eliminated most of the milk and didn't need to use the cornstarch when I made it as a result. But you can add it back in if you want more creamy sauce for other side dishes. It took no time to make using a Dutch oven and we finished eating the entire batch right out of the pot, which is why there isn't a lovely picture in the post. Use as large a pot as you have because the veggies need to touch the bottom to caramelize instead of steaming as they cook. Save the turnip greens, you can use those in another recipe.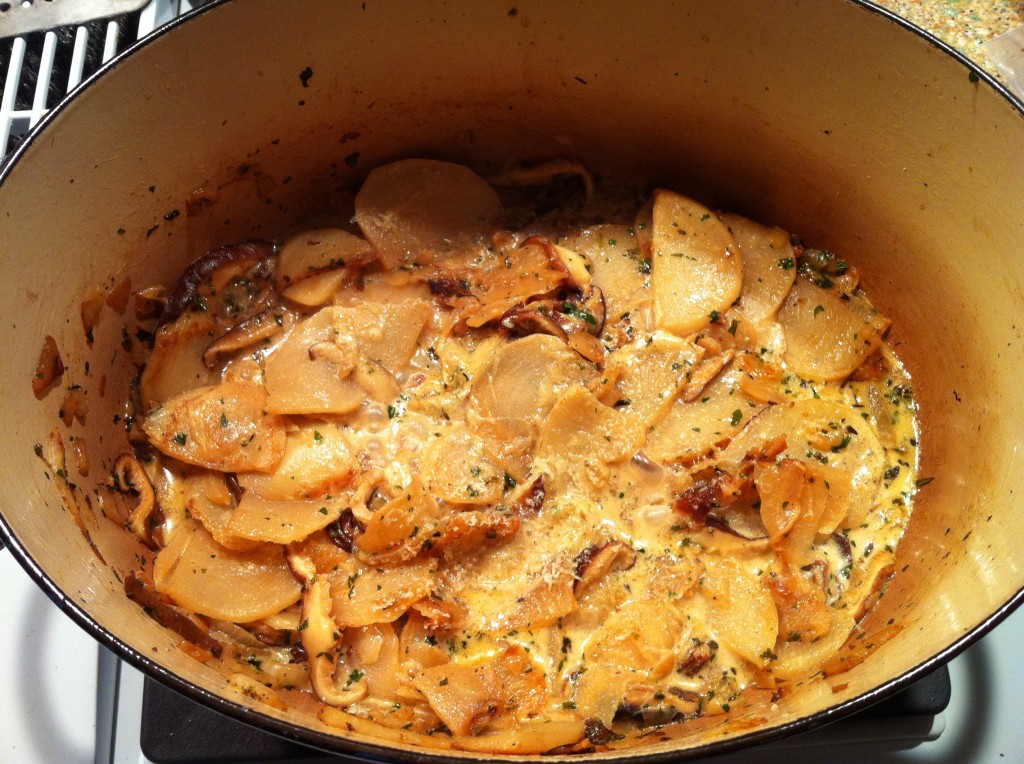 Scalloped Turnips
Ingredients
2 lbs of turnips, washed and thinly sliced (1/8″ thick), and then halved
1/2 lb sweet onion cut in half and sliced thinly
4 oz shiitake mushrooms, cleaned and sliced thinly
4 ounces Chapel Hill Creamery hard cheese, shredded (Thunder Mountain Swiss, Asiago, or Hickory Grove; all will work well)
1/4 cup chicken broth (can substitute vegetable broth)
1/2-1 cup whole milk or half/half (if you use low-fat milk, you may need a thickening agent like cornstarch or arrowroot)
1/2 – 1 teaspoon roasted garlic, smashed into a paste
1/2 teaspoon Himalayan Pink Sea Salt
1/4 teaspoon Chardonnay Oak Barrel or Alder Wood Smoked Salt
1/4 teaspoon Italian Truffle Salt
1 tablespoon butter (can substitute more olive oil)
3 tablespoons olive oil
Preparation
Heat a Dutch oven up on medium heat with 1 tablespoon olive oil. When the oil is hot ( not smoking), add  onions and stir to coat with a spatula. Cover and stir every 3-4 minutes until they are beginning to turn translucent. There will be a lot of moisture from the onions that will help keep them from sticking.
When the onions have started to soften and turn translucent, it's time to add another tablespoon of olive oil, Himalayan Sea Salt and then the turnip slices. Stir to coat them with the oil and distribute the onions. Cook at medium high heat to caramelize the turnip slices and onions. Leave the lid off if it seems like the veggies are steaming and not caramelizing. Keeping it on keeps the heat in the pot, so it's a balancing act. Use a large enough pan so that there is plenty of surface area for the veggies to touch the hot bottom of the pot which helps them caramelize. Remove the turnips and onions and set aside when they are finished cooking.
In the same pan, add the butter and another tablespoon of olive oil while the pan is still hot. Let the butter melt and as it starts to sizzle, add the mushrooms and stir to coat. Cook the mushrooms quickly at medium/high heat. This takes just a few minutes and they should be slightly browned and crispy on some of the edges. They will shrink up considerably.
When the mushrooms are done, add them to the turnips and onions.
Add the chicken broth to the warm pan and deglaze it.
Add the 1/4 teaspoon Smoked Salt (Chardonnay or Alder Wood)
Add the garlic to chicken broth and mix well.
Add 1/2 cup of milk to the chicken broth and garlic and blend well.
Add the vegetables and the Truffle Salt into the liquid. Stir to coat them. The vegetables will soak up some of the liquid. Add the cheese and stir to melt.
Check the amount of liquid and adjust the seasonings.  If the dish seems to thin you can use cornstarch or arrowroot mixed into some cool milk or broth (avoids the clumping issue) or you can just cook for a few minutes on low to eliminate some of the water inherent in the milk and broth. If you need more salt, adjust the smoked salt and truffle salt sparingly.
To make this ahead of time, add it to a buttered or oiled casserole dish and cover when re-heating at 350F. Make sure to add a little extra liquid so it doesn't become too dry when you reheat. The vegetables will take up some of the liquid as it sits in the refrigerator and then again when they re-heat.