If you're a "frequent buyer" at the fall/winter farmers' markets in your area, you know that radishes love cool weather. Most folks think about serving them in salads all summer, but the truth is that here in the south, the heat can make them downright hot and spicy and the best radishes are had just after the main market season closes and just as it reopens in the spring. Around the Triangle, many of the farmers have started growing all sorts of radishes from small candy colored ones that look like they belong in an Easter basket to huge long jumbo Diakon radishes.  So I thought I might throw a simple salad or two together to see how the different varieties combine and work with other fall vegetables like baby spinach and arugula.
The salad I've chosen to share today comes from an inspirational meal at one of favorite restaurants. It is quite colorful, which is probably why I liked it from the start. And, you'll be able to vary both the radish types and the greens in this recipe to suit your local market offerings. I have left the skins on the radishes to add more color to the salad, so make sure to wash the outside of the veggies well to remove any dirt. You can lightly blanch the radishes to reduce the spicy flavor a little and  it also makes them more pliable in the salad. If you happen to have a spiral slicer in your cabinet, this is an excellent time to pull it out and use it on the radishes so they look and feel like noodles in your mouth. The noodle texture is amazing in this dish, but it's certainly not a requirement.
For the greens, you'll need something that is fairly tender so select baby spinach or baby arugula. If you can only find medium leaves, then cut them up a bit into thick ribbons so they will mix well with the julienned radishes and dressing. I've also added sautéed local Shiitake mushrooms and some roasted local duck, which make this a pretty hearty lunch salad with a bowl of Turnip Soup. You can use roasted chicken or substitute some nuts and change the mushrooms to a small button variety and serve them raw if you prefer as well. It's pretty simple to make the mushrooms and the duck (chicken) ahead of time and use them in different dishes over a couple of days. You can serve this as a completely raw salad if you have a preference in that direction using the nuts instead of meat and perhaps adding some pea shoots or sprouts if you have them handy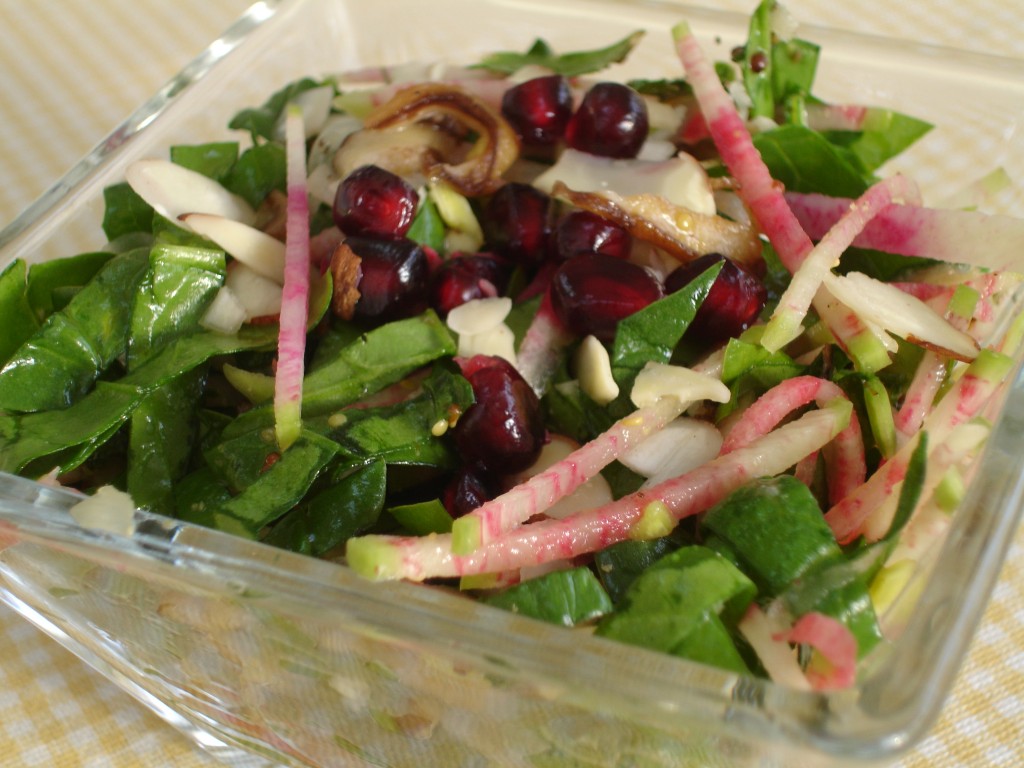 Radish Salad with Baby Greens & Roasted Duck

Ingredients for Salad
2 oz Misato Rose radishes (about 1 radish)
2 oz baby spinach or baby arugula (about 3 cups loose)
2 tablespoons baby leeks or green onion, finely chopped
1 oz raw Shiitake mushrooms
1 tablespoon pomegranate seeds (optional)
2 chopped tablespoon nuts (optional) (toasted or raw)
2 oz chopped roasted duck (optional)
Ingredients for Dressing
2 tablespoons Apple Cider or White Balsamic Vinegar
2 teaspoons  Honey or Maple Syrup
1 teaspoon country-style Dijon mustard (or  local / home-made favorite)
Salt & Pepper to taste
Preparation
Thoroughly wash and dry the outside of your radishes and julienne them. Keep any dark or red-skinned varieties separate until you get ready to serve the salad so they don't change the color of lighter radishes.
Wash and dry the leafy greens. Julienne cut them if they are medium size.
Leeks and green onions can hold some of the sandy soil they are normally grown in, so take extra care in cleaning those. Finely chop.
Gently wipe the mushrooms with a damp paper towel to remove any dirt and pull off the bottoms (save for mushroom stock). Slice into thin slivers and saute quickly in olive oil with either Chardonnay Oak Barrel Smoked Salt or Himalayan Pink sea salt & mixed ground pepper.
Roasted Duck should be sliced into bite sized pieces. You can warm this in olive oil with the mushrooms or just warm it a little before tossing it with the salad. The flavor is better at room temperature or warmed rather than chilled.
Mix the dressing up and toss the salad ingredients all together a half hour before serving. If you like your dressing sweeter, increase the honey or maple syrup.  This dressing does not require oil because the radishes have a lot of nature liquid that blends with the vinegar and honey.