I hope everyone had a lovely holiday break and is ready to embrace the New Year! We won't talk about dieting because holidays are a time to enjoy both cooking and eating treats made by family and friends. What we will do is share a couple of really simple recipes over the next few weeks that you can make with fresh ingredients from your local winter markets. Many of our local Southern farmers seem to be using both low and high tunnel covers this year so we are still able to get lovely greens, fresh leeks, carrots, broccoli, radishes, mushrooms and herbs.
Over the years, I've made cabbage slaw in the Virgina style which is oil and vinegar based. I change the dressing a bit, sometimes using apple cider vinegar, and other times choosing  Balsamic or an Asian variety of vinegar. It just depends on what I'm pairing the salad with for the meal. This simple cabbage slaw can be made with any sort of green cabbage you can find at the market. Just remember you need to select something that is fresh and crisp. The tender baby spinach provides a lovely deep green color but arugula would work just as well and if I had some pea shoots, I would add those into the salad as well!
Carrots are available most of the winter because many farmers that plant them for a fall harvest, leave  extras in the ground over the winter and just pull them as needed. They don't really grow, but if it's a good and reasonably dry season, they store just as well in the ground as in the shed. Last year when we were out at one farm we noticed that most of the green tops of the carrots had been chewed down totally and we learned that sometimes the rabbits make great feasts of the tops all winter, which makes it difficult to find and pull all of the carrots in the spring.
And speaking of the carrot tops. You can either cook them into a broth or you can chop them very fine and add nuts and cheese for a pesto or ravioli filling. They are loaded with potassium, so check with your doctor if you are on any medications that requires you to limit your intake.
This salad pairs really nicely with duck. The recipe is set up to feed 4 people as a side salad or two people as a main dish. You can add more nuts for some additional protein. I prefer almonds in this salad but I have used local pecan pieces with excellent results after lightly toasting them in the oven.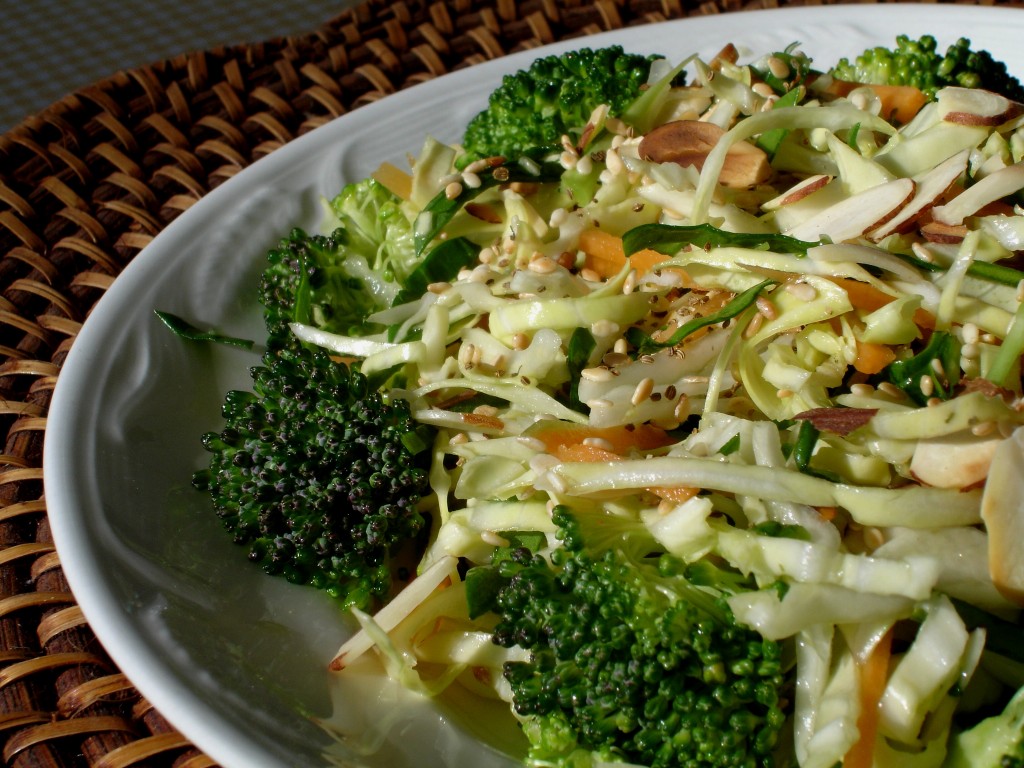 Cabbage, Spinach, Broccoli & Carrot Slaw
Ingredients for Salad
6 cups loosely packed cabbage, julienned
1 cup loosely packed spinach, julienned
1/2 cup loosely packed carrot, julienned
1 cup broccoli florets ( julienned stalks can be added)
1/4 cup finely chopped baby leeks or green scallions
1/4 – 1/2 cup chopped dried apple  or 1/4 cup julienned fresh sweet apple
2 tablespoons slivered almonds (toasted or blanched)
1/2 teaspoon sesame seeds (toasted in dry pan until golden)
2 tablespoon crushed dehydrated onions,  (optional)
Ingredients for Dressing
2  tablespoons apple cider vinegar
2 teaspoons honey
2-3 teaspoons olive oil
1/4 teaspoon celery seed (optional)
Salt & Pepper to taste
Preparation
Julienne cut all of the vegetables and fruit and toss them together with the nuts
Blend the vinegar, oil and honey together and toss with the salad up to and hour before serving. Adding dressing earlier will result in softer vegetables.
Add salt & pepper to the salad after the dressing. The salt will draw out the water from the cabbage and spinach and dilute the dressing.