The past couple of weekends have been spent meeting new farmers and artisan bakers at a couple of local markets where I'll be giving cooking demos during the 2012 season. I'll be starting at Carrboro Farmers' Market on February 11 from 9-12 in the gazebo. And then I'll be sampling local sustainable provisions at the Shared Tables event hosted by Duke & UNC on February 28-29.
During the winter break, I've also had the opportunity to check out some local businesses around Carrboro and Durham that I wasn't able to squeeze into my schedule last year.  The redevelopment of existing buildings in downtown Durham is really redefining the city and bringing a wonderful new group of chefs and artists to the area. The fantastic weather hasn't hurt either!
My visit to the market these past two weekends have yielded some excellent greens that thrive in cooler weather like chard, spinach, baby kale. There has also been some bok choy and napa cabbage to be found if you go early enough. Along with the greens the root veggies are excellent. Beets, rutabagas, turnips, sweet potatoes and carrots have been plentiful. I was also able to get shiitake mushrooms longer than usual and I've put them up for some amazing turnip and mushroom soup.
What goes better with soup than bread? Whether it's a sandwich or just a slice with butter, cheese, or hummus, it's hard to go wrong. Artisan bakers in the area are thriving and it is unfortunately one of my habits to purchase way more bread than I can consume. I'm sure many of you do the same. I have found that wrapping  a portion of the bread right away in wax paper and then putting it into a freezer bag works really well to keep the bread good for a couple of weeks. The frozen bread thaws within a day and it's great for toast, grilled sandwiches, homemade croutons, or as a filler for your favorite meatball recipe or topping for a casserole.
There are a couple of breads that I use regularly in my Strata Recipe. The Polenta bread from Loaf in Durham and the Yeasted Corn Bread from Chicken Bridge Bakery in Carrboro both work equally well.  Recently I was able to try Berenbaum's Potato & Onion Bread. This caramelized onion smells amazing and the bread seems almost sweet. It turned out to be an interesting and subtle foundation for the greens and mushrooms strata, so I thought I would share the recipe in the hopes you will try all three of these bakeries and find something that works for you. You can modify this recipe to accommodate seasonal vegetables and meats.  Using items that are already steamed from a prior meal, frozen or dehydrated can really cut your preparation time to half.
The whole idea for this particular combination started with a beautiful photo of  greens and mushroom baked in a mornay sauce that I found in a cookbook called Long Nights and Log Fires at Quail Ridge Books. I bought this when it was 70F one afternoon, so there was a bit of pretending as I cracked it open to look at the photos.  The original recipe called for buttered bread crumbs to be sprinkled on the top of the dish but I decided that the Potato & Onion bread had enough flavor to stand on its own in something like a strata, so I didn't exactly follow the original recipe. Nothing new there. I did add a step when I originally tested this combination by melting the cheese into the milk like a traditional mornay sauce, but it's not necessary and I don't think it's worth the time it takes and the pan you have to wash.
It should take about 20-30 minutes to cut up the ingredients and assemble the dish. Then about 25-40 minutes to cook and there are some notes in the recipe about the cooking times relative to the type of baking dish used and the oven settings you use. This dish is particularly useful when you have guests over. It is versatile enough for breakfast, lunch or dinner in any season. Just change your side dishes and serve with soup, salads, or fruit depending on the season and time of day.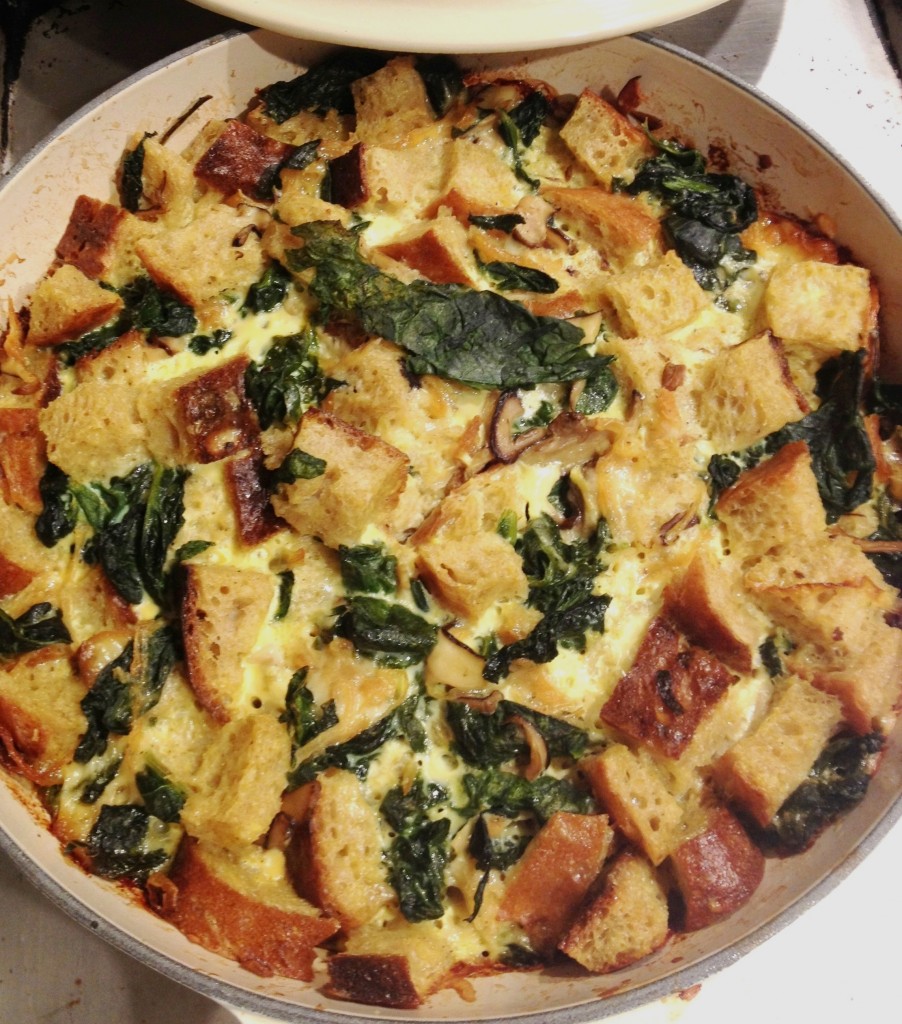 Seasonal Strata with Artisan Bread
Serves 4-6
Ingredients
1 tablespoon butter (Homeland Creamery unsalted)
6 cups of cubed artisan bread
4 large farm eggs
1 1/2 cups milk (Homestead or Homeland Creamery low-fat or whole)
1/2 cup lightly steamed and chopped greens (spinach or chard)
1/4 cup sautéed or roasted sweet onions or baby leeks
1/2 – 3/4 cup pre-cooked & drained bacon or sausage (optional)
1 cup shredded cheese (50/50 mix Chapel Hill Creamery Hickory Grove & Thunder Hill Swiss)
1 teaspoon Himalayan Sea Salt
1/4 teaspoon fresh ground pepper
Baking dish (9″ glass pie pan, 9″x9″ ceramic baking dish, 10″ cast iron dutch casserole)
Preparation
Preheat oven to 350F.
Chop the sweet onions or leeks into 1/4″ – 1/2″ pieces and saute in olive oil for a couple of minutes until they are just beginning to soften. For dehydrated onions, rough chop about 1/8 cup and add to the egg mixture to hydrate a little before baking.
Rough chop the greens. If the spinach or chard is young and tender, lightly steam or saute them (in olive oil, broth or water) for a minute or two just to soften them up. If the greens are a little larger or older, rough chop them and steam them for about 3-4 minutes to make them more pliable. Add to the cooked onions.
In the same pan melt 1 tablespoon of butter to coat the inside of the baking dish you plan to use for baking. You'll use less if it's melted and it helps to brown the edges of the bread and egg and makes clean up a little easier after soaking the dish.
In a mixing bowl, whisk the eggs first until well blended and then whisk in the milk, salt & pepper.
Cut the bread into rough 1″ cubes. Don't worry about taking off the crust unless it's burned or the bread is more than a a couple of days old and very dry on the edges. Day old bread will absorb more of the egg mixture but the crust doesn't absorb much. Add the bread to the egg mixture and let it sit about 5 minutes.
Grate the cheese with a large hole grater. Set aside.
Spread about half of the bread and egg mixture into the coated baking dish evenly. Spread half of the greens and onion mixture over the bread and then sprinkle half of the grated cheese mix over the greens. Repeat the process, reserving some of the liquid egg to pour over the cheese at the end of assembly.
Bake the strata for 25- 35 minutes with the following notes.
Notes
Using a round or square glass pie dish will result in more browning on the top of the strata and the center will cook more slowly so the bake time will be around 30-35 minutes depending on the dryness of the bread.
Using a ceramic round or square bake dish will result in a bake time between 25-30 minutes because the baking dish will retain heat once it warms up. Leave the baking temperature at 350F and check for browning in the last 5-10 minutes. In a prior test, using a convection oven reduced the bake time to 20 minutes with the temperature set at 350F and provided for nice browning.
Using a cast iron casserole with a lid will result in less browning and higher moisture content with baking time around 25 minutes because the heat is retained exceptionally well. The temperature and bake time can be reduced to 325F and 20 – 25 minutes if you are using a high-end convection oven that is pre-heated to 350F. If you want the top of the strata browned, remove the lid for the last 5-10 minutes of baking so it can dry out and brown.
Lastly, using room temperature eggs and milk will allow the strata to cook more evenly and reduce the cooking time by a couple of minutes. In tests, the rise on the egg and milk mixture is nicer and the strata has a lighter texture when the eggs and milk are not chilled. Many strata recipes call for chilling and weighting down the mixture but I have found I prefer the lighter texture and shorter  preparation techniques in this recipe.