So many people turn up their noses at beets. I think both the red and golden are delightful in raw salads. Both are equally wonderful roasted and you can freeze them for use in soups or baked goods all through the year. There is the pickled beet lover. I'm not a huge fan of pickling but this is an excellent way to keep them on your shelf to serve with goat cheese or in a relish for your hot dog.
Many versions of this recipe can be found on the internet. I'm always searching for recipes that can be adapted to use local ingredients, especially when they can be purchased together during a single season. The major change that I made to this recipe is that I swapped out half of the butter for coconut oil which is more healthy and dark chocolate chips from white chips, again, a bit less sugar and fat.
If you're not a coconut fan, it's a 1:1 swap. So go back to butter. The white chocolate chips are very sweet and these cookies are already pretty sweet. The white chips are very pretty with the red color of the cookies, so if you are making this for Valentine's Day, the white might be a holiday change, but I still like the flavor of the dark chips better. The pecan harvest this year was awesome, so I've been using them in everything from raw salads to desserts. T his cookie is soft like the Pumpkin Cookie Recipe in Holly Herrick's cookbook. And like that cookie, I love the texture that toasted pecans provide to the muffin quality of this cookie.
For the beet puree, I simply put a slew of washed beets without the tops into a foil lined baking dish and cover them with foil. This method maintains more nutritional value than boiling.  Bake them for 30 minutes to an hour depending on their size at 350F, until they are tender. Let them cool for a few minutes and (using gloves) simply wipe off the skin and cut off a little of the top and bottom. You can store them in the freezer and slice them later for recipes. You can also puree and freeze them in smaller quantities for use in recipes throughout the year. Don't both with any seasoning when you cook these,  or it will alter your future use of them in recipes.
This recipe makes around 50 cookies depending on the size you make them.  I cut it in half and it was plenty for a couple of days with guests. If you do this, remember to beat your egg and only use half in the recipe. This is a sticky dough and many recipes called for it to be chilled for a couple of hours, but I'm not all that patient and these came out delightfully light and spread out perfectly when they were cooked right away.  I used food grade gloves when I was working with the dough because I find it helps cut down on the sticky nature of the dough. I suspect that you would need to spend more time getting them to look good if they were chilled for a couple of hours. I used two spoons and my fingers to get them all about the same size and they seemed to spread very nicely like muffin tops.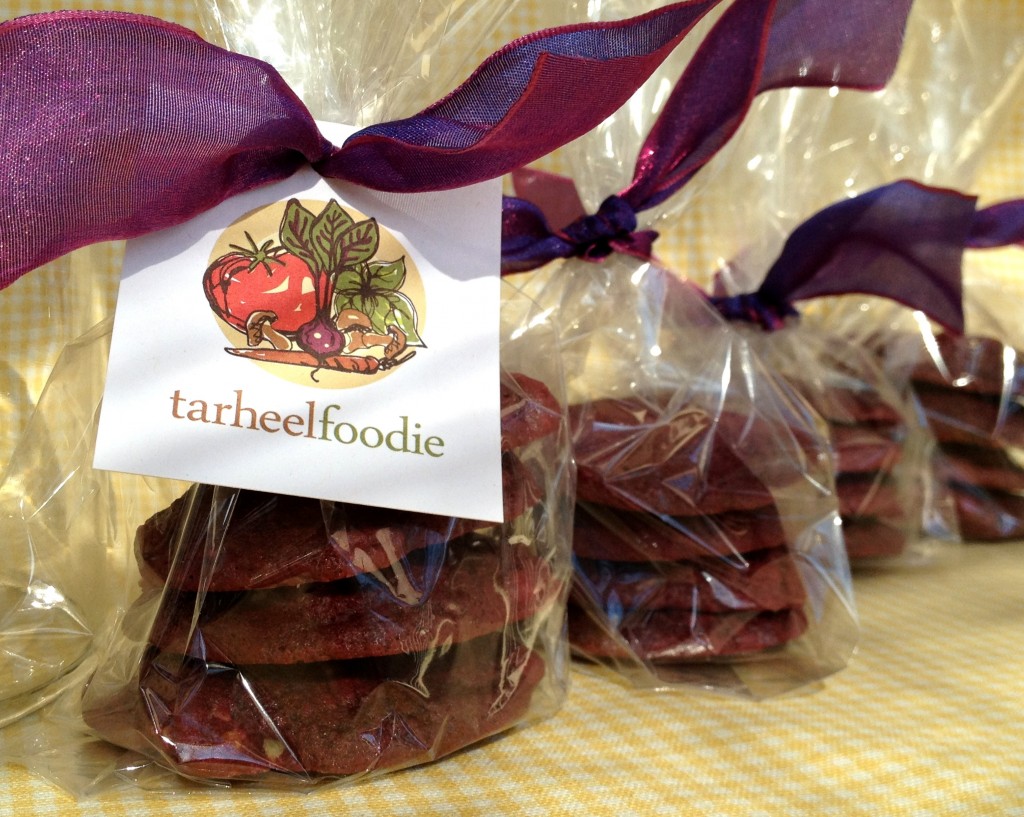 Dark Chocolate Beet & Toasted Pecan Cookies
Ingredients
1/2 cup unsalted butter at room temperature
3/4 – 1 cup cane sugar
1/2 cup light brown sugar
1/2 cup virgin coconut oil (liquid form, but not hot)
1 egg at room temperature
2 teaspoons pure vanilla extract (you can substitute vanilla powder)
3/4 cup of roasted beet puree
1/4 cup buttermilk (no gum gar in the ingredient list)
1 tablespoon apple cider vinegar
2 1/4 cups all-purpose organic flour
1/2 cup unsweetened cocoa powder (Valrhona brand is what I use)
1/2 teaspoon Himalayan Sea Salt (pairs well with beets)
1 teaspoon baking soda
3/4 cup toasted chopped pecans
1 cup dark chocolate chips
Preparation
Sift the flower, salt, baking soda and cocoa powder together in a bowl and set aside.
Cream both sugars into the butter until it's well incorporated.
Add the liquid coconut oil in a steady stream with the mixer on low and then continue to cream it until it seems light and fluffy.
Add the egg and blend well.
Add the vanilla extract, roasted beet puree, buttermilk and apple cider vinegar. Blend well on medium speed. Beets stain so use caution with the speed of your blender.
On low to medium speed, add the dry mixture and incorporate it into the dough.
Increase the speed for about 20-30 seconds to medium/high right at the end to incorporate a little air so the cookies have a light texture, but don't over blend.
By hand,  fold in the chopped pecans and chocolate chips. Use more or less depending on your preference.
Using a couple of spoons, drop about two tablespoons of dough for each cookie onto a cookie sheet that has been line with parchment paper. This will keep them from burning or getting hard on the bottom.
Bake at 350F for about 11-12 minutes. If you eliminate the nuts and chocolate chips, cut back the bake time to 10 minutes.
Cool on the baking sheet for a couple of minutes before transferring to a wire cooling rack or they will stick to the rack.
When you store these, use parchment paper between the layers or they will stick to each other because of the high moisture content. They break very easily, so be gentle.
Notes
If you don't like the taste of coconut, the ratio for butter is 1:1
If you do like coconut, you might try adding some coconut flake when you add the chips and nuts.
European style and stick butter have less water than local butter in a tub
Gum gar in the buttermilk tends to produce odd results in texture