I just got a note from Whitted Bowers Farm outside of Hillsborough in Cedar Grove, NC. Their season for strawberries is going to be early and short this year. It seems that the warm winter has everything coming in early but also has it maturing more quickly which condenses the harvest time. Last year I heard rumblings about this issue from several farmers regarding just about every crop. Even if you don't believe climate change is real, you'll need to add some food preservation skills to your cooking techniques if you want to enjoy some of these crops year-round.
Strawberries are no exception. Last year I sliced quite a few and ran them through the Excalibur dehydrator. I'm still enjoying the crisp little red delights as a snack food this month. And I was able to add them to a cobblers all winter to help thicken the extra liquid that seems to be present with frozen berries, creating a nice rich thick sauce under the crumb topping.
Jams are a good way to preserve seasonal fruit for use in "second harvest" recipes. You don't have to use a ton of sugar to end up with something wonderful that can be frozen and added to smoothies, cobblers, or the top of cakes later in the year. This recipe is an adaptation of several found on the internet. All of the originals had quite a bit more lavender, but I'm not a huge fan of that flavor in my food. This recipe has the amount trimmed down quite a bit so there's just a hint when you're finished and the honey really comes through with the berries. And I used a mix of berries from the farm because like any other fruit or vegetable, there are different sugar levels in each type of berry that contribute to the unique flavor of this recipe.
One note is that this actually tasted better after I canned it and let it sit for a couple of weeks. The lavender flavor blended well and became more subtle over time. And don't leave out the pepper. It's just a smidge and it's important to the overall final flavor just like the lemon in this recipe. I used the Four Corners blend of mixed peppercorns from Savory Spice Shop in my grinder, but fresh ground black pepper will do.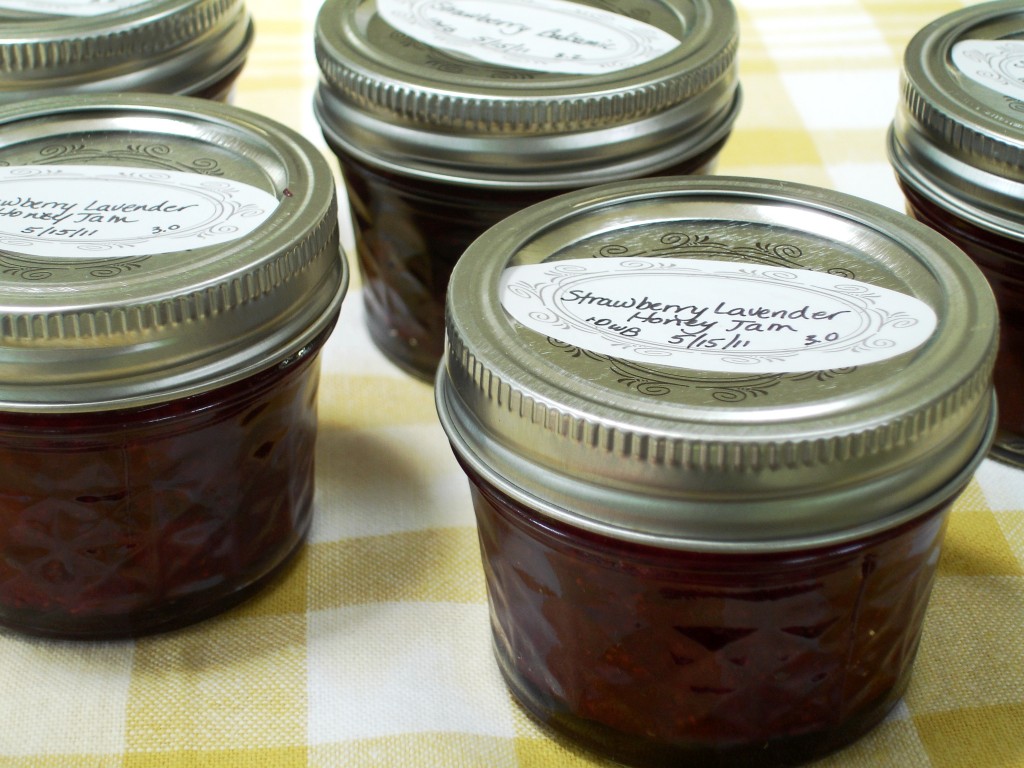 Strawberry, Lavender & Honey Jam
Ingredients
4 cups chopped clean strawberries
1/2 cup organic cane sugar
1/2 cup local honey
1/2 teaspoon dried lavender flower heads (culinary grade)
1/2 teaspoon lemon zest
1/8 teaspoon fresh ground black pepper
Preparation
Gently wash and dry the strawberries, removing any spoiled or bruised parts as well as the tops & stems.
Cut the berries into quarters
Place the lavender in a tea strainer or cheese cloth so you can drop it into the cooking jam.
Cook all of the ingredients for about 10 minutes on medium / high heat, stirring frequently to avoid burning, but keep at a rapid boil to break down the fruit and sugar. A high-wall stainless pan like the Multipro Cuisinart or Le Creuset type dutch oven both work well for this process as they keep the heat very even all the way up the sidewall of the pot.
Lower the heat and remove the chunks of strawberries that are left. Set them aside and continue to cook the liquid for another 10 minutes to reduce and thicken while stirring.
Add the strawberry chunks back into the reduced liquid and taste. Add additional lemon if you like your jam more tart. Other wise refrigerate for 12 hours before freezing or canning.
If you plan to can, I recommend using a pH meter to test your acidity level and adjusting the mixture to meet safe requirements before proceeding to a water bath process.
This should yield about 4 of the 1/2 pint canning jars.
Notes
If you don't have time to make jam or dehydrate right away. You can freeze the berries in small hard containers and come back to make jam later in the season. Many internet comments say you need to coat the berries in sugar. You don't. I've done it both ways and the problem with coating them in sugar is that it will mess up your final measurements when you go to make jam. The berries freeze just fine without it, whether you are making smoothies or jam later in the year. You can leave them whole, half  or quarter them, but make sure you clean and dry them well before you freeze them if you plan to eat them raw later in the year.  If you choose to dehydrate, you'll need to work with the berries right after you clean and dry them. Just slice them about 1/8-1/4 inch thick and lay them on the silicon sheets for the dehydrator. They retain their bright red color quite well and are an excellent snack for lunches or hiking.
7/13/12 If you are near Louisburg, I have used Woodleaf Honey for more than 25 years and it is wonderful in this recipe. Bill has a lot of Tulip Poplar trees on his property. Maybe it's just my affinity for this particular tree in the fall when it turns the most beautiful shade of yellow-orange.  I think the Orange County Blend from Just Bee Apiaries in Chapel Hill would also work well in this recipe and not overpower the lavender or strawberries.