Dealing with 25 pounds of any fruit can be challenging, especially when you need to clean and store it as quickly as possible to retain the best flavor. That's probably why most folks resort to canning or freezing. So it shouldn't surprise you that I spent the better part of two days making a couple different variations of strawberry jam this year. (The recipes are on the site) Everyone has their favorite and I tried a couple of new ones this year. I did not fall in love with the roasted strawberries. Unlike roasted figs, I thought the texture and flavor of the strawberries were not enhanced in the process.  Most of the time, I'm not a jam eater. I like to use the fruit in recipes when I can't get fresh local fruit, but I really enjoyed this year's early crop of Sweet Charlies from Whitted Bowers Farm. They were quite sweet and this year I swapped out half of the cane sugar for coconut sugar in my recipes with really wonderful results in the complexity of the jam.
I've been meaning to try to make these little tea cakes for some time and I happened to find several recipes that incorporated both savory and sweet into the traditional plain batter when I was searching for muffin recipes. While I don't think you can really taste all that much strawberry in these, the flavor is light and delicate and worth the effort for a special day.  I used the Strawberry Balsamic Jam but I think the Strawberry Lavender Honey might be even better.
My first recollection of confectioners' sugar was my mom dusting what we used to refer to as "Jello Cake". Basically you cover up all the holes you have poked in the cake with the sugar to make it look pretty. So it tends to be the way I use confectioners sugar today. Much less as an ingredient and more like coverup makeup. These are pretty right out of the pan and don't require the dusted sugar for flavor. In fact, I think the sugar covers up some of the light flavor that the nutmeg and cinnamon add to the cake. But it does make them fancy on the plate. So you might consider doing just a few. Make sure you wait until they are cooled before dusting with the sugar, and I like to use a spring mesh tea holder because it sifts the sugar and makes less mess, being quite small.
This recipe is quite small and only makes about 20-24 cookies. Enough for Mother's Day and not much more. It's not a terribly healthy recipe but you can use local flour, butter, eggs, and jam.  Be sure not to overload the molds because the batter spreads and rises during the baking process and you just want the cakes to go to the edge and hold it for a perfect shape when you take them out of the molds. Watch them closely in the oven so you don't over-bake them or they will be dry. I haven't tried replacing some of the butter with coconut oil yet, but I would expect that it's possible to replace at least half in this sweet version.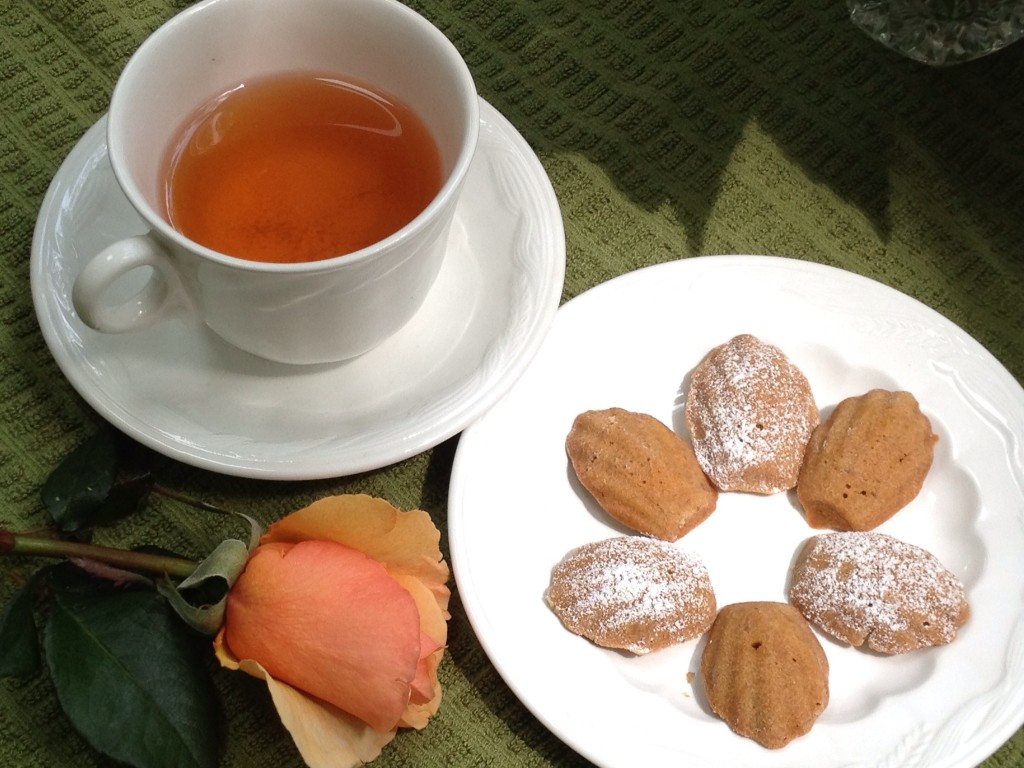 Strawberry Madeleines
Ingredients
1 egg
5 tablespoons coconut sugar (or cane sugar)
1/4 teaspoon vanilla extract
2-3 tablespoons strawberry balsamic or lavender jam (doesn't have to be thick)
Pinch Pink Himalayan Salt
1/2 cup organic all-purpose flour
5 tablespoons local salted butter (melted and cooled slightly)
Preparation
Preheat oven to 375F.
Melt butter and set aside to cool.
Butter and flour mini-madeleine pans well. I used extra melted butter and a tea caddy to add flour to each mold evenly.This left me with a light but very even coating.
With a hand whisk, beat the egg and sugar in a large until they are well-blended.
Beat in vanilla, jam, and salt.
Add flour and beat until just blended.
Gradually add cooled melted butter to mixture, beating until just blended.
Spoon one teaspoon of batter into each cake shell. The batter may thicken as it cools but don't overfill or try to press the batter into the mold, they batter will spread and fill the mold.
Bake until puffed and edges are lightly golden, about 10-12 minutes. Do not brown. The time may vary depending on your baking sheet. I used the mini madeleine coated pan from Williams-Sonoma. Makes about 20-24 depending on how full you fill the molds.
Cool in pan for 3-5 minutes, then remove from the pan gently with a silicon spatula and finishing cooling on a wire rack.
Store in an airtight container for up to 3 days.
Dust with confectioners sugar just before serving.