We previewed this recipe for pesto pasta at the Wednesday Carrboro Farmers Market and it got great responses from the shoppers. The base pesto recipe came from Edible Earthscapes Farm in Chatham County, NC. I simply increased the sorrel and changed the pine nuts to toasted pecans from Sweetwater Pecan Orchard and used Calvander cheese from Chapel Hill Creamery. While I was chopping up the asparagus, I saved the tips and sautéed them in olive oil with a little fresh thyme and added them in later as I assembled this dish which gave it a bit more variation in color. For the market, I also added some additional rough chopped toasted pecans which added some crunchy texture.
You can make your own changes to this depending on what is available in your area, but I think you will agree that the bright fresh flavor is unlike a typical basil pesto. The Edible Earthscapes recipe also suggests using this on grilled cheese sandwiches, and I tested that as well as a small appetizer pictured below. Both were excellent so this recipe gets a huge thumbs up for versatility in the kitchen. The trick here is to have really fresh asparagus and sorrel. Use them both within a day or so of buying them at the market.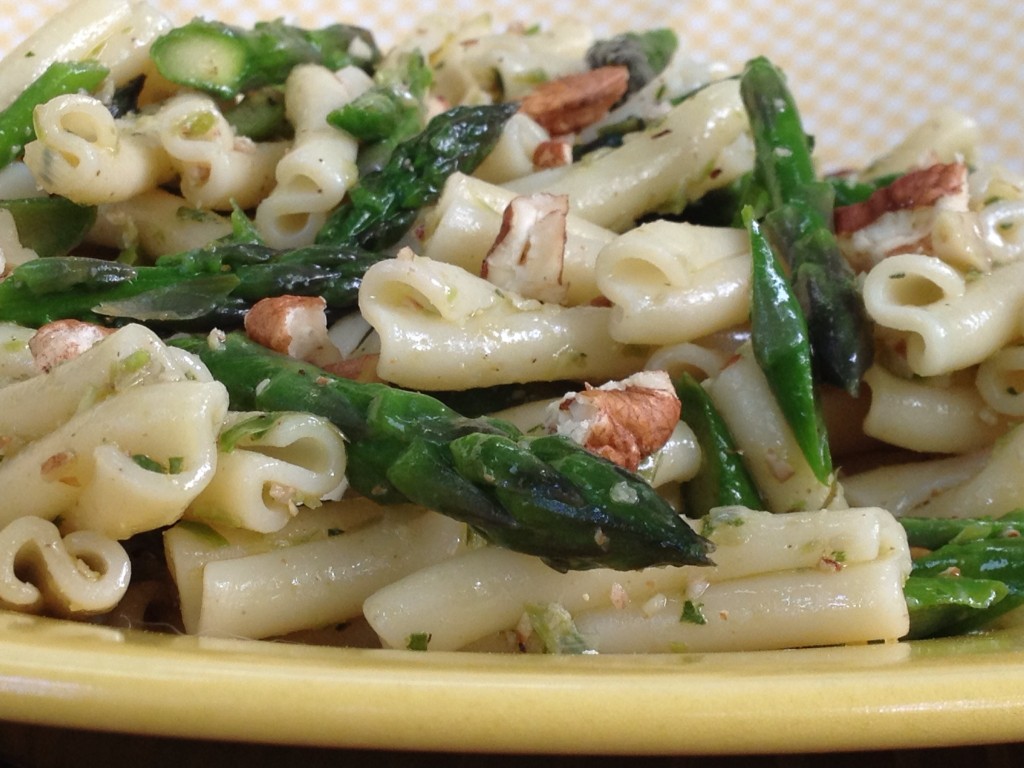 Asparagus & Sorrel Pesto Pasta

Ingredients
1 cup raw young asparagus, (slimmer work better for this recipe), chopped, reserve the tips to saute or steam and add in later in assembly
1 cup raw sorrel chopped (pressed into cup), stems removed up to the leaf
1 tablespoon green garlic, chopped
1/3 cup Chapel Hill Creamery Calvander Asiago Cheese, grated
4 tablespoons chopped toasted pecans, (a little more if you want to add some during assembly)
1/4 – 1/2 teaspoon Murray River Flake Salt (Himalayan salt will work)
1/8-1/4 teaspoon Four Corners Pepper Blend, fresh ground
4 tablespoons Extra Virgin Olive Oil
3 cups dry Strozzapreti Pasta (Montebello) or a gluten-free pasta of your choice
Preparation
 In a small food processing add the asparagus stems, sorrel, green garlic, cheese, pecans, olive oil, salt and pepper.
Process until it is fairly smooth. It tastes nice with a little texture. For a thinner sauce add more olive oil.
Set aside. You will only need about 1/3 of this to make a large portion for 4 people. Freeze the remainder in an airtight bag or use within a day.
Cook the pasta according to the directions, drain and toss with pesto.
Add salt & pepper to taste. Murray River Flake Salt or Himalayan Pink Salt are both good choices.
Add cooked asparagus tips and prawns along with any additional cheese, or nuts.
Serve on a bed of shredded greens like baby chard, baby bok choy or baby cabbage. All three will be delicate and tender.
Or use the pesto on toast with a small slice of Chapel Hill Creamery Hickory Grove or as a grilled cheese sandwich.