Despite the longer days, it seems like there is less time to cook. Maybe it's just the increase in outdoor activities, but I wanted to share a strategy with you that I use frequently after shopping at one of our local farmers' markets. It's called 3 in 1. Basically the idea is to prep your fresh veggies one time for 3 meals. This is more creative than it sounds because you are basically shopping for items that might taste good together in three different dishes as a whole, but that doesn't exclude the odd item here or there that would make a recipe really pop for you in just one recipe.
The Base Layer provides the undertones.  Not too bitter, not too sweet – greens, cabbage, onions, garlic.
The Second Layer includes veggies that do the hard work of filling you up and providing color and texture to your meal – squash, carrots, zucchini, turnips, sweet potatoes, radishes.
The Third Layer provides protein and it doesn't have to be large. I still use the palm of my hand rule. quinoa, nuts, meat, hard-boiled egg, tofu.
The Fourth Layer makes your recipe pop in contrast or compliment to your other ingredients. It can be ginger, mushrooms, pickled vegetables, pea shoots, a bit of sauce, chutney, or special salt or salted item. Look for something that makes your dish look and taste just the way you would want it if you were eating out. You won't need a lot, it doesn't have to be expensive. You are trying to create a bit of contrast to other flavors or the technique you used to "cook" your meal or something that enhances one or two of your other items in a way that no other flavor can do.
Once you have that here's the drill:
The greens get washed and dried. The veggies are scrubbed and prepped for slicing. Eggs get pulled out to boil. Nuts get pulled out to toast.
Decide on other  "add-in" elements from the pantry and  freezer, whether that's pasta, quinoa,  kelp noodles, chicken, cheese or roasted vegetables from another season. Pull those out as well to cook or thaw.
Pull  home-made stock and let it thaw in the refrigerator as well.
Slice or tear your greens (chard, spinach, bok choi, Napa cabbage, purple or red cabbage, kale) and put in a sealed container. Generally I select 3 types of greens that have different colors and mix them together in equal amounts,  laying a paper towel on the top so that it can absorb extra water in the container.
Then slice or dice any other vegetables like carrots, broccoli, cauliflower, the stems of the bok choi, turnips,radishes, zucchini, and squash. Set those into a container together or separated depending on what you intend to make on day 2 & 3. My exception to this plan is for mushrooms and ginger (in season). I don't clean and slice them until the day I am going to use them. Again, I try to use equal amounts of the vegetables and keep it colorful, selecting nice compliments or contrasts. You might consider keeping the vegetables separate.
The eggs are boiled and put back into the fridge. The nuts get toasted in a toaster oven on parchment paper and sealed in a glass container. Quinoa, pasta, or rice is made and put back into the fridge.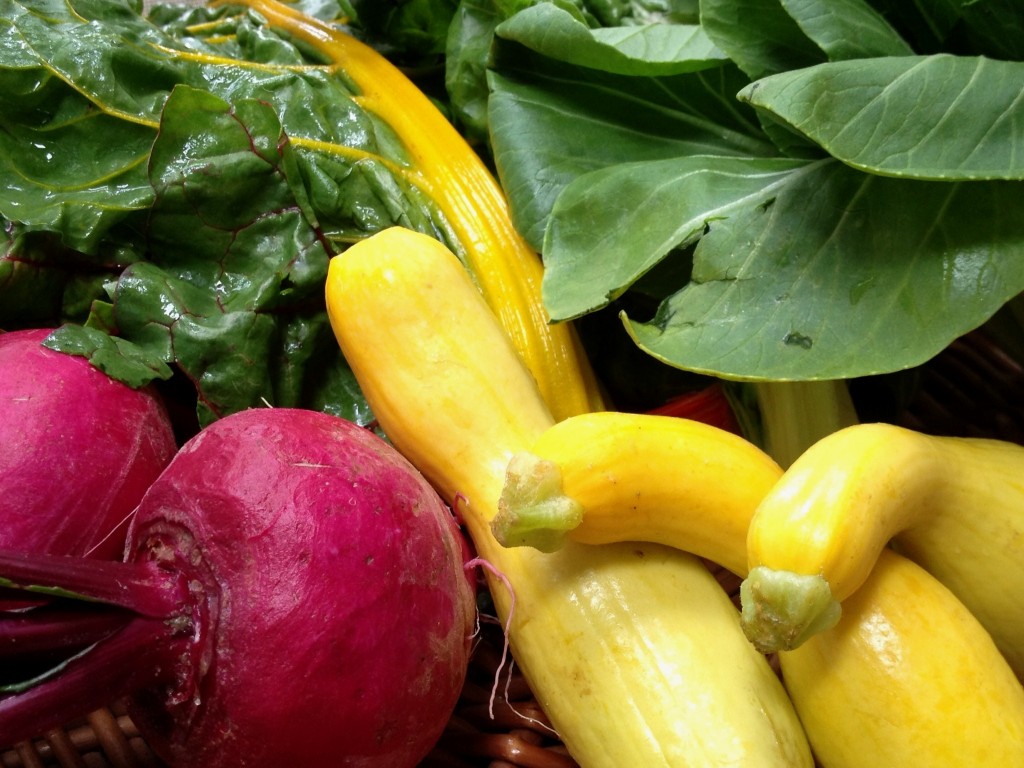 Salads, Soup & Stir Fry
Ingredients
2-3 cups of shredded greens per person
2 cups of sliced or chopped vegetables per person (1/2 cup of each vegetable per person)
1/2-1 cup protein per person (7-10 grams per person as base)
Something fun that accents your vegetables like ginger, nuts, coconut
4-8 cups of broth for soup
1/2-1 cup soy sauce or something similar (broth with a little soy) for stir fry
Oil of your choice for the stir fry that will take the high heat without burning
 Preparation
The salad is the easiest. Make it colorful with textures and flavors. Select a dressing. Generally I mix 2-4 ingredients for a simple oil & vinegar dressing. Sometimes I make a milk based herb dressing that will keep a couple of days.
For the soup, get your stock up to a boil point and drop in the veggies that take the longest to cook. This is where organization and prep take the work out of a meal. As the minutes pass, drop the next couple of vegetables into your stock. When there is just a minute or two left to cook, drop in your protein, shredded greens and quinoa, pasta or rice just to heat it through. Season to taste and serve. Yes, it's really that simple.
For the stir-fry you will use the same technique. Depending on how you reheat your rice quinoa or other base, get that ready to go. You can use a steamer, microwave or stir fry technique. Then get your pan hot (I use stainless for this) and add a bit of oil (I use olive oil pretty much all of the time). Quickly add the longest cooking veggies like the stalks of the chard, celery or bok choy. Then all your colorful veggies again starting with what needs the longest to cook. Keep the pan hot but not scorching. Things should not be burning and smoke should not be coming up from the pan. When you are finished with the veggies, add your protein and then add your greens. As the greens just begin to wilt, you can add some stock or soy sauce or other flavoring that will provide some sauce for your dish when you put it over the rice, noodles or quinoa. If you need to thicken the sauce, you might try arrow-root which needs to be added like most starches to a cold ingredient. Your flavoring stock or soy sauce or just a little water will work for that. Mix it in well and add it so you have about 2 minutes to cook it to a rapid boil, which will initiate the thickening process. This whole process generally takes less than 15 minutes from start to finish and kids can help a lot with this one by adding in the ingredients for you at the right time.
If you have anything left after day three, put it into an omelette for breakfast, add some cheese and enjoy!