I've really enjoyed my mini Madeleine pan since I bought it a few weeks back at Williams-Sonoma. It makes  bite-size treats that can be savory or sweet and the recipes are easy enough to pull together in a matter of minutes. This seasonal recipe includes sweet local corn, green onions and garden herbs along with Savory Spice Shop's Piment d'Espelette Grey Sea Salt. You could seriously consider adding either goat cheese or cow's cheese to these as well. And if you are prone to freezing the seasonal harvest, you can lightly blanch your corn and use it all year-long in this recipe.
Remember to butter your molds in the pan really well and let the Madeleine's sit for a couple of minutes when they come out of the oven before popping them out of the molds. I find that using a glove and my finger works as well as any brush to smear a dab of melted butter into the mold before I fill it. And to remove them, I prefer to use a small silicone spatula.
This batter rises about 50% higher than you fill, so use a scant teaspoon so it stays in the mold as it's baking.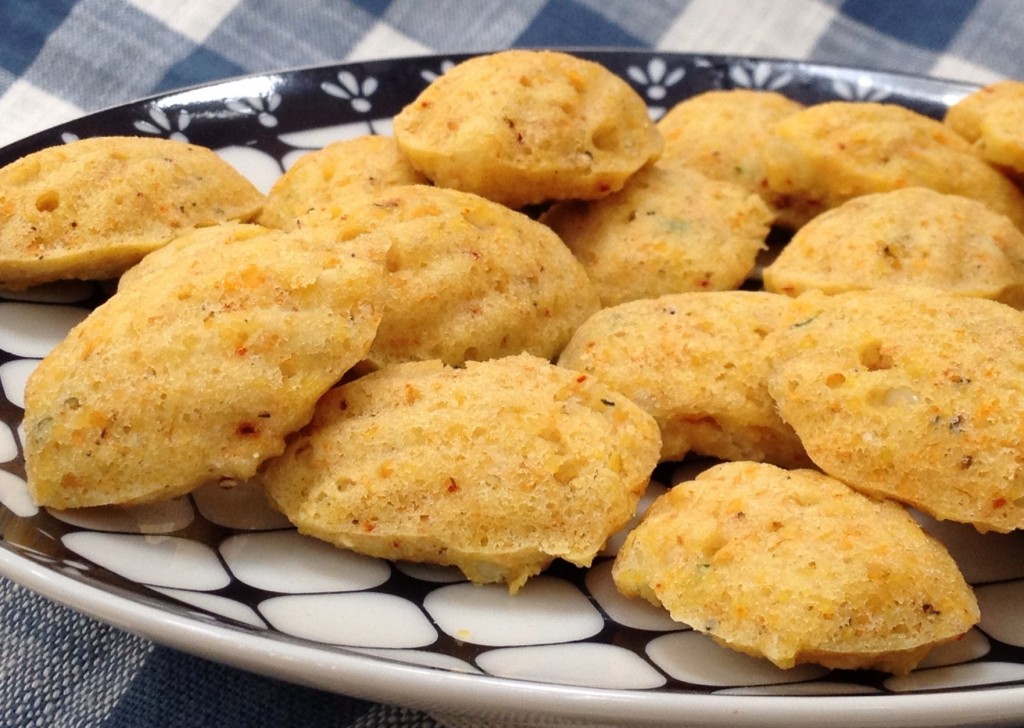 Seasonal Corn Madeleines with Fresh Herbs & Chilli

Ingredients
1/3 cup yellow organic finely milled corn meal
2 tablespoons organic coconut flour
1/2 teaspoon organic cane sugar
1/4 teaspoon aluminum free baking powder
1/2 teaspoon Piment d'Espelette Grey Sea Salt
1/8-1/4 teaspoon Piment d'Espelette Chilli Pepper
1/8 teaspoon fresh ground pepper
1 tablespoon melted & cooled unsalted butter (plus extra for pan)
1 egg lightly beaten
1/2 cup plus 1 tablespoon well shaken buttermilk (without xathum or gum gar)
2/3 cup fresh corn cut off the ear (you can use up to a cup)
1/2 – 1 teaspoon fresh chopped chives
1/4 – 1/2  teaspoon very finely chopped green onion (optional)
Preparation
Preheat oven to 440F
Lightly coat each individual mold with melted butter.
Whisk the cornmeal, coconut flour, baking soda, salt, pepper, chilli pepper together in a bowl.
Lightly beat an egg in a separate bowl and add the buttermilk and 1 tablespoon melted (slightly cooled) butter, beating by hand until well blended.
Add the dry ingredients to the wet and using a spatula, blend until it's just combined and add in the corn, green onion, chives, working quickly to incorporate.
Spoon 1 teaspoon of batter into the molds and bake for 7-10 minutes until they spring back slightly when you touch them in the center. They will be firm around the edges and golden colored as you look at them, but not browned.
Serve warm or at room temperature.
Notes
Replace the green onion and chives with 1/4 teaspoon each of fresh chopped thyme & rosemary which grow nearly year round in the South.
Double the sugar for a sweeter version of the recipe.