What caught your attention? The peanut butter & goat cheese or the Dark Chocolate? I have to be honest that this recipe was inspired by a visit this past Saturday to the South Durham Farmers' Market where Laurie & I spent some time talking with Prodigal Farm's owner Kat Spann along with some other farm owners that we had not met before. I'm a big fan of Prodigal's goat cheesecakes, particularly the lemon with raspberry topping. I'm really glad they make a small version of it that I can normally portion out for 2 or 3 days.
I'm also a fan of Foster's Peanut Butter Pie, which is significantly less healthy and creates a bit of sugar rush in my body so I don't get it often and always look for a sharing partner given the size of the piece they dish out at the market store.
So I was a bit intrigued to see if there were recipes that might combine the healthier benefits of the goat cheesecake and the peanut butter pie decadence that I enjoy. Having recently secured some additional Big Spoon Roasters Peanut Butter there's plenty to play with around the kitchen.
Sure enough recipes abound on the internet for goat cheese and peanut butter pie and we've already got some ideas on how to make this into a gluten-free yummy tasting recipe but in the meantime, here's a quick dip that you can put together and serve over the summer, even on a picnic and keep your guests guessing as to the ingredient list. And if you are inclined, I believe you could make a chocolate half shell and create a sort of buckeye ball dessert truffle. Yum. Bring me one if you do, please.
Keep it chilled until you are ready to serve and then pull it out just 10 min or so before serving so it comes closer to room temperature and the texture becomes more creamy. You can adjust the sweetness really easily by adjusting the honey. And since honey can vary by region, be sure to select one for this recipe that has a bit of body and substance to it.  And don't skip the dark chocolate. The bittersweet nature of it contrasts well to the light sweet honey and it melts well in your mouth. If you're not a fan of chocolate, just leave it out, this recipe would be good as truffles rolled in toasted pecans as well if you are a fan of those we already produce for our delivery / catering business.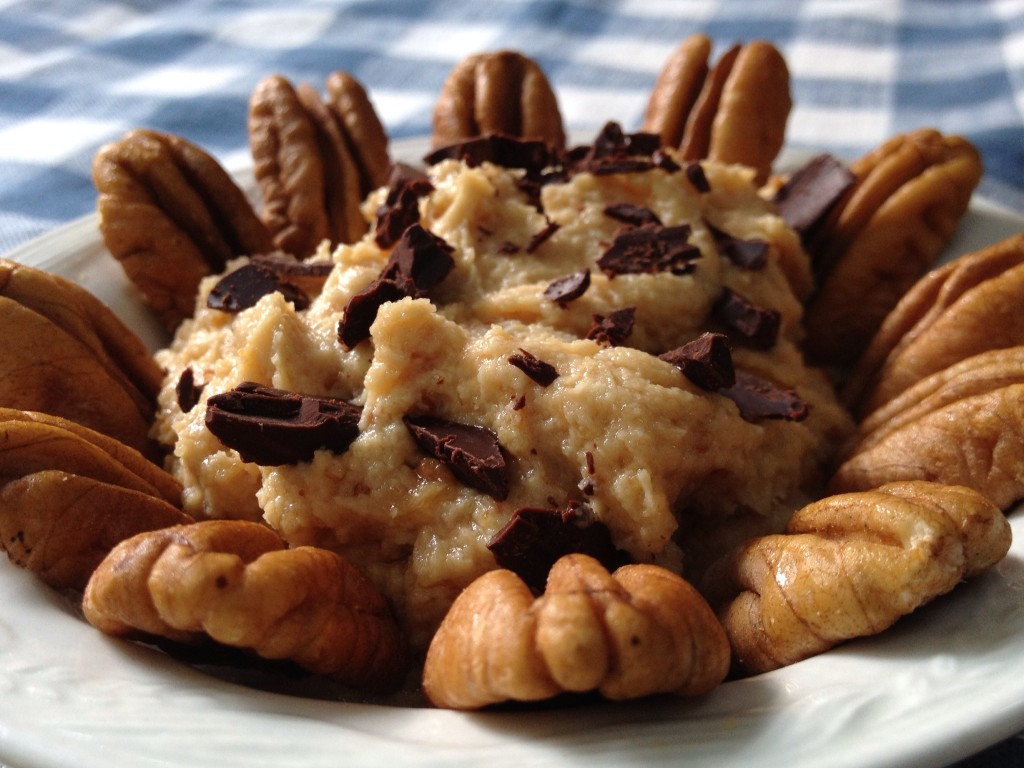 Peanut Butter & Goat Cheese with Toasted Pecans & Dark Chocolate
Ingredients
1/2 cup fresh goat cheese
1/4 cup fresh peanut butter (Big Spoon Roasters plain works well)
2-4 teaspoons local honey (Chatham County Blend from Just Bee Apiaries & Woodleaf Honey from Louisburg both work well)
2 teaspoons chopped 74-85% dark chocolate bar
1/2-1 cup toasted pecan halves
Preparation
Mix the peanut butter, goat cheese and the least amount of honey together with a butter knife or cheese spreader until it's well blended.
Taste to see if it is to you sweetness level. Add more honey as necessary. Each local honey has a different flavor and sweetness level so this will vary. (Big Spoon Roasters uses some honey in their nut butter already)
After you have sweetened the mixture to your taste, gently fold the chocolate pieces into the mixture or just sprinkle on top and chill.
Serve with the toasted pecans around the spread or in a separate bowl. If you prefer truffles, wait until the spread is chilled and quickly work it into little balls and roll in chopped toasted pecans and re-chill before serving.