Spring this year brought farms in the east a good amount of rain and the heirloom celery that we saw at the farmers' markets was extraordinary this year compared to the last couple of years. No leaf damage, beautiful deep green color and no bugs. There was little to throw away and the flavor and texture of the leaves was lovely.
Normally we dehydrate all of these to use in soups and stocks throughout the year. But it was hard to put all of these beautiful leaves into the dehydrator so I wanted to try to find a different use for some of them. I decided that using some of the toasted quinoa and wild rice that I had on hand along with some fresh sweet corn might work as a quick salad. It's great with some green onion and since there were raspberries, blackberries and blueberries in the house, I decided to try each in the salad. I liked the blackberries and blueberries the best. The raspberries were the most colorful, but I didn't find them to be the best compliment to the other flavors and they tended to break apart quite easily. So use them sparingly for color if you like them, but rely on the other two berries for the bulk of flavor. This recipe will easily provide 4-6 side servings to a meal.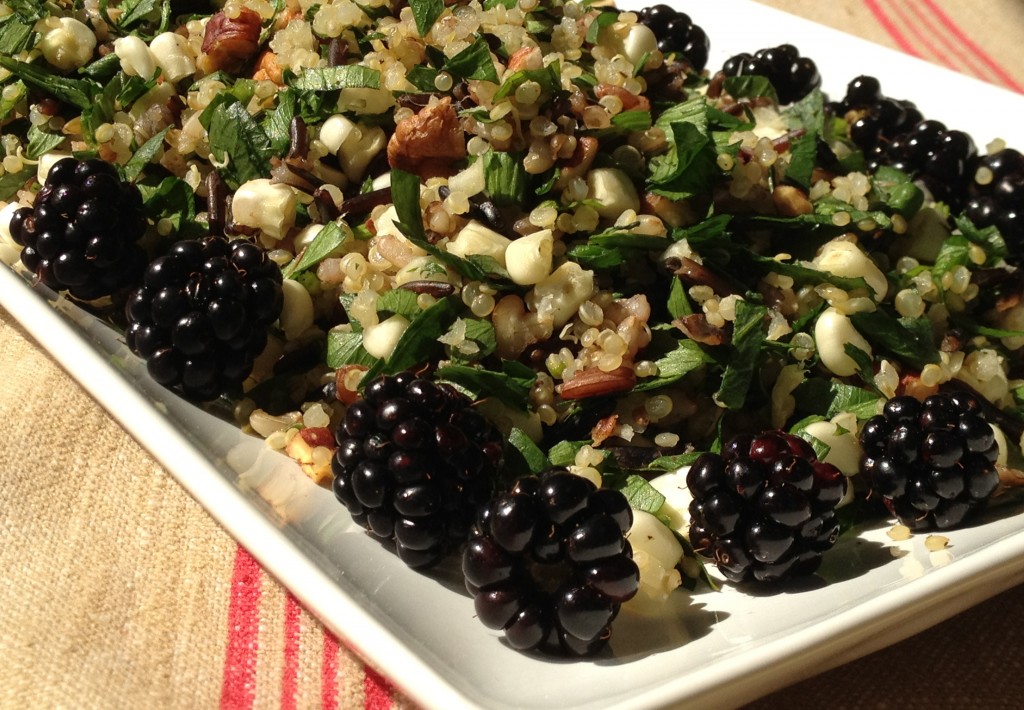 Quinoa Salad with Celery Leaf, Fresh Corn & Ripe Berries
Ingredients
1/2 cup cooked wild black rice
1/2 cup mixed wild rice blend (Lundberg)
1/2 – 1 cup cooked quinoa
2 teaspoons olive oil
4 cups finely chopped or julienne cut celery leaves
2 ears fresh corn (about 3/4-1 cup of cut corn)
1/4 cup chopped toasted pecans
1/2 cup fresh blackberries or blueberries
Chardonnay Oak Barrel Smoked Salt
Mixed Black Peppercorns
Preparation
Blend the quinoa with 2 teaspoons olive oil and spread out on parchment paper on a baking sheet with edges. Bake at 350F until the quinoa is toasted, about 20-30 minutes. It will darken a little as it toasts. It is easy to burn it so don't take it too dark brown. Set aside to cool.
Place the pecan halves on the same baking sheet and toast for 5-7 minutes without burning. Set aside
Cut the corn off of the cob and set aside.
Mix the quinoa,  rice and pecans together in a bowl. Add the chopped celery leaves and corn. Toss to blend and add enough salt & pepper to suit your taste. Add the berries and gently toss. Serve chilled or at room temperature.
Notes
If you want to stop before adding the berries you can add a white balsamic & lime or a white balsamic & mustard dressing. Or use a balsamic dressing made with raspberry, blackberry or blueberry and maple syrup or honey as your sweetening agent.