I know this sounds like an odd recipe, but I was thinking about how much I enjoyed the Strawberry Balsamic & Pepper Jam and I've been trying to get time to develop some recipes using a raspberry vinegar that the fine folks from Olio2Go shipped to me with my last olive oil order. It's been great using it in dressing for the quinoa and green salads, but I really wanted to find more interesting uses for it.
A couple of weeks ago Savory Spice Shop got in some Mesquite & Apple Wood  Smoked Peppercorns. Being a huge fan of the smoked salts they carry, I thought this delightfully complex peppercorn might be pretty interesting with the vinegar. Knowing that you have to balance the acid with a sweet, well there's no way I'm going to pass up the three honey jars sitting on the counter from Just Bee Apiary. You can see where this is going by now… Not two but three birds with one stone. And of course we're going to need a salt so I decided something bright would be a nice contrast, so I went with the Murray River Flake Salt.
Well it's been a good day. This recipe came together in less than an hour. The problem was it tasted so good that I ate the entire first batch and had to repeat it to get photos. Gosh darn, what a shame. The only downside to the day was the sun went away about the time I finished making the second test batch. So I guess I'll have to make them again on another sunny day and you'll have to suffer through the photos that I was able to take today.
I've put the appropriate links into the recipe for the products I used. You can substitute others that are local to you. My only comments are these. The smoked pepper and flake salt make a difference in how you taste the sweet and tart of the recipe. The honey you select should not be commercial and should be medium to deep colored with full flavors. Lighter honey will add sweetness, but this is such a simple recipe that you really need the honey to add some additional flavor from whatever the bees are busy eating. We won't go into the process of how honey is made.
Don't skip the (toaster) oven part on the recipe. That is what will crisp up the rosemary so it's crunchy when you eat the pecan. A little contrast in texture. These are still a little sticky and I think on a salad they would be wonderful, but on their own or with some young brie or something like Chapel Hill Creamery's New Moon or slices of Hickory Grove as a contrast, you might just be able to make it a light dinner with a beverage of your choice.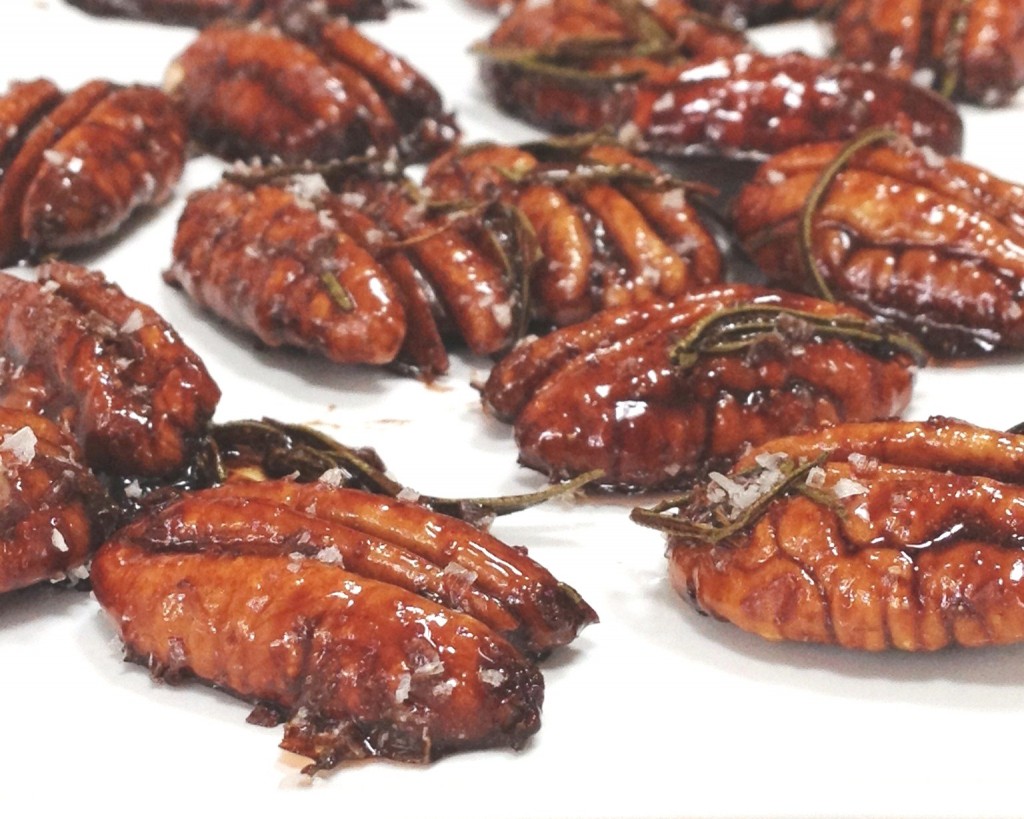 Smoked Pepper Pecans with Raspberry Vinegar & Fresh Rosemary
Ingredients
Preparation
Put all of the ingredients except the salt into a small stainless pot. Do not use aluminum or cast iron with the vinegar.
Bring to a low simmer on medium heat and stir for about 5 minutes to keep the pecans coated.
As the mixture reduces and thickens be careful not to let it burn. Adjust the heat as needed.
Transfer the coated pecans to a baking sheet lined with parchment paper and carefully sprinkle with the flake salt so it sticks to the tops of the pecans. Toast for about 3-4 minutes in a toaster oven or bake at 375F for up to 5 minutes until the rosemary appears to get crispy. Do not let the rosemary or the honey in the recipe burn.
Let the pecans cool for 10 minutes before serving. Store in an airtight container for up to a week.