Given the outrageous hot weather this month, nobody wants to "cook".  So market demonstrations become a bit challenging unless you're bringing something with "ice" in the name.
Quinoa is one of those great bases that can be served hot, cold or at room temperature and it tastes great. Really it doesn't taste like much at all, which is the beauty of it. Just a little nutty, a little crunch factor, small, light, and blends with almost everything. So that's where this salad starts. That and a gift bag of Tuscan Basil from Eastern Carolina Organics, which turned out to be quite useful. When I originally made this salad, it was more of a spicy filling that I wrapped into the large basil leaves. They are thin but very strong and reminded me of stuffed grape leaves. It only took a bite or two to finish off each little parcel and the basil was never bruised in the process, so it didn't turn brown or bitter even after a couple of hours of shooting photos and playing around with the salad.
This is clearly a seasonal salad but I had one thing out of season that I've enjoyed using since I picked it up from the Carrboro Farmers Market last fall. Dried hot peppers. They've been put in a ton of recipes this year, sometimes with surprising results, like the maple syrup dressing. I was concerned about adding them to this and then taking it to a market, but everyone seemed to really enjoy them. You do need to be careful how much you use because they vary in heat from pepper to pepper.
You can adapt this recipe throughout the summer but I've written the directions for the mid to late summer veggies. The eggplant was leftover from another meal where I had grilled slices and no one realized it was in there because it's so mild and smokey when you grill it. You could add a bit of chicken or white fish to this as well, especially if you choose to use the large Tuscan Basil leaves as a green wrapper instead of shredding it into the salad as I did for the farmers' market.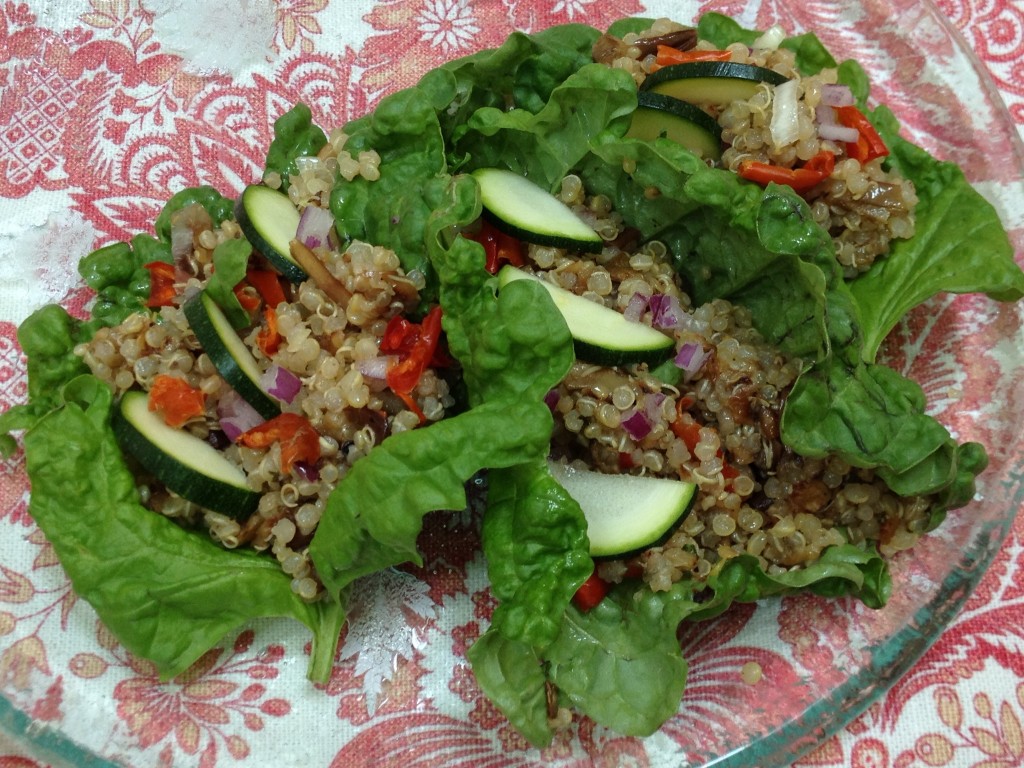 Spicy Quinoa Salad with Grilled Eggplant & Tuscan Basil

Ingredients
1 cup dry quinoa  (any color)
1 cup filtered water
1/2 teaspoon Himalayan salt
1/8 teaspoon ground pepper (Savory Spice Mesquite Apple Wood Smoked Peppercorns recommended)
1 small green zucchini, sliced thinly and quartered
1/2 -1  dried Asian pepper, very finely chopped (use with care)
1 tablespoon sweet red onion, finely chopped (can substitute baby leeks or green onion)
2 tablespoons fresh sweet red peppers or paprika peppers
1/2 cup sliced roasted "Rosa" eggplant, cooled and lightly chopped
1 teaspoon extra virgin olive oil
6-8 medium – large leaves of Tuscan Basil pulled at the stem
Preparation
Rinse the quinoa in 3 flushes of water, making sure to rub it around to shed the outside hull which is bitter when cooked.
Add to rice cooker or glass baking dish with 1 cup filtered water,  1/2 teaspoon salt, 1/8 teaspoon pepper, and 1 teaspoon olive oil. Set the rice cooker to "white rice" setting or cover and bake at 350F until the quinoa has absorbed all of the water (about 20-30 minutes). Set aside to cool when it's finished.
Gently was and dry the Tuscan Basil and set aside. Arugula works well as a substitute if you don't like basil.
Blend the finely chopped onion, red peppers, hot peppers with the quinoa and olive oil.
Lightly salt & pepper the zucchini and chopped eggplant slices and then gently mix with the quinoa.
Fill each basil or arugula leaf with the mixture and eat. Alternatively, shred the greens and blend them into the quinoa for a salad or stuffing for a roasted pepper or tomato.