Here we are at the end of summer when this sort of salad works well despite the odd changes in temperature we tend to have this time of year from one day to the next. The mix of fresh local vegetables with quinoa and the ability to change it up by just adding some greens or a bit of meat make this worthy of lunch or dinner any day of the week.
Start your week by eating this recipe as a salad and if you like chicken, that makes a good topping. Add a little warm broth and you have a simple soup for another meal.  Add some eggs and milk and you have a simple quiche type casserole. Or stuff the salad into peppers or squash for yet another meal. That's four meals from this one recipe.
For this recipe I used a few base ingredients that I make almost every week. Quinoa, rice & beans. You can choose to use any color of quinoa based on what kind of beans, rice and vegetables you have available. Just pick a different color for everything. And a note here. Not that I like a lot of kitchen gadgets, but the pressure cooker can really cut your time for cooking beans, the rice cooker will make perfect rice or quinoa every time without you doing anything and that allows you to spend all of your time with the precious veggies which are at the heart of this meal.
Here are some examples for you to combine and this list is endless once you factor in all the different fresh greens that are available beginning in the late summer and running all the way through winter and into early spring:
White Quinoa, Black Wild Rice, Red Rice, Black Beans Onions, Celery, Peppers
White Quinoa, Red Rice, Black Beans, Yellow Summer Squash, Green Zucchini, Onions
Red Quinoa, Black Wild Rice, White  Beans, Peppers, Onions, Eggplant
Black Quinoa, Brown Rice, Red Beans (multiple types) Yellow Squash, Red Peppers, Onions
The true beauty of this recipe is that most of the vegetables are put up at the height of the season and pulled when you need them. The dried beans, rice, and quinoa are made each week. And the greens are purchased and used fresh each week giving you multiple options.
The quantities of each item can vary to suit your tastes. Try to make this look at lovely as it tastes and you won't go wrong. And you already know my opinions on using various salts to bring out the best in each vegetable as you work with it.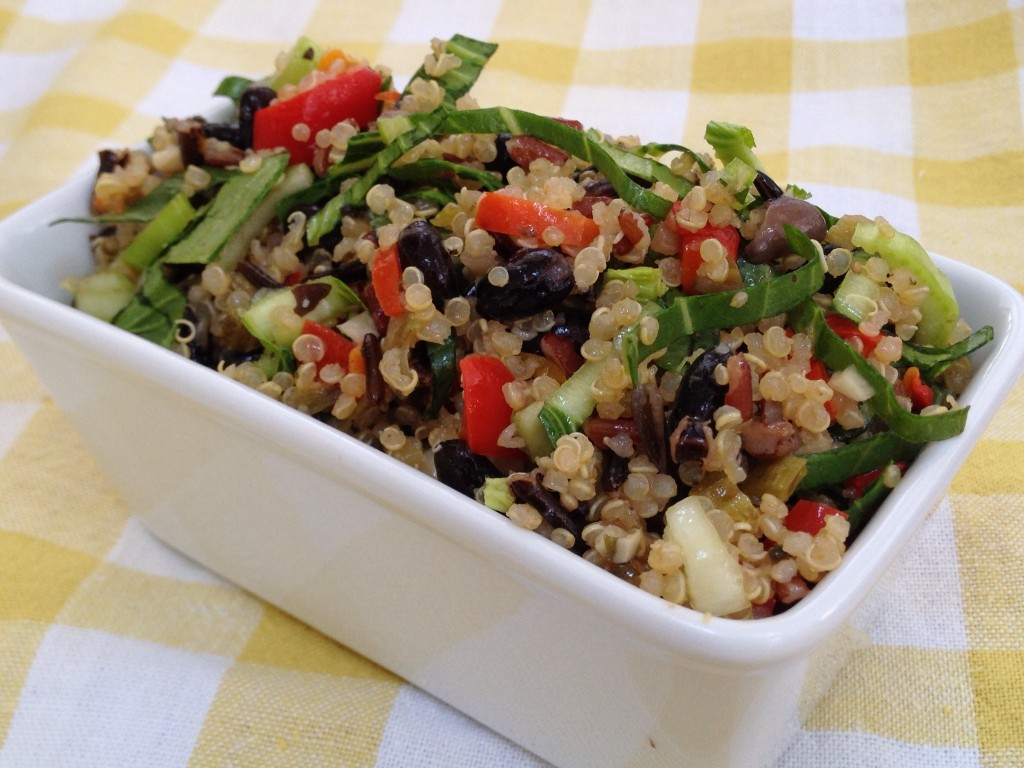 Quinoa Salad with Local Vegetables, Black Beans & Wild Rice
Ingredients
1/2 cup dry white quinoa
1/2 cup dry rice
1/2 cup dry beans
2 cups combined sautéed or grilled vegetables of your choice
2 cups raw greens, shredded or finely chopped
Optional meat, broth, other vegetables for stuffing
Preparation
Cook your quinoa with a ratio of 1:1 in water or broth after rinsing it well (3 times 'til clear) with a turn or two of pepper and 1/4 teaspoon salt.
Cook your rice according to directions with a turn of pepper and 1/4 teaspoon salt.
Pre-soak and rinse your beans before cooking them in fresh water or broth. Do not add salt until the last 5 minutes of cooking. Drain a good amount of the water just before the beans are finished or at finishing and add enough salt to taste (about 1/2 teaspoon) so the beans will soak up the salt.
Combine all of the ingredients along with the vegetables and create your salad.
Notes
If you want to make a soup, heat your broth first to boiling and then add the salad ingredients. It will only take a couple of minutes to warm the salad and wilt the greens.
If you want to stuff your salad into a pepper, squash or tomato and bake it, simply hollow out the veggie, stuff and cover with foil. Bake at 350 for about 20-30 minutes until everything is heated through.
If you want to make an egg casserole, you'll need 3 eggs and 1/2 cup of low-fat or whole milk beaten with 1 teaspoon of corn starch. Add that to about 2 1/2 cups of the salad mix along with 3 oz of mixed shredded cheese (Chapel Hill Creamery Swiss, Hickory Grove & Calvander mixed). Bake at 400F  for 30 minutes in an oiled glass baking dish, covered with parchment paper. Uncover and bake another 5-15 minutes to lightly brown and finish setting up.