Many of the local farmers plant multiple types of beans each year ranging in color from bright yellow to deep dark purple with several shades of green complimenting the mix. While the lighter shades of green-yellow hold their color and make any dish look wonderful, it is unfortunate that the purple beans turn green once cooked. Still, they are fun to purchase and if you like to eat them raw or barely cooked, you can keep some of the outstanding color alive.
Basically all of the "snap" beans as we refer to them in the South cook the same so they go into the pot together for this method.  And for you vegetarians, using the smoked salts and pepper creates some of the smokey flavor of bacon you might have grown up with, minus the meat or fat. The pressure cooker will cut the time down significantly to around 25 minutes and you can go on to use your leftover liquid in the Ham, Potato, Green Bean & Cabbage Stew another night during the week in less than thirty minutes. This is a simple recipe without a lot of fuss, just meant to save you a bit of time as the days grow shorter.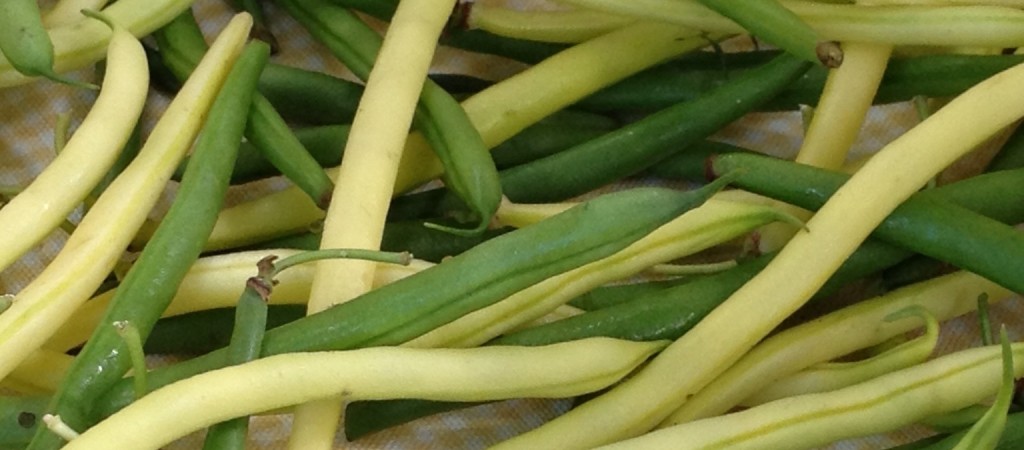 Pressure Cooker Green Beans
Ingredients
2 lbs fresh green beans (whatever variety you prefer)
1 teaspoon Alder Wood Smoked Salt (Savory Spice Shop)
1 teaspoon Chardonnay Oak Barrel Smoked Salt (Savory Spice Shop)
1/2 teaspoon Mesquite & Apple Wood Smoked Pepper (Savory Spice Shop)
 1/2 cup sweet onion, finely chopped (can use frozen cooked in olive oil or dehydrated)
1/4 cup turbinado or light brown sugar
Preparation
Rinse green beans well and snap off the ends. Break or cut the beans to 1-2″ length.
Mix the salts, pepper, onion and sugar with the beans
Add enough filtered water to fill the pressure cooker pot 1/3 of the way full.
Put the lid on securely and add the pressure valve.
Bring the pot up to a full boil so the pressure valve is spinning very fast and loud.
Reduce the heat to medium, enough to keep the valve moving  rapidly. Adjust for your stove top.
Cook for 15 minutes and then turn off the heat. The pressure cooker will continue to cook for an additional 5-10 minutes as the temperature and pressure reduces. Don't use the fast cooling method. Let the pressure reduce naturally unless you want your beans more firm.
Serve warm.
Reserve the liquid to use in the Ham, Potato, Green Bean & Cabbage Stew recipe.