Sunday is usually spent working out the final recipes for mid-week market demos or planning family meals based on what purchases happened at the farmers' markets over the weekend. Yes, I'm a market junkie and it's not abnormal for me to visit 3 markets on Saturday when I'm not working at one. Part of it is purchasing from different vendors and seeing new items in each market and part of it is purely the social aspects of visiting with farmers that I might not get a chance to see more than once a month because of schedule conflicts.
Regardless, there is always a cooler full of veggies to be sliced, diced, cooked or otherwise dealt with on Sunday and that's normally the day I make a pot of some sort of bean, rice and quinoa to mix into a hummus, soup or salad.
This week for the Carrboro Farmers' Market I had Butternut Squash, Celery Root, White Turnips and some bok Choy. Many times I will simply spiral cut the turnips to be used in both a raw salad and then a soup but this week I decided to matchstick cut them (otherwise known as julienne) along with the butternut and celery root. Then I lightly sauteed the butternut and turnips (a longer saute on the celery root) and mixed all three with the quinoa and fresh cut bok choy (which was left raw).
Using Big Spoon Roaster plain Peanut Butter along with Just Bee Apiary Saxapahaw Honey I mixed together some fresh ginger, garlic and green onion with a tad of tamari and white balsamic vinegar for a dressing. Reflecting on this, I think that you could easily add some chicken to this salad in addition or as a replacement for the quinoa, depending on how you wanted to manage your protein intake.
A couple of notes are below about vegetable swaps, but regardless of that you could also use a large grater for the celery root, butternut squash, turnips and cabbage to make a traditional raw slaw out of this and leave out the quinoa. If you make the salad that way, cut back a little on the turnips and celery root and consider using radishes as a replacement for the turnips for a more mild flavor. You could also add some raw apple since apples, butternut squash and peanut butter all go well together!
This salad should make enough for 4 side servings.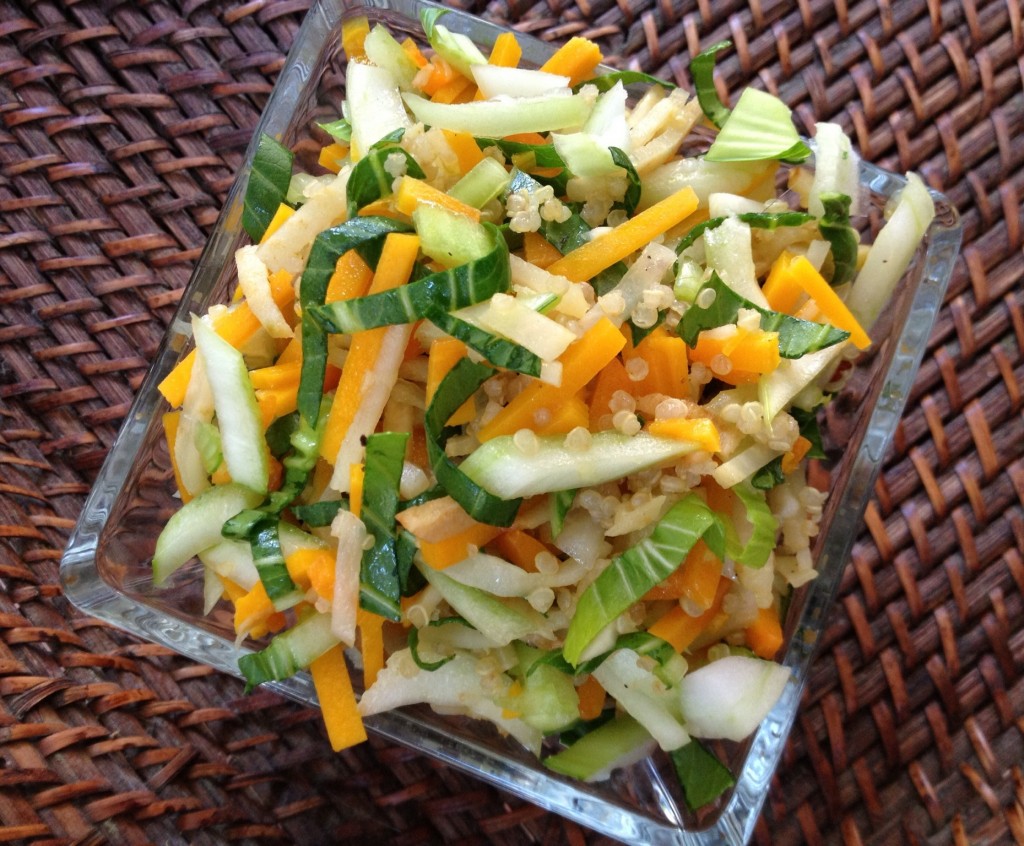 Early Fall Vegetable & Quinoa Salad
Salad Ingredients
2 cups butternut squash, julienne cut
1 cup celery root, julienne cut
1 cup white turnip, julienne cut
1 cup thinly sliced baby bok choy ( the larger the plant, the stronger the flavor)
1/2 – 1 cup cooked quinoa
Dressing Ingredients
2 tablespoons Big Spoon Roasters Plain Peanut Butter
1 teaspoon Just Bee Apiary Saxapahaw Honey
1 1/2 teaspoons White Balsamic Vinegar
1-2 teaspoons extra virgin olive oil
2 teaspoons gluten-free tamari
1 teaspoon fresh local ginger
1 teaspoon fresh or roasted garlic
1 teaspoon filtered water if needed to thin
Preparation
Using a large skillet, saute the celery root in olive oil for 3 minutes. It will sweeten as it cooks.
Add the turnip to the pan with the celery root and cook an additional 2 minutes.
Add the butternut squash and cook another minute or two.
Mix the cooked vegetables with the raw cabbage or bok choy and quinoa.
Mix all of the ingredients together for the dressing and toss with the salad right before serving.
Notes
Kelp Noodles could be used in place of quino in this salad if you were short on time or wanted to make this a totally raw salad (except for your roasted peanut butter)
What to do with leftovers? If you haven't added a lot of quinoa you can warm this in a skillet and add some cooked pasta or soba noodles along with some hot red pepper flakes or bits of a Thai pepper. You may need to add a little additional peanut butter and tamari or water to keep it from sticking but it makes a lovely spicy lunch or dinner.