Some people in the house just can't stand it when you mention zucchini, squash or eggplant by the time late September rolls around. These are three vegetables that seem to thrive in the South and I really enjoy them all year round with some storage techniques I've developed over the years.
But here's a way to enjoy all three along with local eggs, cheese, sausage or ham, and tortillas or naan for a quick breakfast, lunch or dinner. Make your vegetables up on Sunday or after the market mid-week and you can have meals for a couple of days using the same vegetables either in wraps or salads.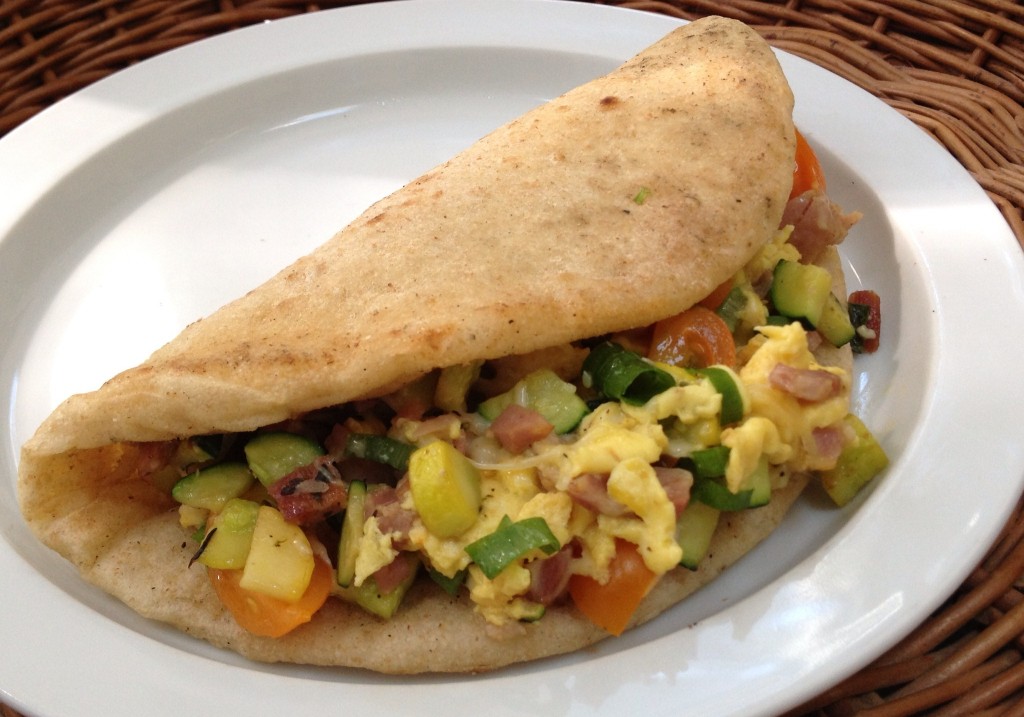 Late Summer Veggie, Egg & Cheese Wrap
Ingredients
1 Rosa Bianca or Graffiti Eggplant weighing about 1/2 lb, cut into 1/2″cubes
1 zucchini weighing  4-5 oz, cut into 1/2″ cubes
1 summer yellow squash weighing 4-5 oz, cut into 1/2 " cubes
1/2 Italian Sweet Red Pepper, thinly sliced
1/4 cup chopped cooked ham or sausage (optional)
1 zucchini weighing  4-5 oz, cut into 1/2″ cube
1 summer yellow squash weighing 4-5 oz, cut into 1/2 " cubes
1-2 tablespoons green onion, chopped
6 Sungold cherry tomatoes, cut in half
1-2 tablespoons Olive Oil
1/2 teaspoon Himalayan salt
1/4 teaspoon mixed ground peppercorn blend
3 eggs, lightly beaten with 1 tablespoon filtered water
1/4 cup shredded Chapel Hill Creamery Hickory Grove Cheese
Local Naan (Chicken Bridge Bakery) or Tortillas (Box Turtle Bakery) from the farmers market
Preparation
Warm a large skillet and add enough olive oil to lightly coat the entire surface, realizing that the eggplant will soak it up.
After a minute when the oil is warm, add the eggplant, peppers (and meat) and stir to coat with the oil.  Add the salt and pepper. Let the mixture cook about 5 minutes and stir.
Add the zucchini & squash. Cook about 3-5 minutes until the squash is barely cooked through and still firm.
Set the vegetables aside on a plate and use the warm skillet and a little additional olive oil to cook the eggs either as an omelette or scrambled. Near the end of cooking as they are just about finished add the amount of cooked vegetables, raw green onion, raw tomatoes and cheese to the eggs.
When the eggs are finished cooking add them to the fresh Naan or Tortillas, fold over and serve warm.
If you need to save these for a later meal, wrap them in parchment or wax paper and store in an airtight container for up to 2 days.