We could talk about the weather all day long. Hot and humid one week to delightful fall weather the next and back again. It seems to agree with the summer squash and zucchini this year so let me give you a couple of ideas of what you can do with an abundance of these delicate veggies. They don't freeze well and I'm not fond of the way they dehydrate either, although some folks swear by zucchini chips. But they do hold up pretty well in the freezer for soup if you shred or finely chop and steam them before freezing.
This simple soup is nice either chilled in the middle of summer  or warmed up on colder days. It takes no time to pull together and it freezes well. Use either vegetable or chicken stock. The homemade chicken broth will create a little thicker soup than the vegetable stock.  Smaller zucchini and squash work better for this recipe because they have fewer seeds and more delicate skin. Pattypan squash should work equally well for this since it inherently has fewer seeds.  And as a cost savings, you  might be able to find a farmer that has some summer squash with a virus. This makes the outside of the squash look funny, but it tastes the same and it is generally much less expensive, so ask around the market! This recipe will make about 4 servings.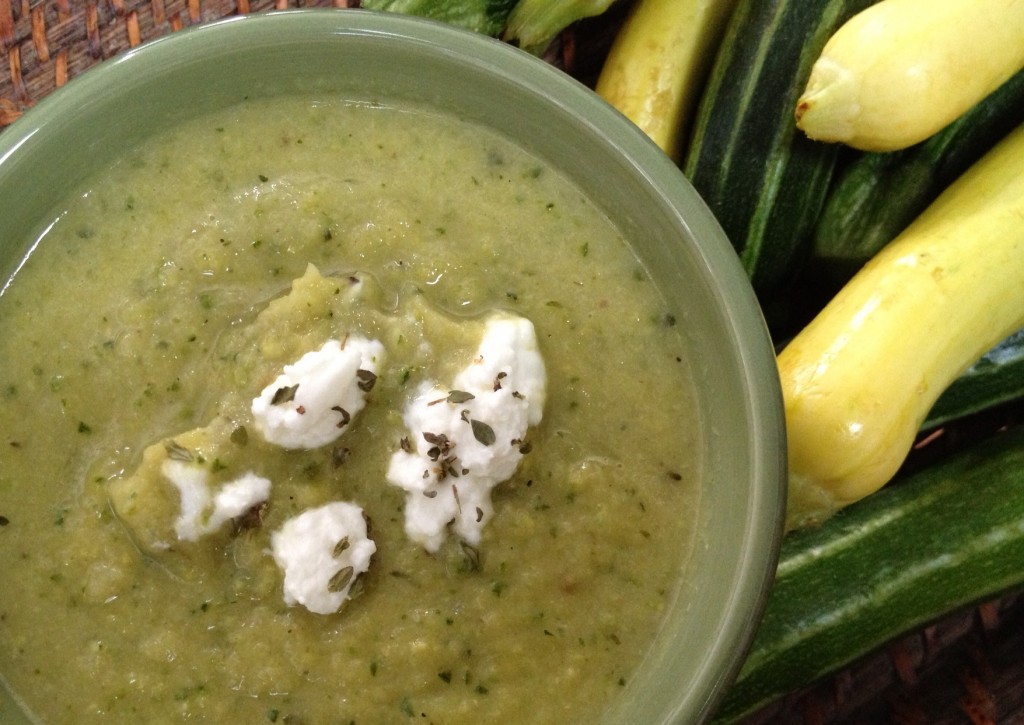 Summer Squash & Zucchini Soup
Ingredients
3/4 cup raw sliced sweet variety of yellow onion slow cooked down to about in olive oil to 1/3 cup
1/2 cup raw leeks (white part) finely chopped & slow cooked in butter & olive oil to 1/4 cup
1/2 lb baby green zucchini, shredded with large grater
1/2 lb baby yellow crookneck or zephyr squash, shredded with large grater
1 teaspoon Italian herb blend
1/4-1/2 teaspoon fresh thyme, finely chopped (add to your taste)
1 teaspoon garlic, minced
1 1/2 – 2 cups chicken broth or vegetable stock
Preparation
Slow cook the sliced  or diced onion and leeks until they are soft and transparent in butter and olive oil. This may take up to 30 minutes. Do not brown. The longer you cook them at a lower temperature, the sweeter they will be in your soup.
Add the raw zucchini, squash, garlic and herbs to the onion and leek mixture and continue to cook for another 5 minutes until everything is soft. Add some broth if it begins to get too dry or stick.
Add about half of the stock of your choice and simmer another 5 minutes .
Using a food processor or blender, puree all of the mixture and add stock as you puree to get to the consistency that you prefer.
Reheat or chill and serve with goat cheese and some fresh herbs as a topping.
Notes
This soup freezes and thaws well.