As most of you know, I will drink just about anything warm once the weather turns chilly. I found a recipe this week for a latte made with baked pumpkin in the "Long Nights and Log Fires" cookbook (by Ryland, Peters & Small) which got me to thinking about whether it would be feasible to swap sweet potato or a winter squash like butternut or acorn for the pumpkin since I have all three put up in the freezer at the moment.
I searched the internet and found out that sweet potato warmed with soy milk appears to be a popular drink in Korea but the recipes seem to border on soup with the concentration of sweet potato. Starting with a base recipe and tweaking it a bit, I came up with something that I think parents will like for their kids to replace hot chocolate in the morning. The added advantage here is you get to control the sugar your family is taking in and you can easily change the milk to low-fat, coconut, almond or soy if you need something vegetarian. The recipe tastes nice with about 1/3 cup of coffee added to it. Too much and it will overpower the sweet potato which is less strong than pumpkin.
After I ran the first recipe a couple of times to get the measurements I decided to pull out the Chai Tea Kit I picked up at the Downtown Raleigh Farmers' Market a few weeks back from Olifant & Castelo. I haven't had a chance to play with it and this seemed like a good opportunity given the rain and chilly temperature this morning.
For the second recipe, I used the stove top to slowly steep the spices and tea with the milk and sweet potato. I also adjusted the recipe that came in my kit slightly. I have to say that the end result was subtle, complex and quite nice to slowly sip compared to the first test which tastes like dessert in a cup, especially with the whipped cream topping!
The really nice thing about both of these recipes is that they can be made a couple of days ahead of time, stored in the fridge, and warmed as you need them. The second positive note is that you can  control the sugar and calories in these by altering the milk and sweetener. While I don't advocate chemical sweeteners, you can adjust the maple sugar or maple syrup to fit your dietary needs. Sweet potatoes are already sweet so these drinks require less than you would think to seem rich and decadent.
A couple of notes. This drink needs to be blended well. Chunks of sweet potato don't taste good. So use a blender or a small food processor to blend your milk, sweet potato, spice and sugar (or maple syrup) before heating. I used the microwave in one test and the stove top for the Chai Tea blend test. An espresso machine will work equally well, especially to get a little froth on the top. Feel free to add some whipped cream if you have guests and have the kids help you make it!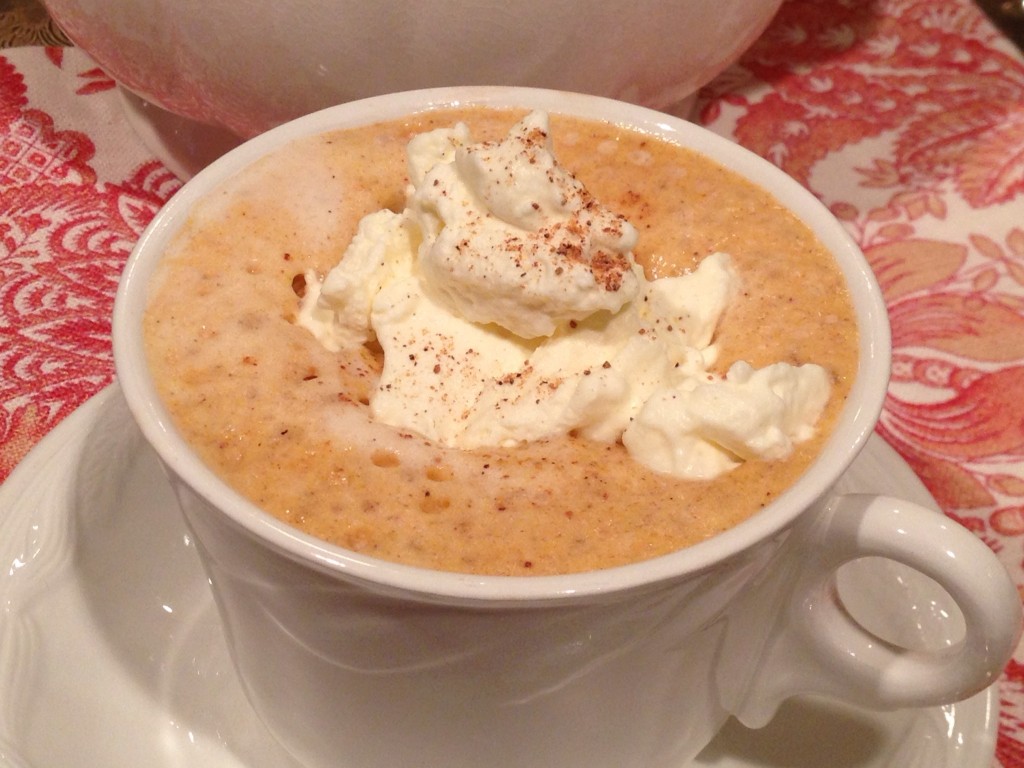 Sweet Potato Pie Latte for One
Ingredients
3-4 tablespoons cooked sweet potato, puree well
1 cup milk (whole, low-fat, coconut, almond, soy)
1 teaspoon Maple Creek Farm maple syrup (or maple sugar, which will be sweeter)
1/4 teaspoon Pumpkin Pie Spice blend
pinch nutmeg
whipped cream
1 shot of espresso or about 1/4 – 1/3 cup of coffee (optional)
Preparation
Put all the ingredients except the nutmeg in a small food processor or blender and mix until smooth.
Refrigerate until ready to heat.
Heat on low until it reaches 140F or a little higher.
Serve with a pinch of nutmeg and whipped cream on the top.
Sweet Potato Chai Latte for One
Ingredients (spices from Olifant & Castelo Chai Tea Kit)
1 stick cinnamon (about 1″ long)
4 cardamom pods
5 whole cloves
1/2 teaspoon whole black peppercorns
1 star anise pod
1/4 teaspoon ginger powder
1/4-1/2  teaspoon loose black tea
1 teaspoon Maple Creek Farm maple sugar (or maple sugar, which will be sweeter)
1 cup milk (whole, low-fat, coconut, almond, soy)
3-4 tablespoons cooked sweet potato – puree well
Preparation
Put all of the ingredients in a small pot and simmer without boiling over for 5 minutes.
Stir as necessary as it's cooking.
Strain and serve plain or with whipped cream.