Last year I developed a Roasted Pepper & Balsamic Hummus recipe that was quickly changed into soup with the addition of some veggie stock. It wasn't all that it could be and I felt like it lacked some depth and dimension.  So this year I spent  some time researching other recipes and developing a base set of ingredients that could be taken in a couple different directions with small changes.
This soup is full of flavor from the excellent crop of organic corn, heirloom tomatoes, sweet southern onions and long Italian peppers we had at every market in the area. Every one of these crops came in with outstanding flavors and I'm not sure I would have had such success with this recipe if the individual components weren't so good.
Having said that, the base recipe depends on your ability to take in local crops and roast them to pull out the rich flavors. Caramelizing helps develops the sugars in the vegetables that you can't get by just blending or cooking them in the broth. It is what makes this soup shine above last year's recipe.
I also pulled half of the test batch to add some pureed cannellini  beans and aged balsamic vinegar for a hummus dip.  And I pulled some of the base soup and added fresh goat cheese, toasted pine nuts and fresh basil for a spaghetti sauce. Both are quick and give you a couple more options for your frozen base soup without a lot of time or trouble.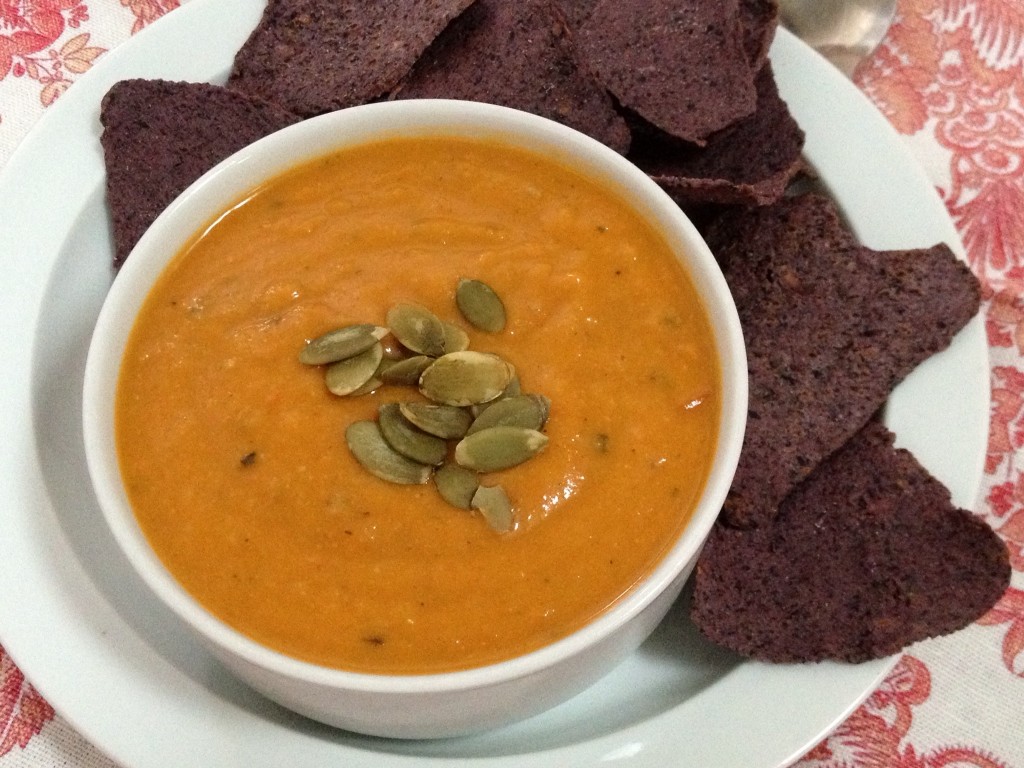 Roasted Pepper, Corn & Heirloom Tomato Soup
Ingredients
8 oz Italian Peppers, roasted (finished weight)
8 oz sweet corn, lightly sauteed (finished weight)
4 oz sweet yellow onions, roasted (finished weight)
4 oz sweet red onion, roasted (finished weight)
12 oz roasted heirloom tomatoes (finished weight, about 3 med/large raw tomatoes)
1 1/2 teaspoons roasted garlic
32 oz broth (chicken or vegetable)
1 teaspoon Chardonnay Oak Barrel smoked salt
1/2 teaspoon Himalayan salt
1/4 – 1/2 teaspoon ground Mesquite & Applewood Smoked peppercorn
Optional Ingredients
4 oz cannellini beans pureed (per 8 oz base soup)
1 teaspoon 10 yr aged balsamic vinegar
1-2 oz fresh goat cheese (per person)
2 teaspoons fresh chopped basil or parsley
1 teaspoon toasted pine nuts (per person)
spaghetti
toasted pepitas (pumpkin seeds)
Preparation
As each vegetable comes into season, roast, steam or slow cook them and freeze in small 8 oz containers to make this recipe simple and fast to prepare all fall and winter.
Pull the "cooked" peppers, corn, tomatoes and onions and let them thaw.
In a large stock pot, add the vegetables, 2/3 of the broth, garlic, salt & pepper. Let simmer for 15 minutes.
In batches, puree the soup in a blender until smooth. Add more broth if the soup is too thick or will not process smooth enough.
Reheat one for 5 minutes on medium until it comes to a boil for a couple of minutes. Serve and top with toasted pepitas.
Optional Preparation
Add cannellini beans and balsamic vinegar during the puree process along with additional broth if you want a soup. Leave it thick if you want a chip dip or hummus for a sandwich.
Add goat cheese, fresh basil or parsley and pine nuts and serve over cooked spaghetti
The soup will freeze with or without beans.