This week we've been fortunate to wear sandals, again. Is it really January? Apparently brief snow showers are a possibility for tomorrow's weather?  Welcome to climate change which brings me to my second topic.
Earlier in month Maple Creek Farm in Burnsville, NC cancelled their maple syrup production season. It's just too warm and the sap isn't flowing up and down the tree as it should. I am so disappointed because I use maple syrup all year-long in so many recipes to replace refined sugars. I have 2 bottles left of their incredible rich syrup from last year. That's going to have to last the rest of the year and I'm not sure how to make that work. They are still offering tours of the farm and I highly recommend those for folks interested in the process of farming in the mountains and specifically what it takes to have a good location for maple syrup. Here's a good link to start with: http://www.maplecreekfarm.net/
Which brings me to my third topic, a recipe post that uses maple syrup. I haven't posted a recipe in a while. I've been cooking, but after the main markets closed, I decided to work on some other projects and make a series of trips to Western North Carolina to meet with some new product vendors and see manufacturing facilities geared for artisan producers.
During one trip I came across a relatively new line of Gluten-Free products from Moon Rabbit Foods that I decided to try to play with to make items just a bit different from their intended purpose.
Chocolate brownies got a few additional items put into them and then were re-baked into biscotti. Pancakes were cooked at the market with dried apples and toasted pecans.  But I thought I could take the pancake mix just a step further to make a variation of an upside down cake. It  turned out to be  quite easy so I want to show you how in this simple recipe.
I used a couple different small cast iron frying pans for this recipe and both turned out well, although I think that the cast iron pan that was not enameled on the inside worked a little better to release the pancake and it seemed to rise up a bit better when I used a cast iron lid to hold in the heat and steam as it cooked.
And as a last note, let me take you to a short article on the differences between true cinnamon and cassia that was posted earlier this week by Savory Spice Shop in Raleigh: http://suite101.com/article/difference-between-cassia-and-cinnamon-a89695
*Moon Rabbit Foods products are available in NC at EarthFare.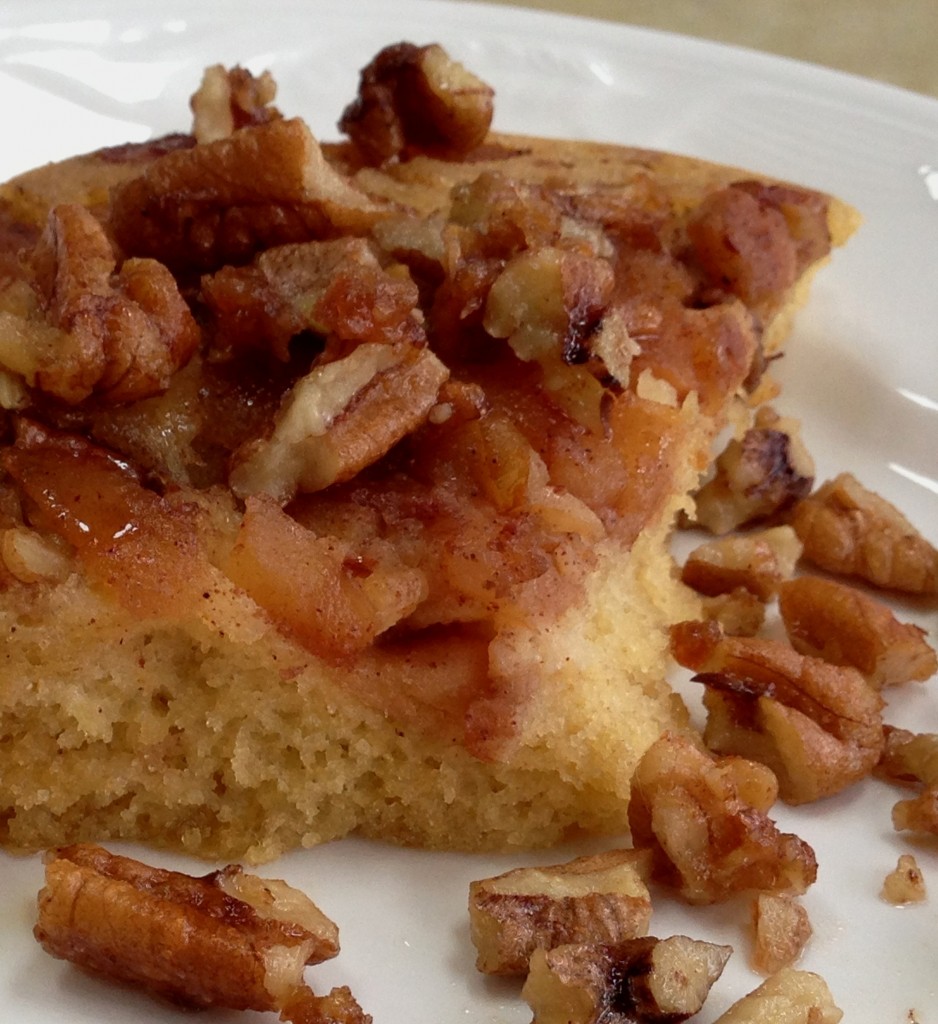 Upside Down Apple & Pecan Cake
Ingredients
3/4 cup Moon Rabbit Foods "Pancake & Waffle Mix"
3/4 cup Low-fat  milk
1 tablespoon melted butter
1 large egg
2 chopped apples (sweet, not too tart), chopped
1/4 teaspoon Ceylon Cinnamon
pinch of nutmeg
1/2 teaspoon maple sugar, turbino sugar, or brown sugar (each varies in sweetness so adjust amount)
1 tablespoon butter (or half coconut oil, half butter)
1/2 cup pecan pieces
2 teaspoons maple syrup, pinch of Himalayan salt
1/4 teaspoon candied ginger, finely chopped (optional)
Additional maple syrup for serving.
Preparation
Pre-heat the oven to 350F.
Mix the pancake mix, milk, egg and butter. Set aside and it will thicken as it rests.
Using a 6-7″ cast iron pan (with a lid), melt 1 tablespoon of butter (or half butter & half coconut oil) on med/low heat. Add the pecan pieces and lightly cook along for about 3-5 minutes. Add 2 teaspoons of maple syrup and the pinch of Himalayan salt and cook on medium heat for about 2 more minutes just to reduce the maple syrup a bit. Set aside on a plate.
Using the same cast iron pan on med/low heat, cook the apples with cinnamon, nutmeg and sugar for less than 5 minutes, until they have barely begun to soften.
Add the pecans back to the warm pan on the stove top with the stove set to med/low. Add a little butter or coconut oil if the mixture seems dry because this will help the pancake release at the end of the process.
Slowly pour the pancake batter into the pan in a circular motion, covering all of the pecans and apples, while continuing to cook. Keep the apples and pecans stationary on the bottom as you pour the mixture into the pan.
Cover the pan with a heavy lid and put into the oven at 350F for 10 minutes. The pan can remain covered the entire time.
Remove and let it sit a couple of minutes before flipping it out upside down on a plate.
Serve with maple syrup or whipped cream with a bit of maple syrup.
A few additional photos from the cooking process.