Some of my most favorite fall trips to Boone have included  trips to the Watauga Farmers' Market to pick out winter squash and apples. Every year I make it a point to try new varieties of both in this soup so it turns out just a little different each year depending on what's available when I make the trip. I've also used homemade pear butter but you can substitute some apple butter or find a local product to add to the recipe.
My first taste of Squash Soup came from Southern Season's Weathervane Cafe several years ago. It was silky smooth with incredible undertones of delicate spices. Up until that point, I had rarely had winter squash and it was generally over-baked and stuffed with so much sugar that it barely resembled a vegetable. Not the best recommendation for a healthy soup recipe. This one relies on NC sustainable/organic farm products like baby ginger, hot peppers, and maple syrup from Maple Creek Farm in Burnsville. (Maple Creek is no longer producing due to weather / climate change. Please go to their site to read their story.)
The other variations that you can make to this soup include using chicken broth, or adding  peanut butter and spicing it up with some dehydrated local hot peppers to contrast the maple syrup. Lastly, I'll comment on salt. This recipe calls for some "bright" salts like Murray River and Himalayan Pink that compliment the fall squash well without overpowering their delicate flavors. I really recommend keeping some of these on hand for cooking vegetables.
This recipe makes a good size pot of soup and you can freeze any extra you don't eat right away.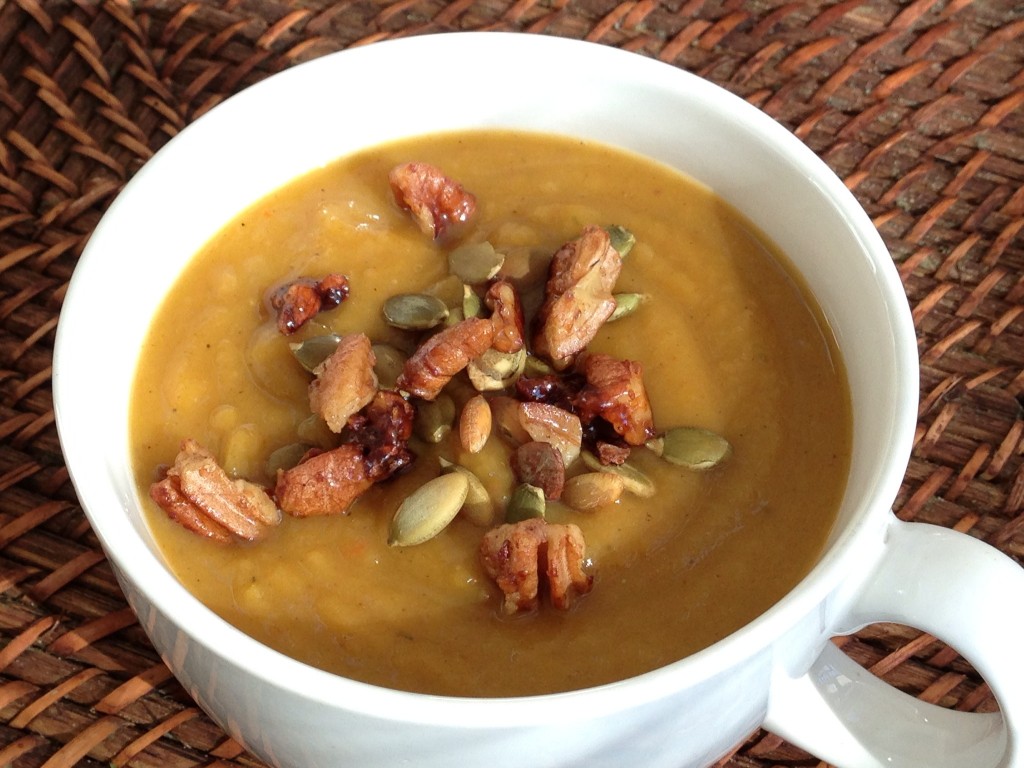 Roasted Winter Squash Soup
Ingredients
1 lb of acorn squash, washed, cut in half, seeds removed
1 lb pumpkin squash, washed, cut into 8 sections, seeds removed
1 lb butternut squash, washed, cut in half, seeds removed
olive oil
32 oz vegetable broth
8-12 oz low-fat coconut milk
1 tablespoon dehydrated apples, chopped or 1/4 cup raw apples, finely chopped
1 tablespoon shallots, finely chopped (or 1 teaspoon dehydrated)
2 teaspoons roasted garlic, finely chopped
2 oz roasted onion, finely chopped
2 oz pear or apple butter
1-2 tablespoons maple syrup
1 teaspoon cumin powder
1/2 teaspoon Aleppo chile powder (mild)
1/4-1/2 teaspoon Mild Chimayo Chile powder
1/4 teaspoon Cayenne pepper or some portion of a local hot chili from the market
1/2 teaspoon ground Ceylon cinnamon
1/4 teaspoon ground nutmeg
1 tablespoon fresh baby ginger, minced (can be frozen from the summer/fall season)
1/2 -1 teaspoon Murray River Flake salt
1/2-1 teaspoon Himalayan Pink salt
1/4 – 1/2 teaspoon fresh ground pepper (Four Peppercorn Blend)
Optional – 1/8- 1/4  teaspoon very hot local pepper like Picante or Espelette
Optional – Big Spoon Roasters Peanut Butter – add as much as you like
Preparation
First, bake all of the squash without oil at 350F until it's finished cooking, which should be about an hour. All of  it should be placed on a baking sheet or in a dutch oven with parchment paper on the bottom of the sheet or pot. Turn the halved squash upside down so the cut portion is flat against the bottom. For the slices of pumpkin, just lay them on their sides on the parchment. Cover all of the squash with a lid or foil so the moisture is sealed inside. We'll need that for the soup.
After cooking all of the squash, scrape the flesh from the skin. Measure/weigh out the squash you need for the recipe and add it to a soup pot. Refrigerate or freeze the remainder of the squash.
To the soup pot add the vegetable broth, shallots, apples, garlic, onion, spices and chile powders,  ginger, salt & pepper.
Simmer on medium low for about 45 minutes.
Puree in food processor or blender. Return to heat.
Add coconut milk (and peanut butter). Blend well and adjust seasoning and add vegetable broth if it's not thin enough. Coconut milk and peanut butter will dilute spices more than broth.
Top with candied pecans (in maple syrup with ginger) and toasted salted pepitas (pumpkin seeds)