Just in time for the Superbowl, I've got a surprise recipe that no one will see coming at your party. Goat Meatballs filled with slow cooked onions, celery, along with roasted peppers & garlic. The trick to making these really awesome if finding meat that has been ground only once, not twice. The meat should look loose with curly pieces of fat and meat; not minced and packed together. Otherwise your burgers are going to be too tight when you make them. We're looking for a fall-apart meatball that literally breaks apart in your mouth so you can taste all the veggies we are packing inside. So no over-mixing folks; and gentle cooking.
To keep the flavor profile rich but not overly "goaty" you will be using 1/2 ground goat and 1/2 ground burger (standard 80/20 blend). Both from local farms, both single grind. You're also looking for goat meat from young goats which tends to be more mild. For this week's test, I used WeatherHand Farm's (Durham Farmers' Market & Greensboro Farmers' Curb Market) ground goat meat and Cohen Farm (Midtown Raleigh Farmers' Market) ground beef.  Most all of our local farmers' markets have goat available now so you shouldn't have a difficult time finding it at all.
I'll be using the roasted Italian peppers & garlic along with slow-cooked sweet yellow onions and local celery from summer's harvest that are in the freezer for this recipe. You can substitute green garlic in this recipe for a little different flavor that is wonderful as well. I put some in the freezer last year mixed with some olive oil and it has held up pretty well.  This recipe is not overly spicy so it will be fine for kids. Feel free to amp it up with your own additions or serve them up with marinara sauce or slow-cooked fennel & onions. Any leftover meatballs can be broken up for lasagna, tacos or used for sliders or a sub as a second meal.
A quick note on locally grown celery. It used to be difficult to find but this past year I found it at several markets and all of it was grown quite well by sustainable farms in our area with beautiful stalks and lush green tops. The tops on the local celery represent easily up to 30% of the plant you purchase so plan to use them in a raw salad with corn or dehydrate them to use in soups, stews and sauces for tons of flavor. This Quinoa Salad with fresh Celery Leaves, Corn and Berries is really nice too.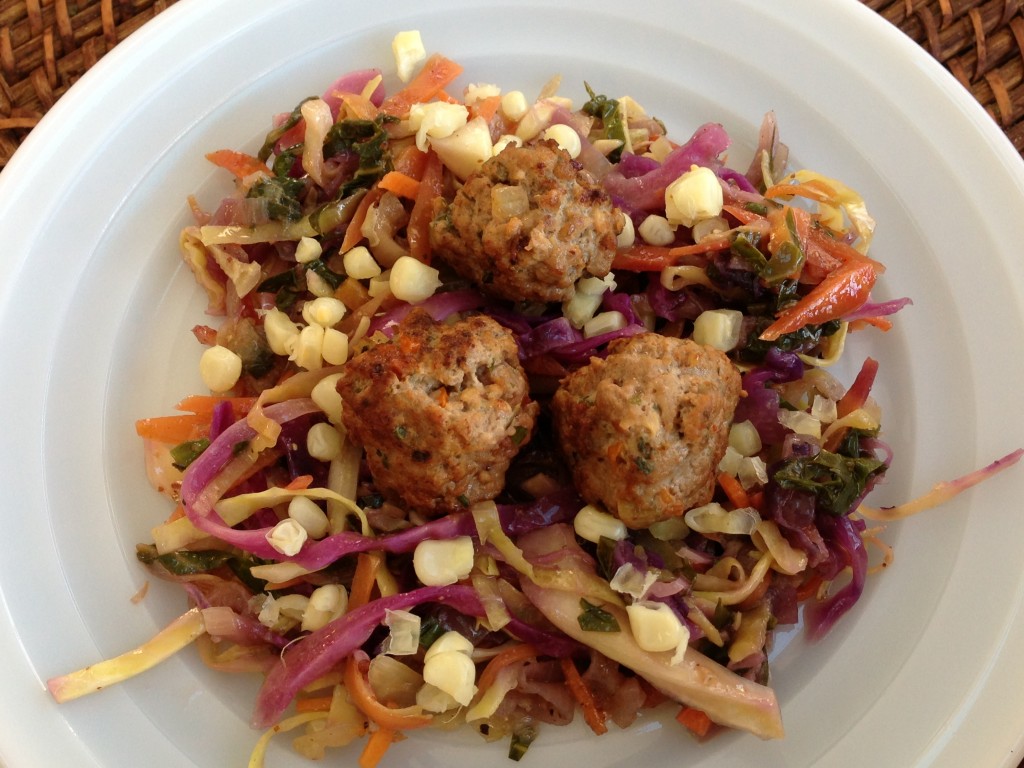 Goat Meatballs
Ingredients
1 lb ground goat (single grind)
1 lb ground beef (single grind 80/20)
1 large egg, lightly beaten
2 teaspoons roasted garlic smashed (or raw green garlic minced)
1/4 cup dehydrated sungold tomatoes (with herbs preferable)
2 tablespoons roasted Italian peppers, chopped
2 tablespoons roasted onions
1 tablespoon slow cooked celery or 2 teaspoons dehydrated celery leaf
1 tablespoon aged balsamic vinegar
1/2 teaspoon concentrated Liquid Tamarind Paste Concentrate
1 tablespoon dried parsley
1 teaspoon fresh rosemary, finely chopped
1/2 teaspoon fresh thyme, finely chopped or 1 teaspoon dried French thyme
1/4-1/2 teaspoon Mesquite & Apple Wood Smoked Peppercorns
1 teaspoon Himalayan salt (fine grind)
Preparation
Beat your egg first in a large bowl.
Add all of the ingredients except the meat and blend them together.
Gently break the meat into the veggies and spices and blend just until it's incorporated without mashing the grind too much.
Form your meatballs into a size that can be easily eaten in one or two bites and set aside on parchment paper on a baking sheet with edges (jelly roll pan).
Bake at 350F until cooked through. About 10 minutes.
Alternately, use a cast iron pan to cook on the stove top or grill top, using medium heat. Turn as needed to cook  for about 7-10 minutes. A lid can be used to retain heat and splatter.
Notes
You can use goat as a substitute in many recipes that call for beef making it more heart-healthy and acceptable for folks that don't eat beef specifically. It works well with many different spices and using slow cooking methods it is more flavorful in many dishes that call for a lot of spice.
For this recipe I gently warmed a simple Slaw Salad in a heavy pan on the stove top with some olive oil (you can add just a touch of local mustard and white balsamic vinegar at the end of warming) for just a couple of minutes on medium high. This will leave the slaw crunchy but just a tad wilted. Almost like a stir-fry but don't cook it that long.
Alternately, I think these might be fun served with the Raw Butternut & Apple Salad which is a bit sweet and would contrast the meat.  I think I might eliminate the ginger and the maple syrup when making it for the meatballs. Or the Winter Greens & Turnip Salad minus the black-eye peas, maple syrup and ginger should also work well.