It's St. Pattie's Day so I thought I would post this "green" recipe that I've been sitting on for a couple of weeks, trying to get a better photograph. The green is hard to capture and the texture is a little less refined than what I might ordinarily put in vintage china. But it's spring and I've been looking for an excuse to pull out the floral china and put aside the rustic fall colors.
This recipe was inspired by a bowl of soup that I had at Venable Bistro in Carrboro a few weeks back. While the entire meal was full of wonderful surprise combinations from a chef that supports the local sustainable farming community, this simple soup struck me as the highlight.  The unusual combination of vegetables creates a creamy and slightly sweet soup. After reviewing several recipes on the web, it became clear that this was a soup I wanted to share because it uses the best of both fall and spring veggies that come to the farmers' market simultaneously and it's not difficult to put together at home. You can store the base if you happen to have a bumper crop of cauliflower and/or spinach in either season. You can also use previously cooked ingredients from your freezer, which is exactly what I did when I was testing the recipe.  Now, I'll be the first to admit, that this recipe is quite basic and not as complex as the one at Venable Bistro, but here's your opportunity to experiment and make this base recipe your own over time with additional spices or changes to your stock. I'll add notes to the base recipe as I make it a few more times, so be sure to check back.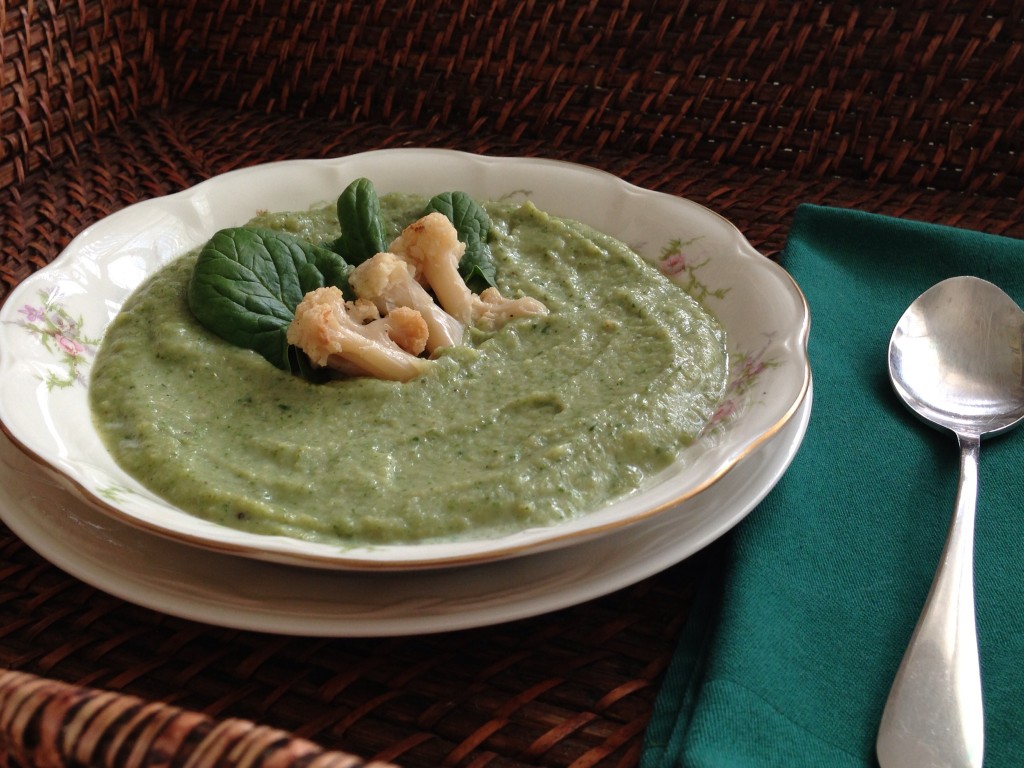 Roasted Cauliflower & Wilted Spinach Cream Soup
Ingredients
1 lb of roasted cauliflower (in olive oil)
1 teaspoon roasted garlic clove (more if you like it)
1/2 – 3/4 cup sautéed onion & celery (in olive oil)
2 cups veggie or chicken broth (up to 1 cup more if you like thinner soup)
2 oz baby spinach
1 teaspoon Chardonnay Oak Barrel Smoked Salt
1/2 teaspoon Himalayan salt
up to 1/4 teaspoon ground Mesquite & Apple Wood Smoked Peppercorns
Half/Half or cream (1/8 cup for every cup of vegetable & broth puree)
Preparation
Warm the broth, onion, celery and cauliflower in a pot until boiling.
Add the baby spinach and cook just a minute or two until wilted. The color of the soup will not be as bright if you over-cook the spinach.
Puree everything together in a blender or food processor, adding the two different salts & pepper at that point. It's possible to stop at this point and freeze or refrigerate the base.
Add 1/8-1/4 cup of half/half cream to the soup as you warm it to serve. If you use whipping cream, it will be more sweet and thick and you could add some additional broth to thin it back again.
If you have frozen steamed green zucchini, you can also add up to 1/4 cup of this to the soup to add more flavor but it's not a necessity.
Notes
I believe you might be able to substitute ground raw sprouted cashew butter for the cream if you decide to make this totally vegan. That would add the slight sweetness and cashews are a natural combination with cauliflower in many dishes. You'll probably need to puree the cashew butter with the vegetable broth before adding it to the soup so you get even distribution.
My chicken stock is made using celery, celery leaves, rosemary, thyme, oregano, bay leaf, onion, garlic, salt & pepper, sometimes carrot & turnips are also added if they happen to be laying around.