It seems like the rain has been going on forever. I remember about 25 years ago we spent an entire year in Raleigh with rain nearly every day. This memory stayed with me because there was a programmer from Texas at work that moved here for her job and after a year working for our company she moved back to Texas citing the horrible wet and humid weather. She liked to be outdoors and just couldn't stand the wet, muddy mess that clay creates around here. I'd have to agree with her this year. I'm just a little tired of ticks and mosquitoes. Generally speaking, it's been a long year and we're only a little over half through.
The result of so much rain on the fruit crops throughout our state has been hard.  Strawberries rotted on their stems in the spring; melons are plumping up and splitting before they ripen; blackberries and raspberries have been driven to the ground by torrential downpours. Blueberries are about the only fruit that seems to be holding on pretty well. The loss to local farms is staggering because fruit can be a good cash crop for many farms.
With increasing summer heat and humidity, smoothies are fun, colorful and cooling. There's a couple of ways to increase their flavor even if the fruit isn't as plentiful or potent.   They don't require expert measuring so you can use what you have in similar quantities and change the flavor with different liquids, specific honey flavors, or by dehydrating the fruit and adding nuts or coconut flakes.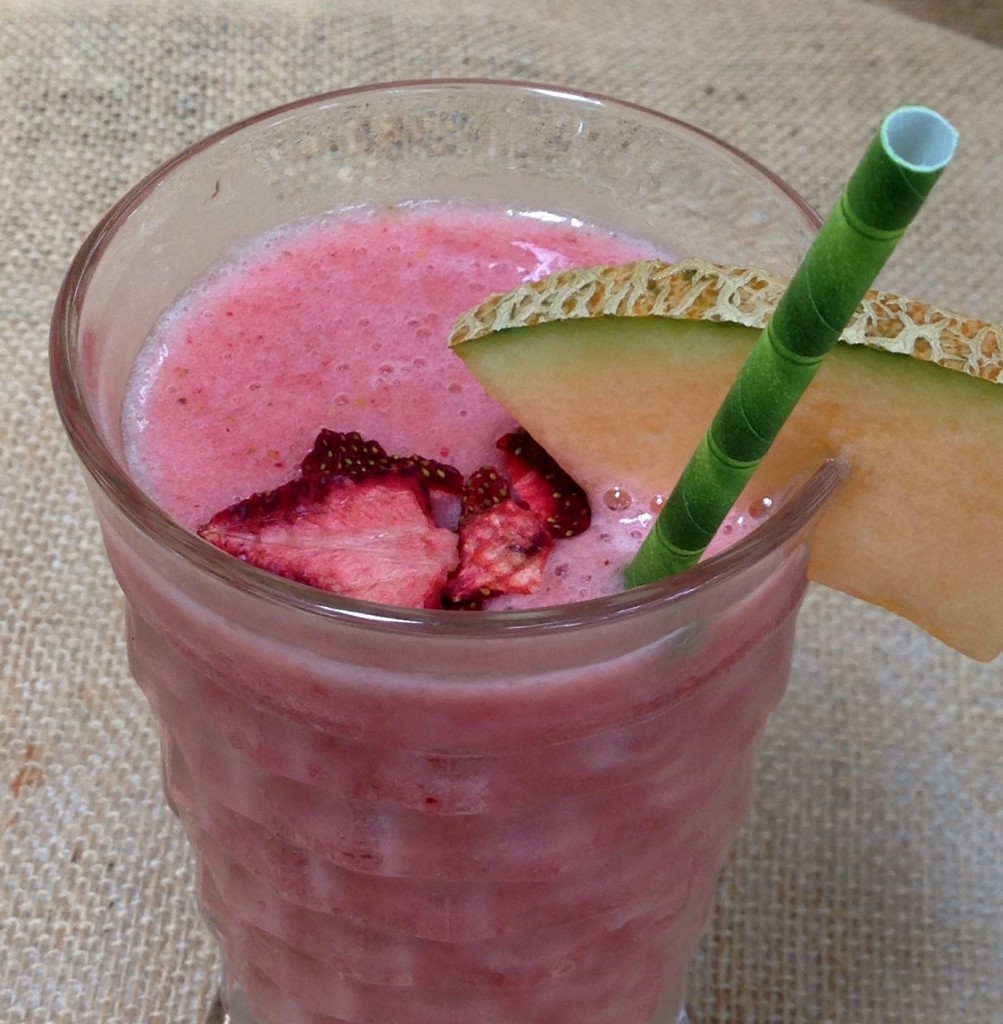 Cantaloupe & Strawberry Smoothie
Ingredients
1 cup cut up ripe cantaloupe (fresh or frozen)
1/2 cup cut up strawberries (fresh, frozen, or fewer dehydrated chips)
1/2 – 3/4 cup cut up banana (fresh, frozen, or fewer dehydrated chips)
1 tablespoon of your favorite honey (lighter, sweeter honey works well with the cantaloupe)
1/2 cup coconut water
2 tablespoons organic coconut flakes
Preparation
Add the softest fruit and coconut water (or other liquid) into the blend first along with honey and coconut flakes. Then add the frozen or dehydrated fruit chips into the blender and mix all of the ingredients on low until all of the frozen fruit is broken into a slush; which should take about a minute. Move the blender to a higher speed for another minute until everything is smooth. Add extra coconut water if you are primarily using dehydrated fruit.