I have to credit this idea to Chef Sarig at Zely & Ritz in Raleigh. Early in the spring he served an appetizer of beautifully stacked pickled beets with layers of goat cheese. It was such a delightful sight, it was hard to eat, but we managed, somehow.
Not being terribly patient, I didn't think I could demonstrate the pretty little stacks at the farmers' market very well, so I decided to adapt Chef Sarig's idea and utilize a glass bowl that would show off the beauty of colored heirloom beets ( http://sustainableseedco.com/organic-heirloom-beet-seeds/  ) and still preserve a lot of the flavor. It's probably possible to use a mandolin and thinly shave the beets for the layers as well. I'll try that sometime this fall and make some notes here for you.
The advantages of making this appetizer in a bowl instead of individual stacks is that it can be prepared in advance and it travels well.  Use  homemade crackers, toasted pita or warm bread with this dish and it's a showstopper that gets gobbled up quickly even when the guests profess to hate beets. The beets can be roasted, pureed and stored in the freezer for months, allowing this recipe to be made through many seasons in a matter of a few minutes once they are thawed.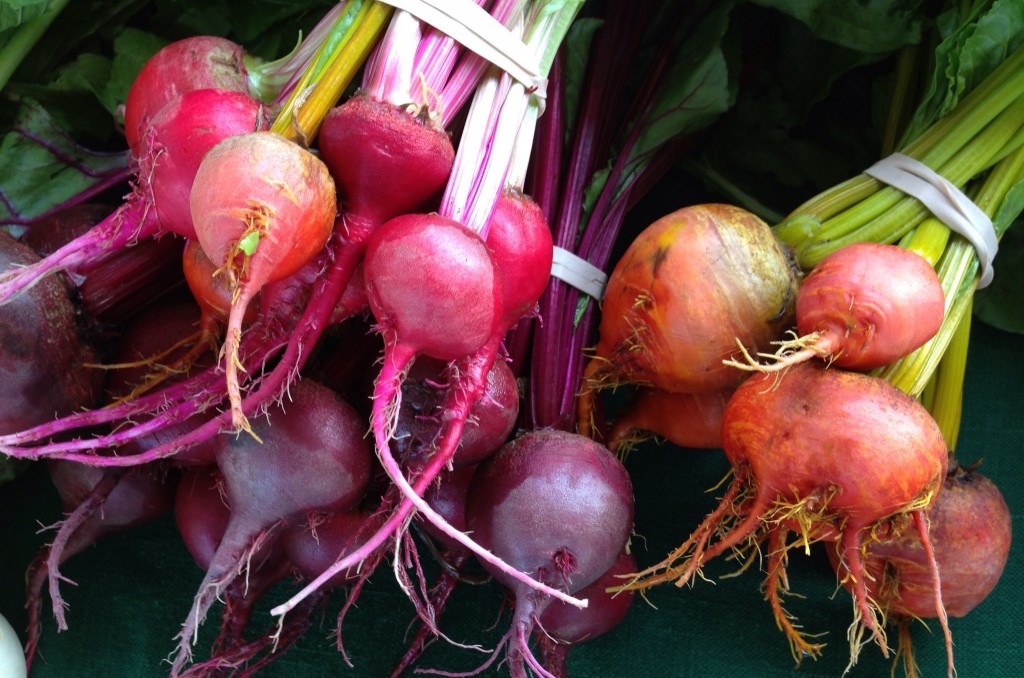 Roasted Heirloom  Beets, Local Chevre & Fresh Garden Herbs
Ingredients
For the Beet Layer:
For the Chevre Layer:
Preparation
Blend the beets together with the salt, vinegar and honey until they are fairly smooth. If you have different color beets, keep them separate so you can layer them when you assemble the spread.
Gently blend the goat cheese, fresh thyme, salt and pepper together.
Using a small glass dish, add about 1/4 – 1/3 of the goat cheese in the bottom. If you dish tapers smaller at the bottom, layer less so your layers appear even as you continue. Then add 1/3 of the beets (or the darkest color of beets if you have several types).
Repeat this process with the darker colored beets at the bottom of the layers and the lighter colored beets progressively higher finishing with beets at the very top.
As the dish sits, the beet juice will drain through each of the layers of goat cheese created a rainbow of colors from light yellow-orange through pink and red-purple. Allow your guests to use a small spreading knife to dig into the mixture and the colors will spread even more as it's eaten.