Hey, it's summer! Okra thrives like eggplant in this weather. With beautiful colors ranging from deep burgundy red to light pine blue-green, okra can really add color to your plate. It's known as "Lady's Fingers" in some countries, although some that show up at the market are not delicate like a lady's finger at all! In fact, one of the okra I picked from the Brody Discovery Garden at Duke last week was easily 9 inches long and an inch or so thick.
Okra is also quite healthy. There are lots of vitamin C, calcium, potassium, folic acid and antioxidants. Unfortunately, it's also well-known for the slimy texture once cut. But that "slime" is an excellent thickening agent in Brunswick Stew, Seafood Gumbo, or these gluten-free Cornmeal Cakes. Okra can be brushed with olive oil, salt & pepper and grilled whole in just a few minutes and eaten right away or sliced and added to other recipes for some additional flavor. Or think about slicing it thinly, rolling it in seasoned organic cornmeal and cooking it  in olive oil using a cast iron pan. I'm fond of this last method when there's a little hot smoked paprika in the cornmeal to give it some color and heat.
Any way you choose, any color you choose, any size you choose, it's all good for you, so enjoy experimenting. This recipe is slightly different from the one used at the Sarah P. Duke Gardens during the Durham Gardeners' Fair. To replicate the one from the Garden, replace the buttermilk with additional filtered water  and serve them roasted red peppers, pepper jelly and fresh local goat cheese.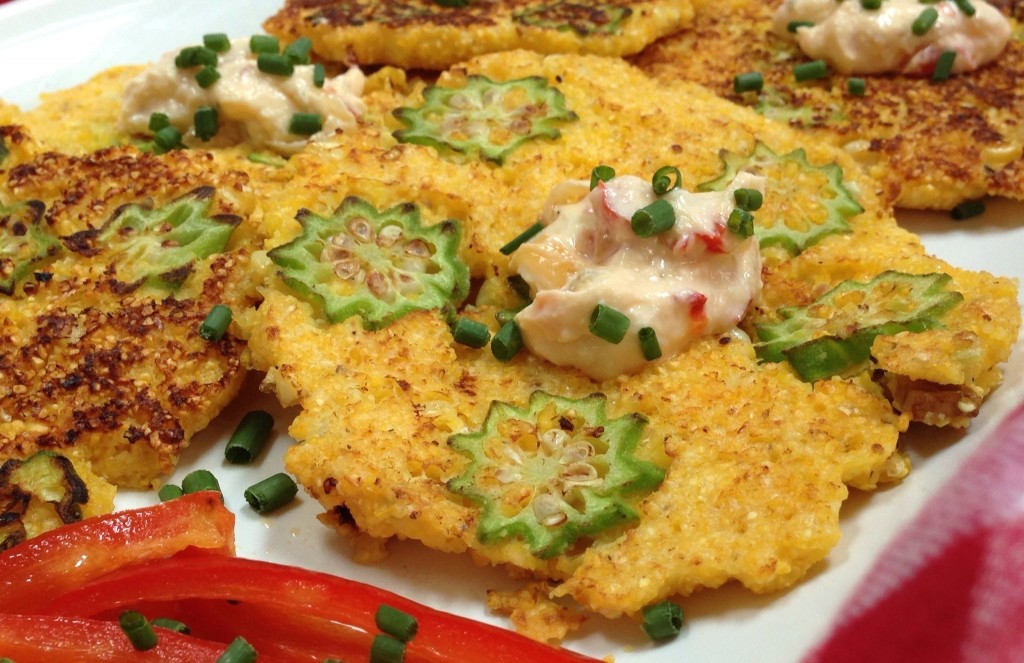 Cornmeal Cakes with Fresh Corn & Heirloom Okra
Ingredients
2 cups local organic cornmeal
2 teaspoons baking powder (aluminum-free)
1 teaspoon Himalayan Sea Salt
1/8 teaspoon fresh ground pepper
1 egg, lightly beaten (pasture raised)
1/4 – 1/2  cup filtered water
3/4 cup organic buttermilk (without added thickening agents)
3/4 cup of thinly sliced fresh okra (1/16″ – 1/8″)
1/2 cup of freshly cut corn off the cob (scrape the cob for the corn starch)
Preparation
Whisk together the cornmeal, baking powder, salt and pepper in a large bowl.
In a second bowl beat the egg, buttermilk and water and then blend together with the dry ingredients
Gently fold in the corn and okra to the cornmeal mix. The batter will be thick and will continue to thicken from the okra. Add water or buttermilk as necessary to thin it as the batter is used.