I've been meaning to do a post on sandwiches for several months. They are probably one of my favorite categories of foods. Almost all cultures have some sort of sandwich and if you are not into bread, you can use any number of vegetable leaves to hold your favorite ingredients any time of the year.
For busy families, sandwiches are a lifesaver meal, no matter what time of day. In less than thirty minutes anyone can create a fabulous sandwich using local farm ingredients and locally baked breads. And many of our NC farms are now producing nitrate-free "deli meats" made from their own organic pasture-raised animals. These meats provide a short-cut for many recipes from sandwiches to stews, soups, quiche or casseroles.
Just recently I conducted a Sandwich Class at the Durham Farmers' Market just for kids. The kids learned how to grill summer vegetables and put them together on a Panini  using bread and cheese from the market. While we created vegetarian sandwiches, any of our combinations could have included either left-over meats from a prior meal or some of the deli meats from local farms. Each student made their own combinations based on the food that was available from the market that day and what they wanted to try. We "pressed" our sandwiches into cast iron pans to make Panini sandwiches and we all shared the different combinations with each other. Class ended with parents asking what vendors had the vegetables, bread and cheese that we used in class!
In this "recipe" I wanted to highlight a couple of local farm and bakery items that can make sandwiches super simple for you to pull together. Using seasonal ingredients, a simple egg and ham sandwich can be made with egg, fresh herbs, local cheese, green onions and wilted spring greens or shaved asparagus in the early spring. When summer arrives use egg, bacon and roasted tomato or peppers and switch back to egg, ham roast, grilled eggplant or squash. As winter brings on the chill, switch to eggs rolled up in naan with herbs, lamb, hard local cheese, onions and winter greens with dehydrated tomatoes. All of those combinations can be modified with changes to the local bread or the way you cook the egg, or a decision to go with roasted, sautéed, grilled or raw vegetables. And then you can choose to grill, press, bake or serve at room temperature any of the combinations. Croissants, loaf bread, naan, pita, focaccia, and rolls can be heated, grilled, baked or used cold and each will impart a different flavor on the sandwich.
If you don't choose to eat gluten-bread, several vendors across the state offer gluten-free bread at different farmers' markets. And there's the option of using a large piece of kale, cabbage, lettuce, turnip or beet leaf to wrap up your sandwich as well. And remember that you can roast, saute or grill many vegetables and save them in your freezer to use on your sandwiches throughout the year. Second harvests can be the best of all since the hard work of preparation and cooking is mostly complete.
Here are a few photos with notes to get your started and I'll add more throughout the year. Send suggestions of your favorites!
Grilled Vegetable Panini Class at the Durham Farmers' Market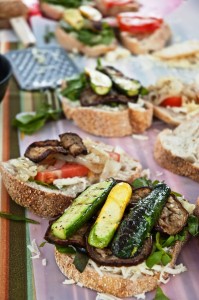 Coon Rock Farm Roast Beef with roasted peppers, slow-cooked onions, spring greens and local cheese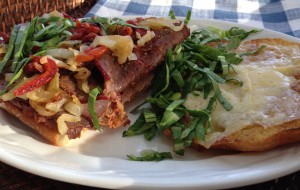 Raleigh Downtown Farmers' Market cooking demonstration using La Farm bread with sautéed organically grown vegetables from local farms.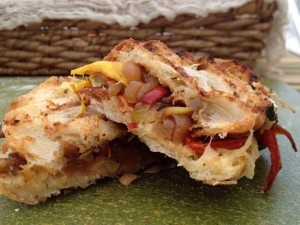 Loaf bread filled with fresh greens, heirloom tomatoes and local pastrami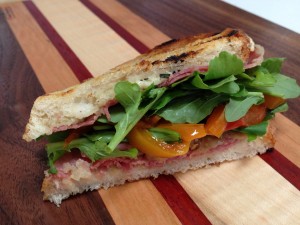 Local pita with leftover ham roast from Cohen Farm,  summer squash, zucchini & fresh heirloom tomatoes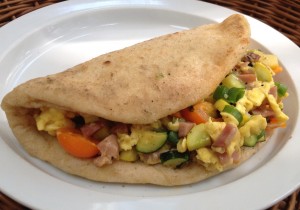 Local croissant filled with deli ham from Coon Rock farm, dehydrated cherry tomatoes, fresh greens and local cheese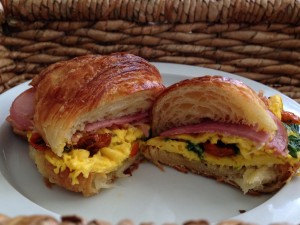 Grilled Cheese with sautéed Winter Greens at Western Wake Farmers Market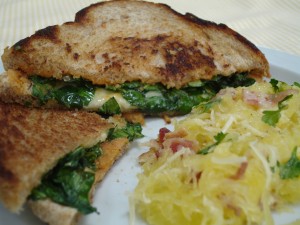 French Toast Sandwich with ham, roasted peppers and fresh-cut greens