Over the years, I've accumulated a few different recipes for corn bread. Many of them can be adapted easily to make muffins by reducing the cooking time. This tends to work out better for parties or simple portion-control if you're like me and can't stop at just one overly large piece.
Coming from Maryland, we tended to have sweet corn bread and not so much of the savory cast-iron pan style that you find around more Southern parts of the country. I like both types so it's fun to play with the recipes and see how much can be changed to make them more interesting with a particular dish. And just a quick note on the topic of butter & honey. They're not just for biscuits in my book. I love honey, maple syrup, sorghum and butter on cornbread, especially when they first come out of the oven!
I've had this particular recipe for well over 20 years and it's been adjusted just a bit to make it more healthy and it uses local ingredients that are pretty easy to find or make at home. For a while Chapel Hill Creamery was making yogurt and it was awesome. But they've stopped making it so I use the organic Greek yogurt from the store. Soon enough I'm going to start making it at home in the dehydrator in the hopes of having something that tastes a little less generic. The original recipe calls for sour cream and it's wonderful and rich, but I like the tangy flavor from the yogurt. Buttermilk or plain unsweetened kefir can be used in place of the milk as well to increase the lift in the muffin as a result of increased acid. Feel free to use fresh corn, lightly steamed kernels or corn that has been roasted in this recipe. Each will change the flavor slightly and go better with one food or another that you are serving. If you choose to make these more savory, try adding some fresh chopped chives, thyme or rosemary. All of them will blend well with the maple syrup.
My only other suggestion, because I dislike cleaning up after myself, is to use large tulip paper cup liners in your muffin tins. Check for them in your local paper store that sells items to restaurants. Kitchen stores frequently have them in stock in smaller packages and a multitude of online stores carry them. They basically eliminate cleanup and make it easy to serve these without everyone touching them or having them break apart so easily.
Now a little about the farmers that contributed to this recipe. Elizabeth & Andy run Wild Onion Farms in Johnston County, NC. They grow everything organically on their 7 acre farm. That's important to know because Beth has been bombarded by questions at the market in prior years about growing corn. She drives through her farming community to see if anyone is growing GMO corn. She won't grow corn unless she knows she can avoid cross-pollination and contamination from other crops in the area. So her organic corn this year was particularly sweet in my opinion, given the effort she and Andy put forth with the terrible weather to get their corn to market. The eggs came from S&L Farm out of Louisburg, NC. A farming community that is home to several farms using organic growing techniques. Linda at S&L has a multitude of veggies, fruits and meats on her 36 acre farm and brings some unusual jams to market as well. The maple syrup came from my dear friends at Savage River Farm in Garrett County, Maryland. Hana grew up in Raleigh and studied sustainable agriculture at one of my favorite colleges in Appalachian State in Boone, where she met her soon-to-be husband, Ben. I've worked with her on several projects here in town, in Boone and now in Maryland. Knowing my love of maple syrup candied ginger, they gifted me a very large jar from their private stock while I was visiting last month along with some eggs, local butter and quite a few mushrooms and tomatoes. Needless to say, there was quite a bit of cooking when I returned home!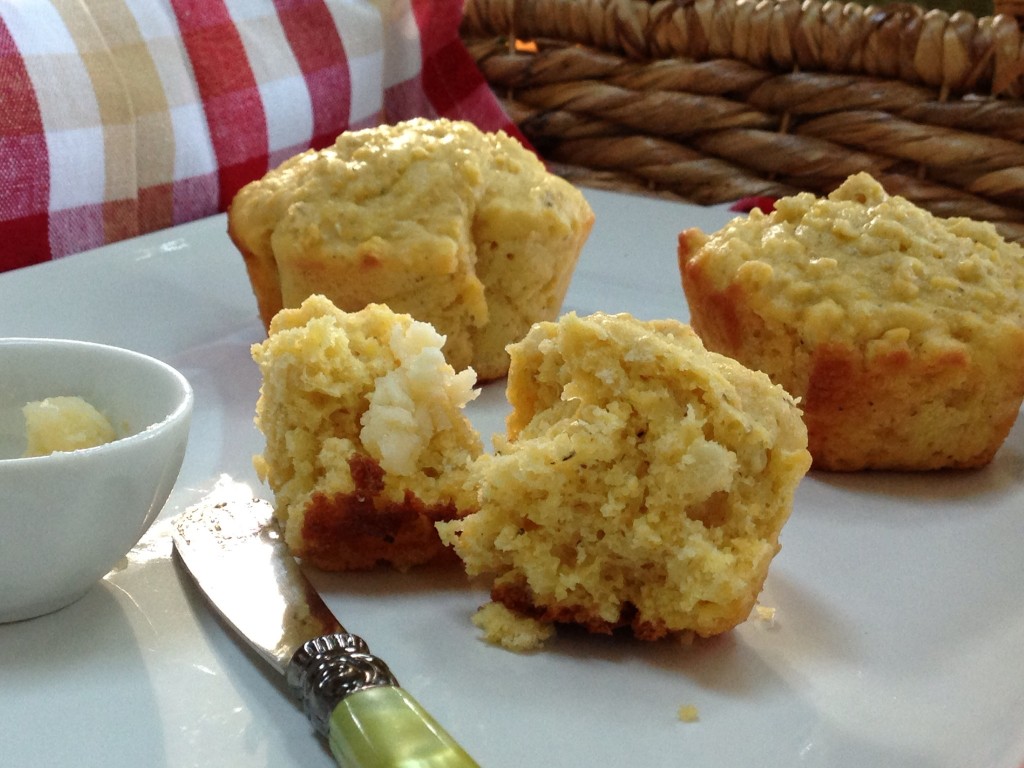 Brown Butter & Maple Syrup Corn Bread
Ingredients
1 cup local organic yellow cornmeal.
1 cup organic all-purpose unbleached flour
2 teaspoons aluminum-free baking powder
1/2 teaspoon baking soda
3/4 – 1 teaspoon Himalayan salt (fine grind)
1/8 – 1/4 teaspoon ground peppercorns (optional)
3 tablespoon maple syrup
1 organic egg, lightly beaten
1/2 cup organic whole milk (kefir, buttermilk, cream or 2% will work)
3/4 cup greek yogurt (don't include whey if it has separated a little)
3 tablespoons butter (salted or unsalted)
1 cup corn off the cob (freshly cut, lightly steamed, or roasted)
Preparation
Pre-heat oven to 375F (190C)
Lightly cook the butter in a pan on medium-low. watching it carefully, until it is lightly browned and then set it aside to cool completely. It will continue to cook for another minute. (Be sure not to burn the butter while cooking it)
In a large bowl combine cornmeal, flour, baking powder, baking soda, and salt. Mix well with a whisk to break up all of the clumps.
Add in the corn and mix again. This will help the corn stay separated in the final mix.
In a separate bowl, beat the eggs, milk, yogurt, maple syrup and 2 tablespoons of cooled butter until well they are well blended and creamy.
Add the egg mixture to the dry ingredients and combine with a few strokes until it's barely been incorporated.
While the batter sits for a minute, use a pastry brush to lightly coat the insides of the paper tulip cups with the excess melted butter OR the muffin tins if you are not using a liner paper. This will help the muffins to brown but not over cook and pull away without breaking.
Pour the batter into the liners or tins and fill to about 1/4″ from the top. I used the large muffin tins with liners so this was about 3/4 cup of batter.
Bake for about 15-20 minutes. They will be done when the top just begins to appear firm and a toothpick inserted comes out mostly clean. They are overcooked when browned on the top. Leave them in the tin for about 5 minutes if you have not used a liner and then you should be able to remove them easily and place them on a cooling rack. If you have used a liner, remove them holding the liner and set them on a cooling rack.
Serve warm within the first 5-10 minutes with honey or sorghum butter. Adding some fresh chopped thyme makes it a little more interesting. The recipe should make about 8 large muffins.