It strikes me as ironic that as the days get shorter, we naturally gravitate to meals that generally take longer to cook. Why is that? During the summer, about the most we want to do is rinse vegetables and grill outside for under 15 minutes. It seems like we're lucky to get dinner on the table by 8 or 9 when the sun has just finish setting.
Over the weekend I talked to a couple of local  farmers about this and they agreed that what people buy in the summer includes quick cooking foods  like steaks, boneless poultry breasts and lots of greens and fruits for smoothies and salads. Keeping in mind that greens grow best here in the our cooler months, farmers actually have a hard time selling some of the most beautiful green crops during chilly weather.
So maybe it's time to change how we think about cooking? When I was much younger and had a lot more energy, it didn't seem like a difficult task to cook after I returned home from work. But as the children came along, so did homework, a lot more cleaning, and a need to pack lunch and snacks along with cooking breakfast and dinner. Suddenly there was a lot more food preparation.
I'm sure that many of you can identify with this situation. Imagine adding farm animals to this and you have more than double that load.  So it's no surprise to me that many of our female farming counterparts employ the same technique I learned many years ago.  I refer to it as "Food Prepping" .
Basically, you identify the crops that only come in once or twice a year for a brief time, but are items you need all year. That includes things like onions, celery, carrots, peas, beans, tomatoes, corn, rice, and garlic. And it could include potatoes, rutabaga, sweet potatoes, turnips, apples,  and beets. Cooking, canning or dehydrating those items when they are in their prime allows you to save time later when you are making a traditional long recipe because the main part of the cooking has been completed, cutting out an hour or more of preparation time.  It also gives you a lot of options for trying out new combinations that you find on the internet through pinterest or a food blog.
If you eat meat proteins, you can also consider cooking larger quantities of meatballs, sausage, whole chickens, larger roasts or multiple pounds of stew meat or hamburger and simply freezing it in small quantities that will thaw quickly to be added to a soup, casserole or sandwich. This can easily shave your dinner or lunch preparations down by hours each week. We happen to like making large pots of soup and then freezing them in ice-cream serving cups with lids so they can go to work or school and be heated in their paper containers.
Many of my recipes use crops and meats  that have been prepped  and are combined with some fresh ingredients from the market like eggs, greens, mushrooms, cheese and fruit. It should not be a surprise that we eat around 85-90% local food that is bought directly from sustainable farms. It's taken a while to get to this point, but once you have suppliers in place and understand the seasons, it becomes a little more manageable to eat this way. The added bonus is that the food is fresher since it is normally picked just a day or two  in advance of a market.
This recipe is one of those that can come almost totally from the market or totally from your freezer. The meat can be any form of meatball that you like to make or it can be sausage, pulled pork or chicken or stew beef. If you like sausage but you are vegetarian, there are several good products on the market now that you can substitute. I can even imagine this with some fish and you'll see that I've made it with roasted bok choy, mixed mushrooms, an egg and short brown rice minus the sauce (waiting patiently for the 2013 rice harvest from Edible Earthscapes). The broth is light enough that it won't cover up some leftover grilled fish or just skip it altogether. It is also flexible with volume. If you like more gravy, just double the amount of broth and arrow root. Change the pasta to local rice or ravioli if it's available or consider making a galette or a small quiche. Add some chopped chives or bright green onions for a little color.  Use whatever variety of mushrooms are grown in your area.
This recipe easily feeds two.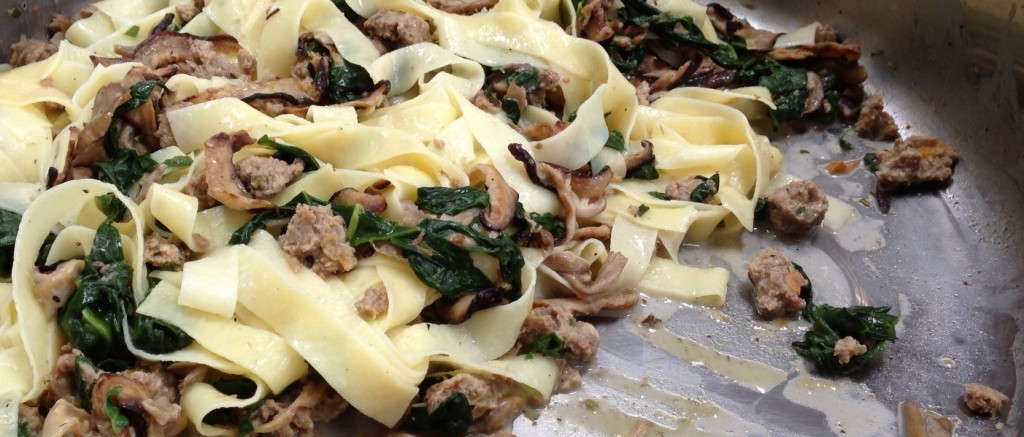 Mushrooms & Greens
Ingredients
1/2 cup broth (similar in nature to the sausage)
2 teaspoons arrowroot (gluten-free thickening agent)
1 cup cooked lamb, beef or goat meatballs / sausage / or pulled shredded meat, fish
1 cup mixed local mushrooms, sautéed (Shiitake, Oyster)
2 cups julienne fresh mild greens (spinach, chard, cabbage, baby arugula, baby pea shoots with leaves)
3-4 cups cooked wide ribbon pasta ( this includes fettuccine, tagliatelle, pappardelle). Egg, Spinach, Herb, Tomato or Pepper pasta work as well. Substitute pre-cooked rice or toasted cooked quinoa for gluten-free option
Salt & Pepper
1 teaspoon Italian Herb blend or a handful of chopped fresh herbs – optional
Preparation
Heat a pot of water until it's at a low boil, high simmer and keep it there until you are ready to add your noodles. You will be cooking the noodles at the same time as the main part of the dish so plan to add them at the appropriate time to cook simultaneously.
Mix the chilled broth with the arrow root until it's smooth. Set aside.
Heat a frying or saute pan (stainless or cast iron work well to retain heat evenly) on medium high heat and add just a bit of olive oil as it comes up to the appropriate temperature.
Add your meat. Heat all the way through for about 5 minutes depending on the density of the meat.
While the meat is cooking, add your noodles to the water to cook.
Add the mix of broth and arrow root to the meat, making sure to stir the broth well just before adding it to the hot pan. Using medium high heat, continue to stir the broth so it comes to a low simmer and hold there for about 3 minutes stirring until it begins to thicken.
Check your noodles. Remove from pot if they are finished and set aside with a little of their warm cooking water which has some starch from the noodles in it.
Quickly add the pre-cooked mushrooms  to the meat and broth. (these are cooked in season and frozen in small containers for up to 6 months). Warm for about a minute.
Add the cut fresh greens to the meat, mushrooms and broth. Warm for about minutes depending on how cooked you want your greens. These could actually be just tossed in with the warm pasta if you wanted a lighter version.
Add the noodles to the meat mixture and toss for about a minute so they absorb some of the broth. Or serve the meat mixture over the noodles so they retain their color and texture.
Serve with fresh herbs and cheese on top. Recommendations are for Chapel Hill Creamery Calvander, parsley, basil, thyme.
I'll leave you with some additional inspirational photos so you can decide how to create your own recipe from this one. The beautiful pink oyster mushrooms were grown by Old Milburnie Farm in Raleigh, NC. The white oyster mushrooms were grown by Savage River Farm in Garrett County, MD. The shiitake mushrooms are grown by several vendors locally including Edible Earthscapes, Woodfruit, Kellam-Wyatt Farm, Maple Springs Farm just to name a few.