Some of you might remember Hana Crouch from New Grass Gardens, an urban farm concept, here in Raleigh a couple of years back. For a while, she and her business partner managed a garden for Cafe Helios and for Bickett Market. Along with that they had regular CSA customers and helped the folks at  NoFo with the Five Points Farmers' Market. Young and full of energy, she decided to head up to Appalachian State in Boone, NC to finish her degree and had the opportunity to be one of the first young farmers at the University's new sustainable farm. The beginning farmers established vegetable beds, added a large hoop house to grow starter plants and winter crops, and prepared for the addition of livestock to the farm. You could say that she's a bit of an entrepreneur when it comes farming and not afraid to try new concepts!
This summer she invited me to come up and see Savage River Farm in Garrett County, Maryland which she helped start with a couple of graduates from App State.  They have pigs, hens, turkeys, lots of field grown organic veggies, cultivated mushrooms and a bit of fruit. Climate is one of the challenges of being so far west in the Alleghenies (part of the Appalachian Mountain Range). With a short summer growing season and brutal winter often including early and late snows, selecting breeds of veggies and managing livestock is essential. Markets tend to be few and far between, so it's critical to establish three types of customers. The regular CSA members that purchase throughout the year, the seasonal visitors coming into the county that want to eat sustainably grown fresh food, and restaurant/caterers that plan their menus around seasonal food all year.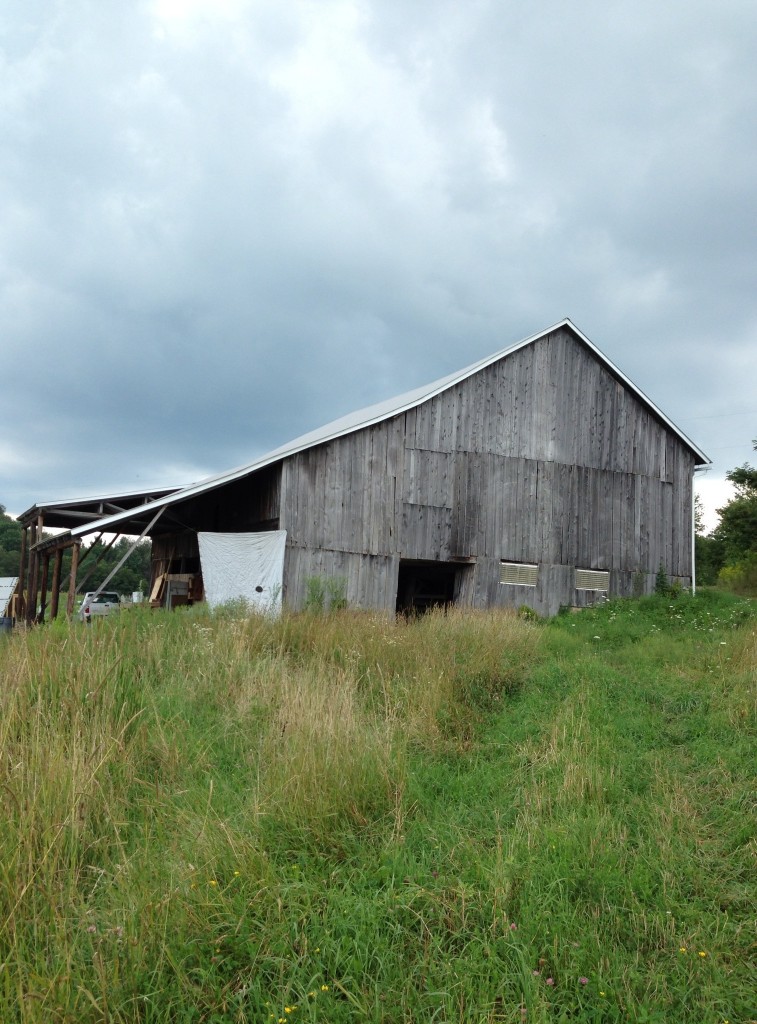 Maryland is a lot like North Carolina in many respects.  It is pretty easy to get from the coast to the mountains in a matter of hours. It was colonized early and has a long history of immigration.  The food culture throughout the state is representative of changes to the population over time.  I grew up in the Baltimore area and we traveled all over the state during my childhood.  Both of my parents had their favorite spots for summer vacations ranging from the coast for my mother to the mountains for my father. I like both equally well!
My father grew up in Baltimore City and he loved to eat.  When we were young, he would take us to little places throughout the city and tell us the stories about how he discovered these places growing up. From Polish sausages to Italian pizza and clam bakes to bakery sweets, we were always out exploring food around the city. Our weekend ritual included getting up early to go down to the local German bakery in Ellicott City. A line formed before the doors opened on Saturday and Sunday. Leidigs, which was run by one of my father's old buddies, had the most amazing soft sandwich buns that I have ever eaten. And their jam and custard filled doughnuts and pastries were known throughout the county. The entire store was sold out of everything on the weekends as people waited in line with paper numbers for their turn.
My mother was raised in the very small town of . Port Deposit Maryland with a population of under a thousand at last count. The Cecil County area dates back to the 1600's with many homes still existing from the 1700 & 1800's.  Her love of seafood and history is not surprising given her upbringing. Coming from a family of thirteen they raised their own chickens, eggs, vegetables and fruit. My grandmother was well-known for her fruit pies and to this day I have not mastered the blackberry pie, apple cake or fried chicken that my mother is able to make. There were no recipes, just show & tell, which is probably why I enjoy giving classes so much at the market and rarely follow recipes at home.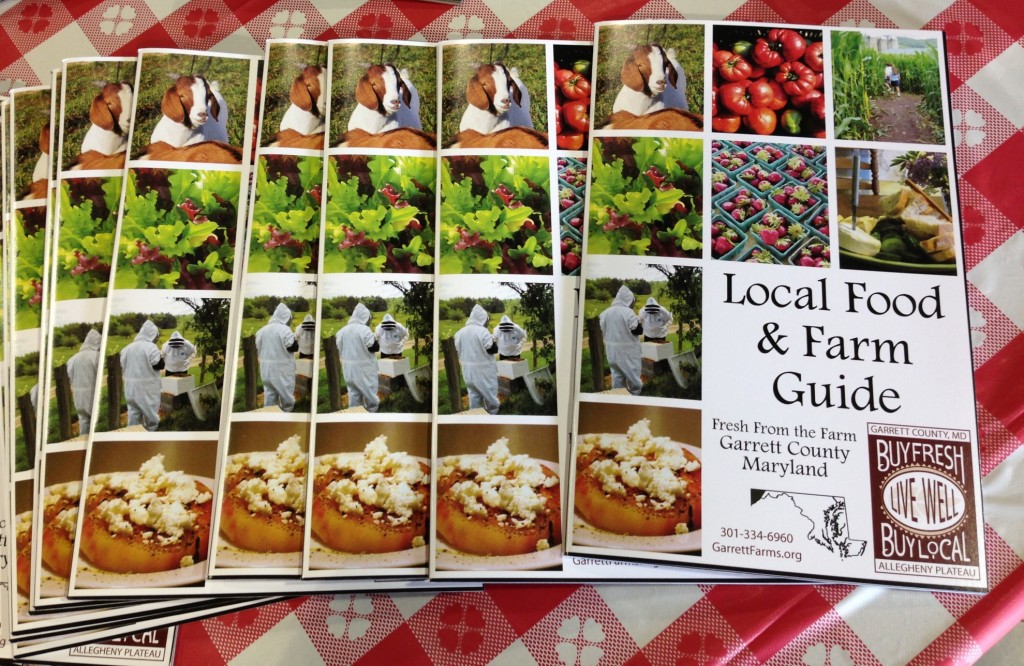 So the long story to short, is that my trip to Garrett County to see Savage River Farm was a trip down memory lane.  I had the opportunity to be one of three judges at the first "Serve It Up Local" event for the county. Executive Chef  & Restauranteur Spike Gjerde  of Woodberry Kitchen and Executive Chef Adam Murray of Pine Lodge Steakhouse were wonderful to work with for this competition. Both have far more training and experience in the commercial field of food than I do. And, they offered up ways to evaluate the individual creations on each plate we were served. Their knowledge of cooking techniques and specific regional  ingredients proved invaluable with so many competing chefs.
More than a dozen local chefs were assembled and local farms were encouraged to aid with food choices for the competition. In one day I saw as many ways to use food as an entire season at one of our local farmers' markets. The chefs spent a tremendous amount of time coordinating with local farms and selecting seasonal ingredients. Each of the chefs had a chance to explain their dish and note the local food and farm they used to us as we went through the process.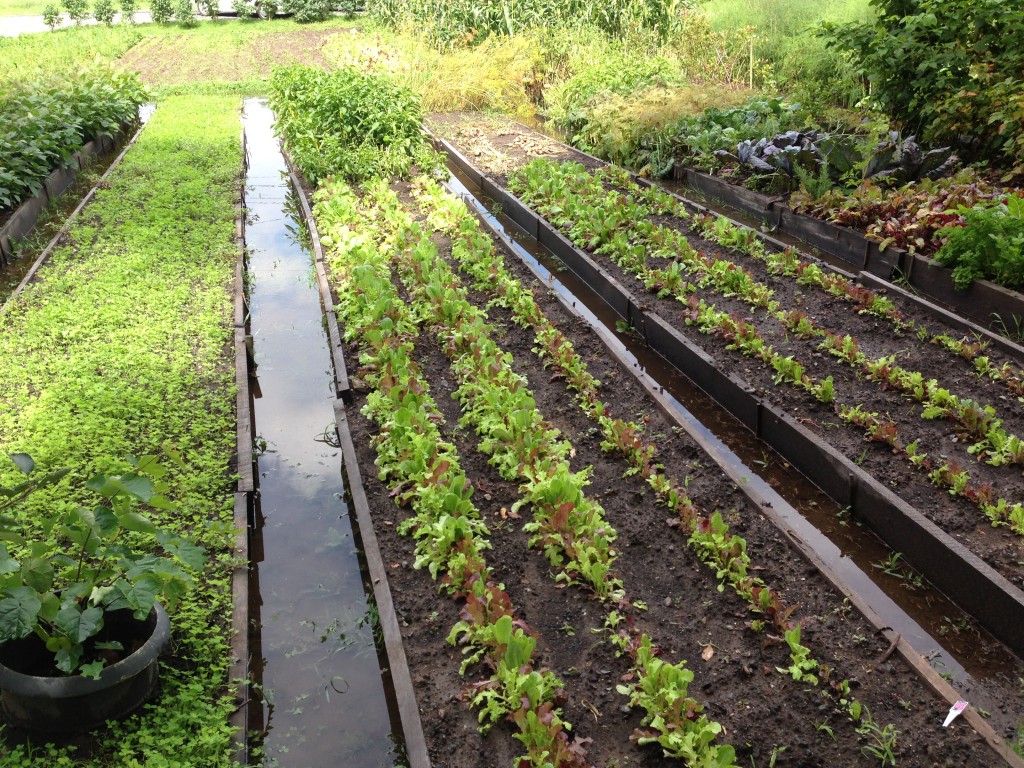 The recipes ranged from simple to complex. The mountain season is just a couple of weeks behind ours in the summer and then it ends a bit more abruptly in the fall than ours with the first freeze and snow. The chefs ranged from self-taught to professionally educated.  We had sweet corn and fresh onion in a delightful chowder. And a ramp sorbet. Not something I would want to eat all of the time, but very creative and quite well-balanced. We also had some lovely tenderloin from a local farm that was expertly prepared. Here's a list of the winners, many of which either do private catering or run a restaurant. I encourage you to try out their creations if you get a chance to be near Garrett County, Maryland.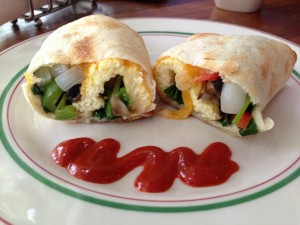 It was encouraging to find some local restaurants already taking up the challenge of working with seasonal local food. I was fortunate enough to find a couple of restaurants in the area like Water Street Cafe using local eggs and veggies at breakfast along with an organic honey. Mountain State Brewing at Deep Creek Lake is using local sausage and goat cheese from FireFly Farms to make extraordinary pizzas. I really can't say enough about the quality of the cheese at FireFly. You can find some of their products at Weaver Street Market.
Sourcing from multiple vendors who are growing different varieties of the same food and harvesting weeks apart takes a lot of work. Adapting these local ingredients that change with each harvest into a business plan when customers expect a hundred items on a menu each and every night is a huge task.  Riverside Hotel takes a simple approach and generally cooks two soups a night, along with a salad cut right from their back yard and a couple of desserts.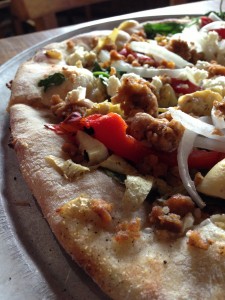 It seems like many of the chefs at the event enjoyed learning what was available seasonally and meeting the farmers. So the lesson to be learned here is it's a push and pull strategy that works to incorporate locally grown farm food into the local food industry.  It takes both the home cook and the local chef to make farming work as a business today. Farmers are hard pressed to sell to one or the other. Everyone has to be smarter about what they grow, how they store and use it, and how to differentiate it for their business to succeed. But as consumers, we can help by understanding the seasons and adjusting our eating habits and taste buds to incorporate more local fresh food and by asking our local chefs to use locally grown sustainable foods.
Throughout the event there were classes taught by local chefs focused on using and storing local food. Here are some photos.  Near the end of the event I had the opportunity to teach a children's class where we focused on a combination of raw and cooked foods. The highlight for the kids was using the spiral cutter to make fresh raw noodles from fresh picked zucchini. Everyone had a really great time taking turns, including parents, and then hand slicing other veggies to cook for the topping on the vegetable noodles. It took less than thirty minutes to pull together a delightful fresh snack of spaghetti, which they all gobbled up.
At the end of the festival and competition and award ceremony there was a lovely catered "50 Mile Meal , serving up more local food, including pulled pig. And all of the judges received a wonderful basket of products to take home from the area. I also had the opportunity the day before to pick up a couple of items from the Frostburg Farmers' Market.
As a part of the dinner celebration, Chef Spike Gjerde gave us a wonderful presentation about his coordination with farmers, fisheries, and dairies that service Woodberry Kitchen. It's impressive to see the canning and preserving operation that sustains the restaurant all year, putting up more than 60,000 lbs of tomatoes. The preservation operation is moving to his new restaurant called Shoo-Fly where customers will be able to purchase some of the same ingredients he uses in his restaurant.  There is an article talking about his work over the past several years that I think is really worth reading if you have the time. Here's the link:  http://eater.com/archives/2013/08/07/spike-gjerde-interview.php . And another article in the Baltimore Sun talking about a new food hub in Baltimore that is in the planning stages now.
Chef Gjerde is committed to understanding the history of Maryland cuisine and the challenges of local fisheries, farms and dairies. His desire to teach others about sustainable planning, preparation and eating food thoughtfully is rare among chefs, in my opinion. During the evening he spoke about the challenges of explaining to patrons the necessity of carefully choosing what fish and seafood to serve at his restaurant and why he chose to eliminate foods from his menu during different seasons or because they simply were having a bad year. Hopefully his passion will inspire other chefs and consumers to follow in his footsteps. Here's a good article worth reading at the Washington Post.
The second opportunity I had at this dinner was to spend a little more time with the local chefs who participated in the competition. We spoke about their personal challenge to incorporate local food in a rural community that really had not embraced the "local food" movement yet. Most consumers shopping in a traditional grocery store don't fully understand the concept of seasonal eating because our food is brought in from all over the world. Several commented that they intended to make some permanent changes in their own recipes to reflect seasonal foods and look at offering more classes as a way to educate their customers.  We stayed late  into a beautiful night and  I was quite tired when we finally left that evening.
The next day presented us with a bright sun and blue sky. We were invited to have brunch with everyone working at Savage River Farm.  I never miss an opportunity to eat a meal with Hana as she's a wonderful cook. There was a large bucket of freshly gathered eggs next to the stove, bacon cooking in a cast iron pan and big stack of buckwheat pancakes on the counter right next to a large mason jar of maple syrup and a large block of farm butter.
We gathered up the food and carried it out to the picnic bench under the tree by the house. Brunch was relaxing and wonderful and filled with stories about the animal antics and the craziness of raising pigs. We discussed possible plans for renovating the barn to host farm activity days. And the very possible addition of more livestock and additional hoop houses to extend the seasons and provide for local restaurants. It will be interesting to see how "Crowd Funding" moves forward to enable small starting farmers a method for raising funds outside of large institutional loans and grants.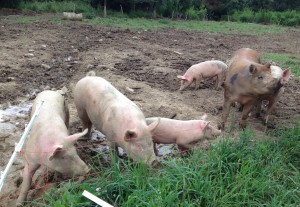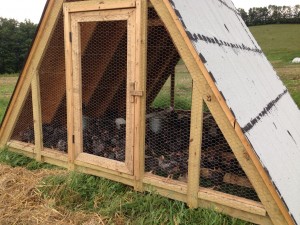 Following a lovely meal, we toured the farm. Visiting the baby turkeys was pretty straight forward, but of course we all needed to pet the pigs, which are Hana's obsession. They are fed daily with goat whey from the local goat cheese maker, Fire Fly.  Then we inspected a set of hoop houses with a special design from a local ag extension agent, that allows them to be shifted over time and give the ground beneath them some rest.  They have a solar dehydrator at the farm which is based on a design from a professor at App State. We also had the opportunity to pick a huge bag of oyster mushrooms in the barn that had taken off with the warm humid weather.  After talking a little more  it was time to  gather up  the eggs, fresh produce, and mushrooms for the long drive home.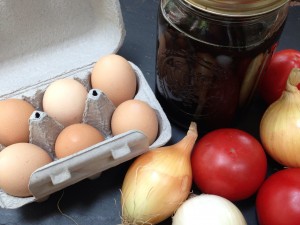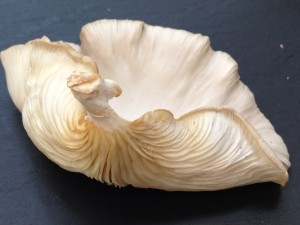 We took the parkway for much of the drive home since the weather was much improved and the highway trip was just about unbearable. There was time to stop and take pictures of lovely buildings and little towns and eat a few snacks along the way. It was a great trip and one I hope to repeat. The folks in Garrett County plan to hold the festival again next year because the turn-out was so good. I hope you have a chance to go visit and taste all the delights that county has to offer.
In the meantime, if you have an opportunity to pick up some oyster mushrooms at your local farmers' market, I've put together a post outlining the method I use to cook and store these in bulk. It differs from the way I cook shiitake mushrooms because the oyster mushrooms are more delicate in texture and require much less cooking time to retain their beauty and flavor. Here's the link to Cooking with Local Oyster Mushrooms.