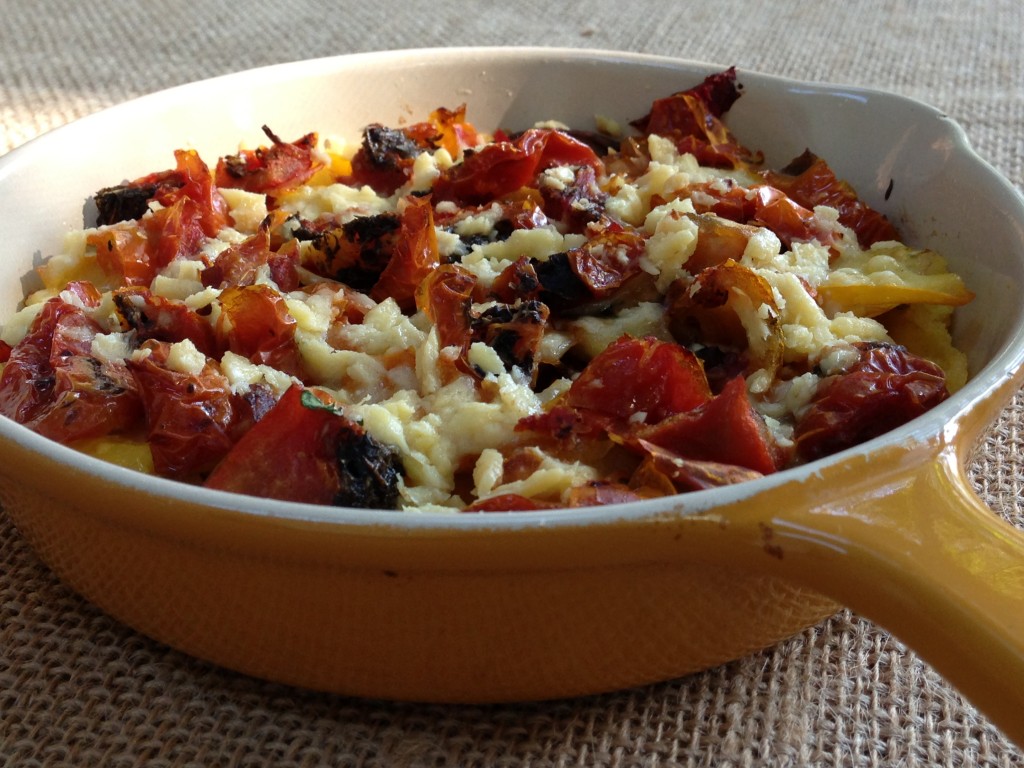 As it normally happens each year, I ran out of olive oil at the end of fall. I actually try to run out just around Thanksgiving so I'll be ready to usher in the holiday cooking bonanza with freshly pressed olive oils from different regions. The wonderful staff at Olio2Go help me select oils throughout the year to test with different recipes for the best outcomes. In my last order, they put an extra package of imported Italian yellow polenta from Moretti Bramata.  In the past, I've worked with several brands of stone ground organic grits from NC and Virginia, but never an imported polenta, so I was excited to play with the bag of golden nuggets and decided to do a little research before starting.
While the package states this is  "coarse ground" corn, it is quite finely ground and more uniform than stone ground grits that are available locally. The Moretti family has been growing corn since 1922. Their process includes drying the corn in open air barns and stone grinding it using a process called "reduction milling" where the corn is run through the mill several times. Each pass through the mill reduces the size of the grit and creates more uniform particles than what we find from our local mills. Cooking time appears to be reduced with the smaller size grits and the texture after it is cooked is more even so it's easier to shape and cut.
During the course of my research, I came across Anson Mill's website which had a great deal of information on corn. A couple of quick points that are worth mentioning. Polenta and grits are different in both in the variety of corn and in the milling techniques used in production. Polenta was initially used in Italy to feed the pigs. Most polenta from Italy is based on a variety of corn known as "flint" that came from the Caribbean around the 1500's. Flint corn is harder to mill because the starch inside the corn is harder than "dent" corn, which is typically used for grits and corn meal here in the South.  It also has a different flavor profile than "dent" varieties that are typically grown in the South. Flint stores longer than dent corn once milled and holds the texture better once cooked, making it ideal for certain recipes that require cut shapes.
You can read more about the history and cultivation of both "flint" and "dent" corn varieties on the Anson Mills website.
Armed with some basic knowledge of corn you can talk to the local farmers at the market to find out what varieties they grow and how they decided on those seed selections.
For these recipes I cooked the polenta with a 4:1 ratio of liquid to polenta. I am fond of using 2 parts milk (whole or low-fat both work fine) and 2 parts filtered water in a heavy stainless pot. (For soft southern grits I use 5:1 ratio with 3 parts milk). It was pointed out to me recently during a demonstration that I stir my grits constantly, putting a lot of "love" into them. To be honest, I like the process of stirring them and I think it helps the corn cook evenly and avoids sticking on the bottom. If you are eating dairy-free, just use water and skip the milk. Once cooked,  you can choose to move forward with the recipe using warm polenta, or store it in the fridge to use in a day or two, allowing it time to come to room temperature before baking it so that it cooks evenly in the center. There are two choices on how to treat the bottom layer of polenta in this recipe.
First, for a heavy base that can be cut and pulled out with a spatula for serving, spread the polenta in a baking dish that has been well oiled with olive oil to help avoid sticking. Then top it with a couple of roasted veggies that are in season. Next top that with the cheese of your choice which will help to bind the mixture together as it bakes. Be careful not to add too much cheese as it will cover the other vegetable flavors. It's also good to note many cheeses change flavors once heated, so in some cases you may want to add the cheese as you pull out the polenta and vegetables. Fresh goat cheese or fresh ricotta might be a couple of cheeses to consider adding at the end of baking. There should be some balance in each layer, especially if you have taken time to develop the flavors and textures in your roasted vegetables.
While testing this recipe, I found that using more than a couple of veggies at a time resulted in too many competing flavors in each bite and overpowered the underlying sweet corn flavor of the polenta. If you're going to take the time to make good polenta and roast seasonal vegetables, then you should be able to taste all of that hard work in the resulting dish. So think about how much you want to put on top of your polenta base and which cheese will best compliment both the corn and veggies that you have chosen. The better choice might be to make several small dishes with different combinations to serve instead of one large dish with everything piled high.
You can create a lighter polenta base can by adding eggs and some additional milk to the cooked before re-baking dish with vegetables and cheese. The base becomes more like stiff spoon bread. With this technique, fewer vegetables and less cheese create a light and delicate side dish for any meal. More vegetables create something like a buckle where the veggies fall into the corn base.
All in all, there are several ways to make this dish throughout the year using both techniques and altering your choices on vegetables to fit the season and the weather. You can even make individual servings using small cast iron pans so everyone at the table has their favorite. And these can go out on the grill in cast iron pans if you are careful about the level of heat so you don't burn the bottom. Using ramekins gives you more flexibility to prepare them ahead of time if you are having a party and create smaller portions with different toppings.
In my tests, roasted tomatoes were a natural pairing and their liquid seeped down into the polenta, blending nicely. Tomatoes paired with grilled or roasted eggplant, sautéed summer squash, or grilled mushrooms all worked well. The summer squash also paired well with slow cooked onions. Both have some liquid left in the cooking process that can be used with this recipe, being careful with the amount used. Mushrooms and eggplant paired well although this combination was a bit dry and might be better with a bit of cheese or tomato to moisten or bind them together. Peppers and onions paired well although peppers have a dominant flavor that I enjoy in soup with corn, but in this application, be sure not to use too many and let the corn and cheese offset the peppers. Baby spinach or young chard with onions or mushrooms was lovely but you have to enjoy your greens to enjoy this combination and choosing the lighter tasting green was important so it won't overpower the sweet corn flavor.
For cheese selections I like to use fresh goat cheese paired with mushrooms, eggplant and peppers. I tend to move towards aged cow cheese like Chapel Hill Creamery Calvander for the tomatoes but I think their Farmers Cheese (or Smoked Farmers' Cheese) might work really well with roasted peppers because it has a unique stringy quality when melted and the tang it offers as a compliment to the sweet Italian peppers.
Of course you can always add some meat or fish into this dish. There are so many varieties of local farm sausage made with everything from chicken to pork or venison along with bacon or seafood like shrimp. I think you could spend an entire season trying all sorts of combinations and never have the same dish twice.
I didn't try eggs on the top of this dish. But here's my take on that idea. I think if you poached or lightly fried an egg and left the yolk soft it would make a nice dish with the tomatoes, mushrooms or greens for brunch. Since I love eggs poached in roasted tomatoes or fresh greens, this combination seems natural to me and would easily round out this recipe.
Think about the polenta base as an alternative to pizza or a tart and you'll get the hang of this recipe in no time at all. Have your kids or guests involved in making the combination choices and bake this in individual baking dishes for a personalized touch for the holiday season or a summer grilling party.
The recipe will easily make enough for four people as a side. You can make up all the separate ingredients a couple of days prior to the final dish so it's great to use up leftovers in the fridge. Or use pre-cooked, frozen items that have been thawed if you want to eat a little out of season or cut down on your cooking time.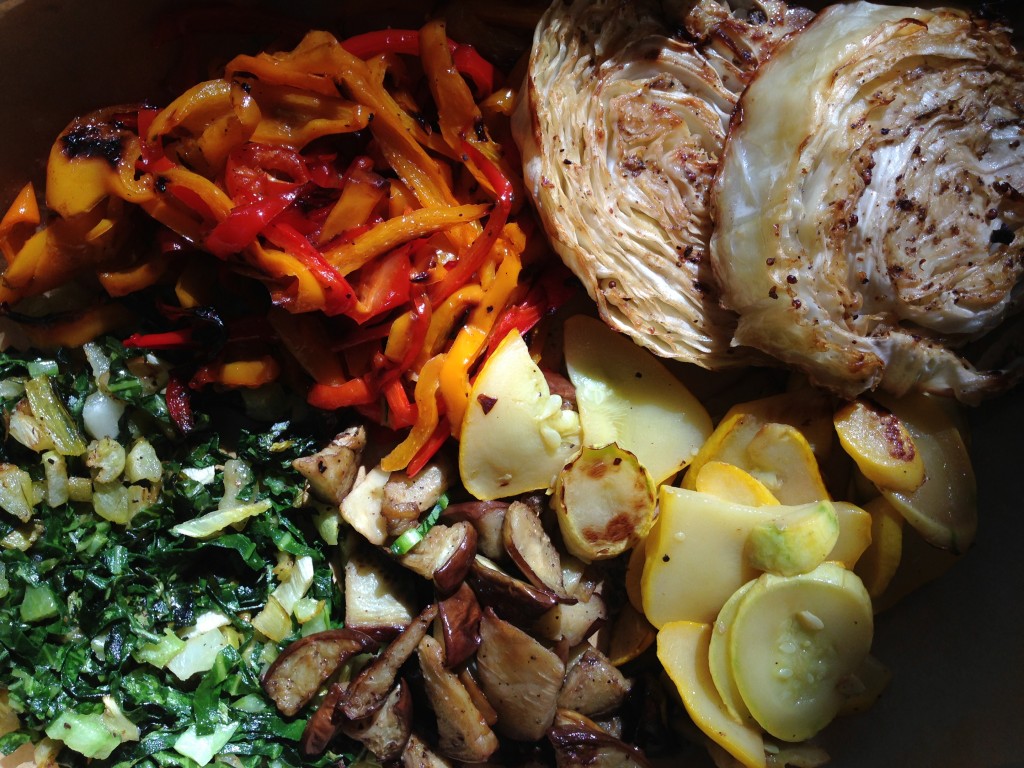 Baked Polenta with Seasonal Vegetables
Ingredients
1 cup Polenta fine ground
2 cups milk (low-fat or whole)
2 cups filtered water
1 tablespoon butter or olive oil
1 teaspoon Himalayan salt – fine grind
1 cup each of 2 roasted vegetables (peppers, eggplant, tomatoes, onions, fennel, squash, mushrooms, zucchini)
2 cups large-shred hard cheese or 1 cup fresh chevre or ricotta (optional)
3 eggs, separated (optional – see Bake Method 2 below)
1/3 cup whole milk (optional – see Bake Method 2 below)
Preparation
Begin by bringing the water, milk, butter (or olive oil) and salt up to a slow simmer and gently stir in the polenta to the simmering liquid, adjusting the heat slightly as needed to keep the liquid gently bubbling.
Continue to stir the mixture as needed to avoid sticking or burning on the bottom and adjust the heat so it continues to simmer while it cooks. This should take about 30 minutes. All the "tooth" should be out of the grits and the texture should be smooth and creamy.
Bake Method 1:
Spread the grits into a well-oiled (EVOO) shallow baking dish, individual ramekins or oven-proof skillet while warm, pressing down enough to eliminate air pockets and top with roasted vegetables and cheese.
Bake at 350F for 20-30 minutes so the vegetables are warmed all the way through and any liquid from them has had time to incorporate into the polenta. The time will vary depending on the size and kind of baking dish you are using. Cast iron takes a bit longer to come up to temperature compared to individual ceramic ramekins.
Bake Method 2:
Separate the 3 eggs and mix the yolks with 1/3 cup of whole milk. Mix into the warm or room temperature grits until well blended.
Beat the egg whites until stiff and gently fold in thirds into the grits. Place this mixture into individual or large casserole being careful not to deflate the volume.
Gently top with roasted veggies and cheese.
Bake at 350F for 25-45 minutes depending on the size of the baking dish. It might be necessary to use parchment paper to keep the vegetables and cheese from burning as the grits cook a second time.