As the sun rises this morning, it hits the brick on the house behind mine perfectly to turn the color of the brick to a lovely shade resembling a summer peach. Can you tell I'm ready for warmer temperatures? My blood has thinned in the thirty-five years since I moved from Maryland. A dear friend in Seattle invited me for a visit yesterday. She loves cold weather. She loved living in Minneapolis. She hated the hot humid summers here in Raleigh. A summer trip, after the snow melts and the flowers are blooming in her garden is the plan.
Today, our temperatures are expected to be moderate for the end of February. I've been out on the porch a couple of times this morning surveying the sunrise.  Soup is the plan for lunch. The fall weather seemed to be just perfect for cauliflower this past year so I have quite a lot in the freezer still. Roasted in olive oil with different peppercorns and a variety of salts, it's great for so many recipes over the winter months. The yellow is my favorite for Indian dishes, mixed with dried peppers from Fiddlehead Farm (Pittsboro NC) this year. The deep purple is fun because it turns lavender when it's blended into any dish. And then there is the simple ivory, the color of antique tablecloths with lightly browned smudges here and there. It  turns the most lovely golden brown color when roasted in olive oil.  Cooking the pieces a second time in a non-stick pan with a mix of farm butter and olive oil after you pull them out of the freezer enhances the browning. Those are the pieces that are perfect to decorate soup or as a topping on roasted cabbage with bacon pieces.
After I made the Cauliflower & Pesto Soup I got to thinking that it might be pretty tasty to add some roasted and dehydrated tomatoes to the mix.  Blending both into the other soup along with a few additional herbs turned out incredibly creamy and light without so much of the acid flavor you find in traditional tomato soup recipes. So make a larger batch of the previous soup, and plan on a second meal with just a few adjustments.  Add a grilled cheese sandwich made on bakery bread with cheese and greens and maybe bacon, ham or roasted chicken. Of course, all of it should come from the farmers' market! It won't take more than thirty minutes to pull a family meal or picnic together.
One other note I want to make about this soup is in regards to the onions and celery I used. For the last three years, many more farmers have begun to grow celery. The first crops that came out of the fields had stringy tough stems and were difficult to use in anything other than stock. But last year there was a real turning point in all of the crops with celery that completely rivaled anything in any store around town. In fact, I'm going to go out on a limb and tell you it was actually better than the stuff being shipped in from other states. The heads were full of magnificent leaves that could be made into the most wonderful raw salads and dehydrated for use in stock. The stems were broad and tender all the way from the tip to the root. Perfect for filling with goat cheese blended with fresh herbs and dehydrated tomatoes. I just can't gush enough about our local farmers and the time they spend learning to grow new crops.
Onions were no exception either. For a couple of years now there has been a push to try heirloom varieties of onions and potatoes. This past year everything seemed to come up perfectly despite a really wet spring. While the onions had to be pulled early and sold quickly, they were amazing.  I think I have about a half-dozen varieties put up from different farms. Some browned more than others because the sugar content was greater, some of the reds turned out to make the most excellent sauces for meats I have ever tasted. But all in all, it has been exciting to use the different varieties to change the flavor of basic recipes. So I encourage you to talk with your local farmers and buy whatever they have decided to experiment growing in their fields. Give them feedback on how you used it and whether you liked it!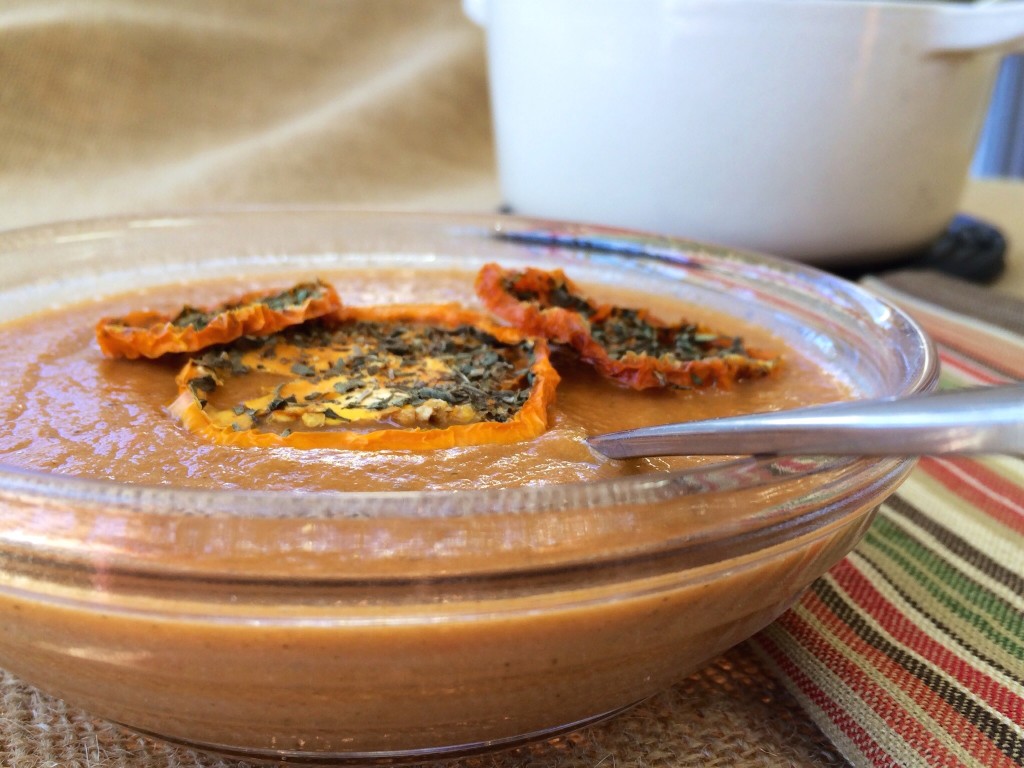 Creamy Tomato, Cauliflower & Pesto Soup
Ingredients
16 – 20 oz broth (Rabbit, Chicken, Veggie)
8-12 oz roasted cauliflower in olive oil (finished weight which is about 1/2 raw weight)
16-20 oz roasted heirloom tomatoes (finished weight with juice which is about 1/2 raw weight)
2 generous tablespoons pesto
1/4 cup dehydrated sliced tomatoes, broken up or rough cut dehydrated cherry tomatoes
1/8 cup roasted or sautéed onions
1/4 cup sautéed celery
1/2 – 1 teaspoon roasted garlic (optional)
1/4 teaspoon fennel pollen (optional)
1 teaspoons dried Italian Herb Blend
1/2 teaspoon fresh thyme
1/2 teaspoon fresh chopped rosemary
Salt & Pepper to taste – will vary depending on stock and the way the cauliflower is roasted
Preparation
Roast the cauliflower by coating in olive oil, salt & pepper and any spices you like thyme, rosemary and garlic. Cook it at 400-425F until it is roughly half of its original size and nicely browned. Use parchment paper underneath to keep your sheet pans cleaner. (Freeze it after it is cooked if you want to use later in the year.) Basic Directions for Roasting Cauliflower
Roast the tomatoes in olive oil with green onions, fresh herbs, salt & pepper at 400-425F for about 20 minutes. (Freeze with the juice if you want to use these later in the year.) Basic Directions for Roasting Tomatoes
Basic Directions for Dehydrating Plum Tomatoes – same technique can be used for Cherry Tomatoes or Sliced Heirloom Tomatoes
Saute the celery and onions until they are translucent in olive oil. (Freeze the mixture in containers for use later in the year.)
Add the cauliflower, celery, onions, roasted and dehydrated tomatoes, along with the  fennel pollen to the broth and heat until it is simmering lightly. Cook about 10 minutes with a lid on just to soften up the vegetables a bit more, without loosing much of the broth to steam. You can  wait to add the pesto when you blend everything together.
Puree the batch of vegetables, stock and pesto in a blender, food processor or with an immersion stick until it is smooth. Add more broth (or water) if necessary to reach your desired consistency.
Adjust the seasonings.
Top with mild fresh herbs like chives, thyme, celery leaves, sliced dehydrated tomatoes, mushrooms or bacon.
Notes
The fresh and dried herbs will vary in amount depending on whether your tomatoes were dehydrated or roasted in herbs.
Different salts and peppercorns can change the flavor of the soup. Using mildly smoked salts like Chardonnay Oak Barrel Salt or Mesquite & Apple Wood Smoked Peppercorns can bring out more smokey flavors in the tomatoes. Brighter notes from the tomatoes can be accomplished by using Murray River Flake Salt or  Fumee de Sel  as a finishing salt.