Last year I  had the opportunity to play around with a package of polenta. Now, as many of you know, I can eat some grits and I love cooking them with milk and cream, so I was up for the challenge of creating some new dishes with the finer cousin of the Southern Grit, Polenta.  I did a little reading on the differences in polenta and grits and found a couple of neat facts about the history of corn varieties and milling techniques that make each one different in flavor and texture.  The Anson Mills website had a huge amount of information and is still my favorite for understanding some critical differences as well as some insight into heirloom rice varieties. And while you are there, please take a couple of moments to read up on their sustainable farming practices.
While this recipe was made using imported polenta that was a gift from Olio2Go in one of my order boxes, I'm looking forward to receiving my order from Anson Mills of Southern-grown products shortly to use in recipes this summer. And since I have now picked my annual twenty-five pounds of strawberries, made jam, and put up some dehydrated slices that is what I've chosen to show you in this recipe. But blueberries, raspberries and blackberries are just around the corner!
The creamy texture and beautiful yellow color of the polenta I received had me thinking about pudding and after a little research with very few results, I decided to just try out a couple of combinations to get take the polenta from something savory to something sweet. After all, we use rice in both savory and sweet recipes, there's no reason corn can't be used interchangeably.
By default, this recipe ends up being vegan. It wasn't that it was deliberate, but it just tastes light and lovely with coconut undertones using the coconut milk, coconut water and coconut oil. Each one imparts just a subtle flavor of its own to the finished dessert. I've served this chilled and slightly warm. My preference is slightly warm with cold fruit. The polenta sets up nicely as a pudding but the creamy texture and subtle corn flavor comes out more when it's slightly warm. And who's going to complain about a warm dessert once you start  drizzling local honey and adding the fresh fruit? I also think coconut ice cream with the fresh fruit, melting into the warm polenta would be just heavenly. Ok, now that I have your undivided attention, here's how simple this is to make.
Basically, you are going to cook the polenta in about 15 minutes and at the end stir in your fruit, honey and top with toasted coconut and more fruit or ice cream. Don't skip the salt in this recipe because corn needs salt and it balances the sweetness of the honey and the fruit. If you are adventuresome, add vanilla coconut ice cream to the pudding, or some finely chopped pineapple sages leaves as a garnish or use lavender infused sea salt with the strawberry version.  There is a strawberry & lavender jam recipe on this site that is just wonderful if you don't believe me about that combination. You will note in the recipe that it calls for spring or early summer honey and here is why that is specified. Late summer-early fall honey has a lot of pollen from fall flowers and the flavor is much different from the lighter tones that you will find in honey during the first part of the year. It will make a difference when you combine those flavors with fruit that comes from a different season. If you try to make this with roasted pumpkin or sweet potatoes, it might be interesting to use the fall honey. Let me know if you do and how it turns out!  This recipe makes an ample serving for two.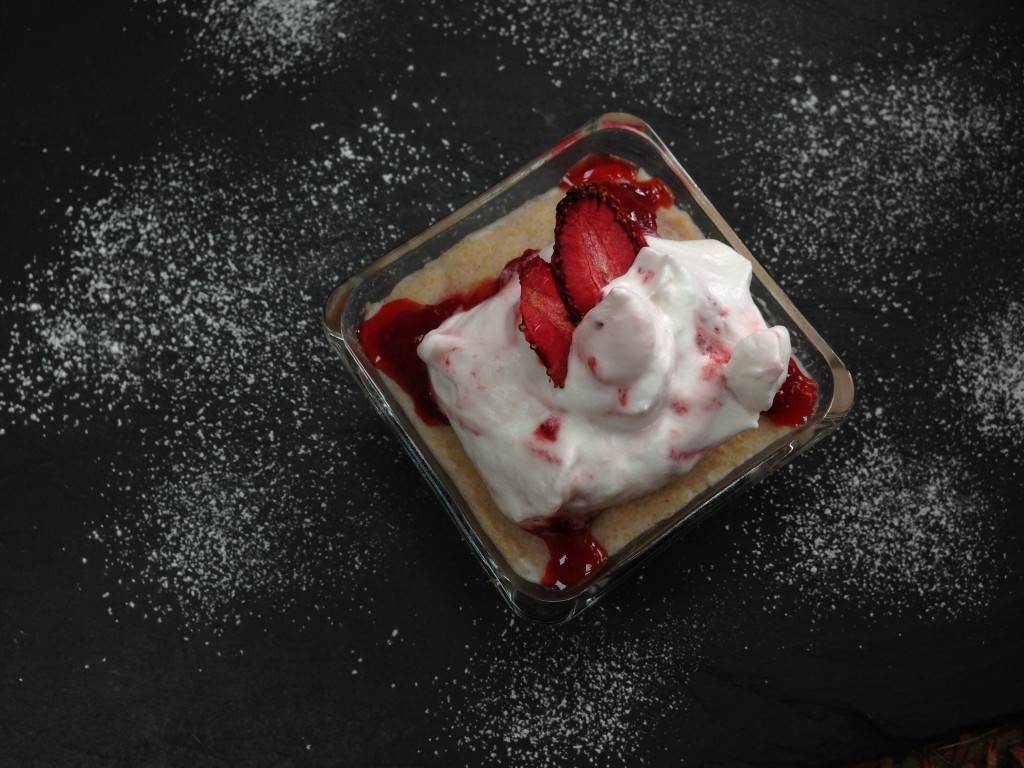 Polenta Pudding with Seasonal Fruit
Ingredients
1/2 cup polenta
1 1/4 cups plain, unsweetened coconut water or coconut juice
1 1/4 cups plain, unsweetened, full fat, coconut milk
1 1/2 teaspoons coconut oil
1/8 teaspoon Himalayan sea salt
1 cup fresh or frozen berries, sliced or rough chopped
1 tablespoon plus 2 teaspoons local spring or summer honey
2 teaspoon strawberry jam (optional)
1 teaspoon toasted coconut (optional)
1/4 teaspoon finely chopped pineapple sage (optional)
Preparation
Gently warm the coconut water, coconut milk, coconut oil and salt in a stainless steel pan until it is simmering.
While stirring, slowly add the polenta and incorporate it into the liquid.
Continue to stir with a stiff silicon spatula, scraping down the sides of the pan as it begins to simmer. Turn the heat to medium/low and continue to cook and stir to avoid burning or sticking to the pan for around 10-15 minutes. The liquid should all be absorbed and the polenta should be thick and creamy, without lumps. It should be fairly thick with plenty of body, but not dried out when it is finished. It will be easy to fold over and stir and will not stick to the pan.
Fold in the chopped fruit (you can add some dehydrated sliced fruit too but it will need to cook and absorb some liquid to become soft in the pudding) and one tablespoon of the honey
Serve with a bit of jam, more fresh berries, the remaining 2 teaspoons of honey and some toasted coconut or other chopped nuts.
Notes
Spring & summer fruits that work well include strawberries, mulberries, blueberries, raspberries, blackberries, peaches.
Other flavors to incorporate might include maple-candied ginger, lemon verbena, pineapple sage, lavender or lavender salt