The highlight of last week was being accepted into the beta program for IBM's Chef Watson. The program combines the Bon Appetit catalog of recipes along with a database of foods and their relative chemical properties to produce many iterations of a recipe based on parameters that the cook chooses in the 4-step process. Each time any parameter is changed, the application spawns an entirely new set of 100 recipes ideas. Results range from classic combinations and preparation techniques to more unique recipes with unusual pairings and more advanced requirements based on compounds found in the ingredient list. Kind of like a Spice Bible on steroids.
Being in beta, the program has some hiccups, but so far, I've found it to be pretty easy to navigate through the user interface and overcome some of the shortfalls in the ingredient list since I use a lot of preserved food. Over time the program will change as the database of information increases and the users give feedback on what is the most helpful for creating new recipes. Home cooks, chefs, and nutritionists should be able to adapt recipes to include seasonal and local foods or eliminate foods as necessary. This would be a great application for a school to use combined with a garden program. That's my unabashed plug for funding more robust Home Economics & Science programs!
For the Homesteading Fair at Whole Foods, my choices for ingredients included seasonal organic items that the Chapel Hill store could provide along with some preserved items. In homesteading, the idea is to use preserved food out of season so I wanted to demonstrate how to use food that can be preserved in different ways. Another goal was to teach how to eliminate waste from meals. Reusing leftovers in secondary meals or storing it in a way that it can be used later, saves money by eliminating waste.
My ingredients for Saturday's Fair included fruits that are currently in-season like watermelon, blueberries, blackberries, and peaches. Then I wanted some items like strawberries and apples to demonstrate using preserved items that were frozen, dehydrated or canned. I didn't stray into the vegetable range, but after tasting a couple of different variations of this on Saturday, I'm pretty sure you could add beet stems (yes, they are sweet) or roasted beets – maybe staying on the yellow-orange side of beets since they are less strong in flavor. The other two herbs I would suggest based on my experience are Pineapple Sage (maybe 3-4 fresh leaves) or Lemon Verbena (maybe 4-8 leaves – they are typically small) if you prefer lemon to lime in the recipe.
Allowing Chef Watson a lot of range, I only added a couple of fruits and vegetables to my list of preferred ingredients and I eliminated dairy to keep the results in the vegan range.  I asked for a drink and the program found a "punch" from Bon Appetit that it used for the base recipe. The beauty of this recipe is that you really won't have to measure accurately and you can update the recipe based on what has come into season for your location and what you might have on hand in preserved food. This is very flexible and makes it easy for both kids and adults to experiment.
The recipes that Chef Watson created included directions to let juices sit together for days to 'marry' into a robust punch. Since it was late Friday night when I started to play around with the program and I knew there would be plenty of kids at the event Saturday, I obviously didn't go with that option. Several of the combinations included soda water combined with variations of watermelon, peach, blueberries and strawberries. All of these are cooling fruits and with our August heat, they all fit the bill for the Fair. But, instead of soda water for this demonstration, I decided to use coconut water as a healthy alternative and I used dehydrated peaches and dehydrated strawberries to help thicken the drink as they rehydrated in the liquid. Frozen blueberries or blackberries were good additions to the base of strawberry, peach and watermelon on the second run of the recipe. The lime juice in both test batches really brought out the flavor of the fruit. In my opinion, the honey for this recipe is optional. I added it but if you are eliminating sugars from your diet, this recipe will still work well without it.
This recipe will make enough for two and I believe it will freeze well as a popsicle or be a fun base to an alcoholic beverage. One of the other suggestions from Chef Watson was the use of coconut milk and based on that, this set of ingredients might work well as some sort of fruit sorbet or pudding with chia seeds as a thickening agent. I've also added some variations that use canned peach preserves, strawberry preserves and blackberry preserves. But please note that when I make 'preserves' they are more of a fruit reduction with some added honey, lemon and a few spices. I do not can them very often, but instead freeze them in very small quantities to use in applications like this drink. If you choose to use a sweeter version of preserved fruit, balance out the flavor with lime and possibly a pinch of salt.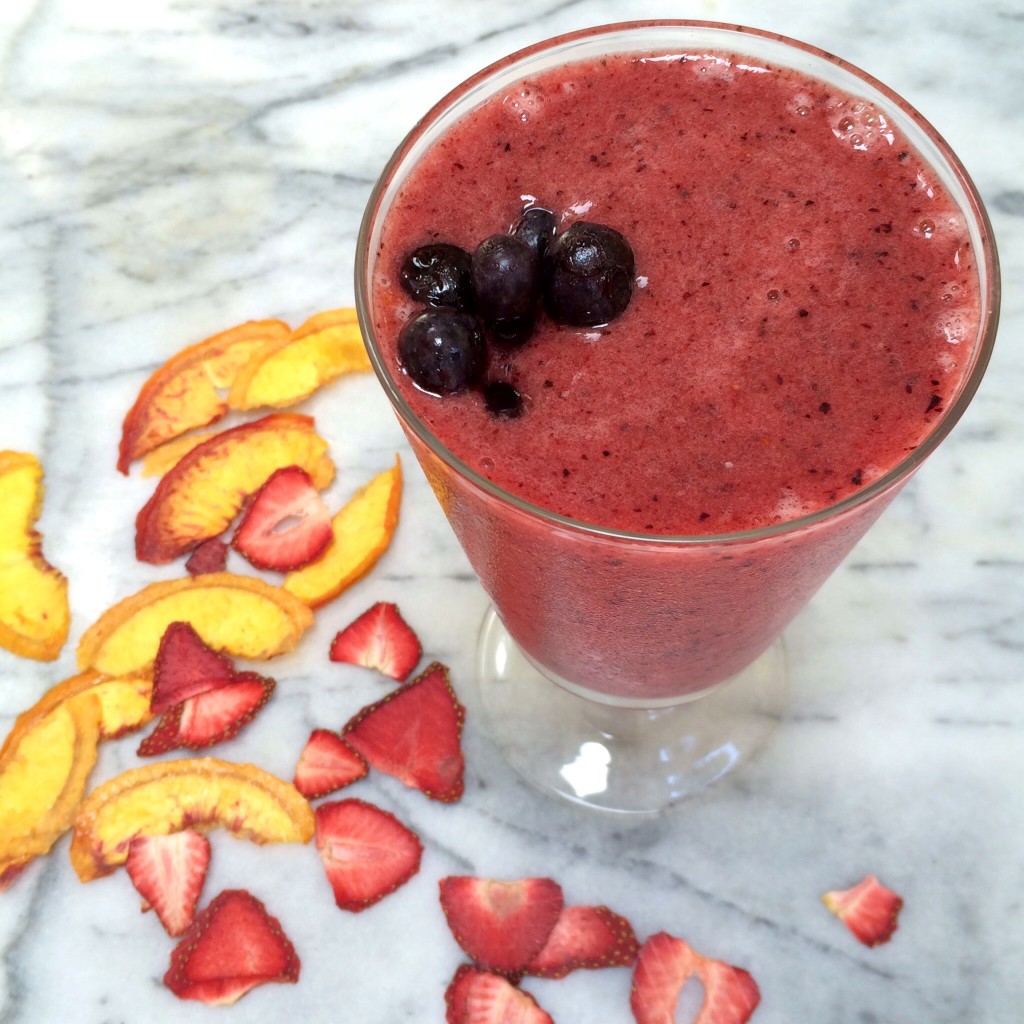 Chef Watson's Summer Punch
Ingredients
1 cup chopped watermelon without seeds (Yellow Doll or Red variety)
1 cup chopped frozen strawberries (or 1/3 cup dehydrated strawberry slices)
1 cup chopped frozen peaches (or 1/3 cup dehydrated peach slices)
1 lime squeezed (up to 1/2 cup of lime juice maximum)
1 cup plain coconut water (may need more if using dehydrated fruit)
2-3 tablespoons honey (vary to your taste)
Optional – pinch of salt
Preparation
Add coconut water, lime and honey to the bottom of the blender.
Followed by watermelon, dehydrated fruit or preserves and lastly, frozen fruit.
Pulse blend to combine.
Increase speed to high and blend until smooth.
Pour over chipped ice for a colder drink if most of the ingredients are room temperature or refrigerated.
Variations
Substitute lemon juice for lime juice
Add 3/4 – 1 cup blueberries or blackberries
Add 1/4 cup dried figs
Add 1/4 cup frozen or fresh raspberries & 1/2 cup of apple
Add 3-4 leaves of Pineapple Sage
Add 4-8 leaves of Lemon Verbena
Substitute coconut milk or kefir for coconut water
Consider adding 1/8-1/4 cup roasted golden beet or 4-6 fresh beet stems
Freeze coconut milk or water in ice-cube trays for colder drink