As August rolls in, the heat is about to melt the best of us in the South. And there's nothing I hate more than turning on the oven when temps are still in the high 80's at the end of the evening. By this point, the squash bugs have normally taken their fill of thin-skinned summer squashes and it starts to become a little more scarce at the farmers' markets. And the farmers are, quite frankly, tired of picking off the little buggers and squishing them with their fingers. I know, it's gross, but just ask a number of them about squash bugs and it will surprise you how many secretly enjoy the process of disposing of the greedy creepy crawlers.
So pick up a few extra pounds this week and look for a semi-cloudy day when the temps are not going to blast you out of the kitchen. If you bake a couple of casseroles at one time you'll have the option of some additional meals or freezing some of the leftovers. They are wonderful added to soups or poultry stocks through the winter for some extra flavor and body. They also make excellent second meals right away by combining them with pasta, putting them on grilled sandwiches, or adding them to breakfast omelettes.
One note on variety that's important, I find that the patty pan squash holds up better in this recipe than the crookneck squash. It gives off less water, holds the shape better, and tends to have very few seeds comparatively. Opt for smaller green zucchini to avoid lots of seeds near the end of the season.  You'll need a higher acid tomato for contrast in this dish, so try to find something like a Cherokee Purple. Size won't matter here, but make sure to use a ripe tomato. A green or partially ripe one just won't yield the flavor or texture for this dish. I selected a sweeter variety of onion from one of the farmers. You could use one of the sweet red varieties as well, but I prefer a sweet yellow in this recipe.
A couple of comments on the salt and pepper. I've listed Himalayan salt but there are several that work well with summer veggies. I know a lot of folks need to stay away from salt and this is actually how I got started on the strange discovery of so many salts and peppercorns. With a history of high-blood pressure in our family I was looking for ways to reduce salt and found that using better quality salts that actually accentuate the flavors of individual foods and cooking methods helped me reduce the quantity I was using. So in this recipe you could also use Murray River Pink Salt, or a Fler de Sel. Stay with something that is on the brighter side of the salts for this dish. On the peppercorns, I use the Four Corner Blend of peppercorns daily. I find the blend to be a little less pronounced in the dish than typical dark peppercorns on their own. The blend seems more mild, in my opinion, which allows for some flexibility. I use a grinder or mortal to get fresh ground pepper all of the time. On vacation, I've been known to use napkins and canned goods when neither is available and it works just fine.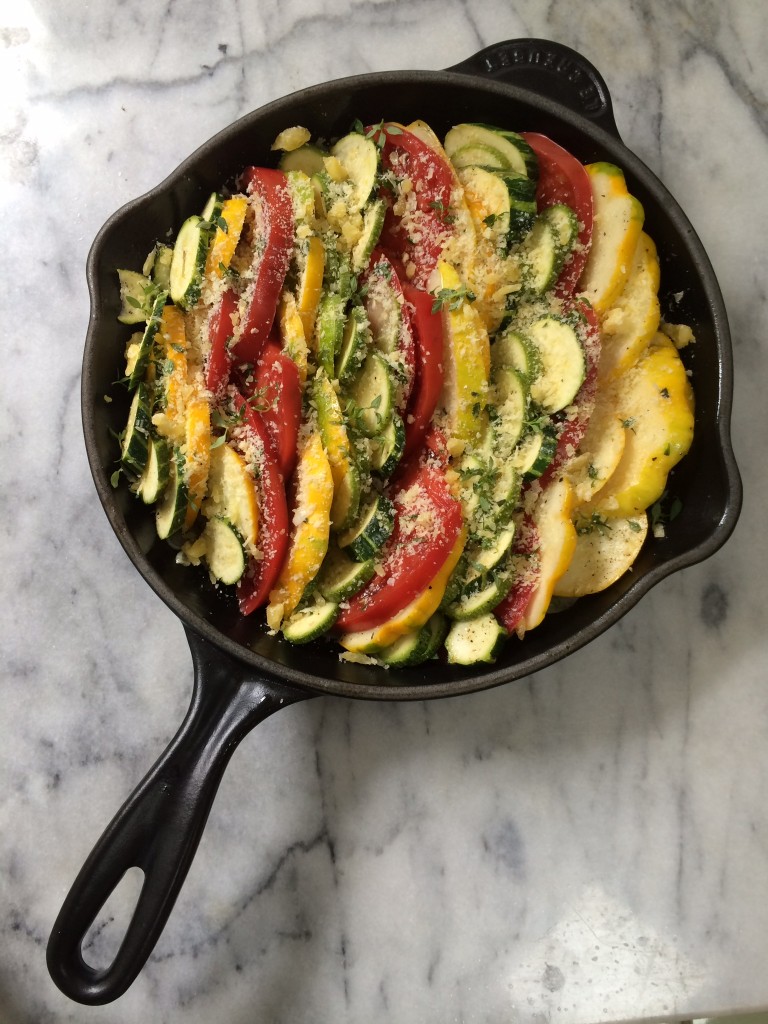 Baked Summer Squash & Heirloom Tomatoes
Ingredients
2 cups sliced raw onions
4 cups sliced patty pan squash 1/8-1/4″ thick
4 cups sliced green zucchini 1/8-1/4″ thick
2 cups sliced ripe tomato 1/4″ thick
Olive oil
1/4 – 1/2 cup cheese (Chapel Hill creamery Calvander or Hickory Grove)
1/2 – 1 teaspoon Himalayan salt,
1/4 teaspoon Four peppercorn blend
1/2 – 3/4 teaspoon fresh thyme
1/4 – 1/2 teaspoon fresh rosemary
1 teaspoon dried Italian herb blend
Preparation
Find a round pie pan or casserole pan and wipe the inside with olive oil to avoid sticking.
Slice the onions thinly and cook on low heat with olive oil until they are soft and translucent; about 20 minutes. Place the cooked onions into the pie pan and spread out as the bottom layer of the casserole.
Slice the patty pan squash and zucchini about 1/8-1/4″ thick and place in a large bowl or on a large sheet pan with parchment paper.
Toss the squash and zucchini with enough olive oil to coat the vegetables and the Italian herbs (the dried herbs will help absorb a little of the liquid as the casserole bakes and a few turns of fresh ground pepper. Wait to salt until the end as it will draw out the water.
Then layer the squash, tomatoes and zucchini in rows or in a circular patter alternating tomatoes between squash & zucchini. Stack them tight so nothing dries out during baking & add a bit of salt as you go along.
After the layering is complete mix any fresh chopped herbs like thyme and rosemary into grated cheese and sprinkle on top.
Bake at 350 for 35-45 minutes until the squash and tomatoes are cooked through. They will look a little dry by that point and the cheese will be melted but not browned.
Serve immediately.
Notes
Freeze leftovers to use in stock soup base cream sauce
Chop leftovers and add to quiche with bacon and mild chopped greens
Chop or puree leftovers to use in vegetable or squash soup
Chop leftovers for omelettes along with fresh chives or arugula
Toss warmed leftovers with pasta and additional cheese and fresh or sauteed greens
Use leftovers whole in pressed pannini sandwiches with roasted eggplant or grilled mushrooms