This recipe started life as a corn muffin recipe generated from a computer. I wanted to create a muffin that was a little different from any of my other three recipes to go with Chesapeake Crab Soup. I ran a few Google searches and came up empty-handed so I thought it might be a good opportunity to run another test recipe through the IBM Chef Watson application. The program spat out 100 results with the first set of ingredients and parameters I plugged in based on a single Bon Appetit recipe. And after a couple more changes to the requirements, it spat out another couple hundred unique recipes based on a different recipe from the Bon Appetit database. You can see how this could be an endless process for someone with an inquisitive mind?
I am not going to divulge how many recipes I actually read through. But finally found five that I thought might be useful for this project and maybe another in the fall. One that stood out for this project included an ingredient I had not planned to use originally. Fresh lime peel. I debated making the recipe at first because this key ingredient is not found locally, and you know I like local. There's not a substitute that I can think of to replace it either. But I was able to use local ingredients for all of the other key elements, which was my secondary goal, so went ahead with a test batch.
Traditional Maryland Crab Soup, the way I learned to make it from my Grandmother, is spicy. It's kind of similar to Mexican Tortilla Soup with a thin spicy base that includes many ingredients you'll find at the market this time of year. It's a summer soup that has you grabbing for a cold drink. It's similar to Mexican dishes in that way. In the South, you'll be served some lemon slices to compliment your seafood meal and then a side of creamy sweet coleslaw to contrast spicy dishes. With Mexican dishes, you'll find fresh limes and something creamy like sour cream or avocado. The lime accentuates other ingredients and cuts through the spices with a tart note to the dish while the creamy fat found in both sour creme and avocado help cut through the heat of the spices.  In this case, I had already requested the program design a recipe with kefir to calm the spices in the soup. And I asked for fresh corn, cornmeal, sorghum and gluten-free adaptations.
The primary goal was to keep the flavor of the fresh picked corn right out there in front when you bit into the muffin. This season's corn has been some of the best that I've eaten in many years. When I went to pick corn at Cohen farm one recent Sunday morning, Esta and I ended up  sitting on the porch of the log cabin and eating it raw with the chickens getting their fill of the leftover cobs. I tried baiting the chickens for some good pictures, but it's quite a task to get in there with the corn and not spook the mother hens with their chicks in tow. I got a couple of fun shots.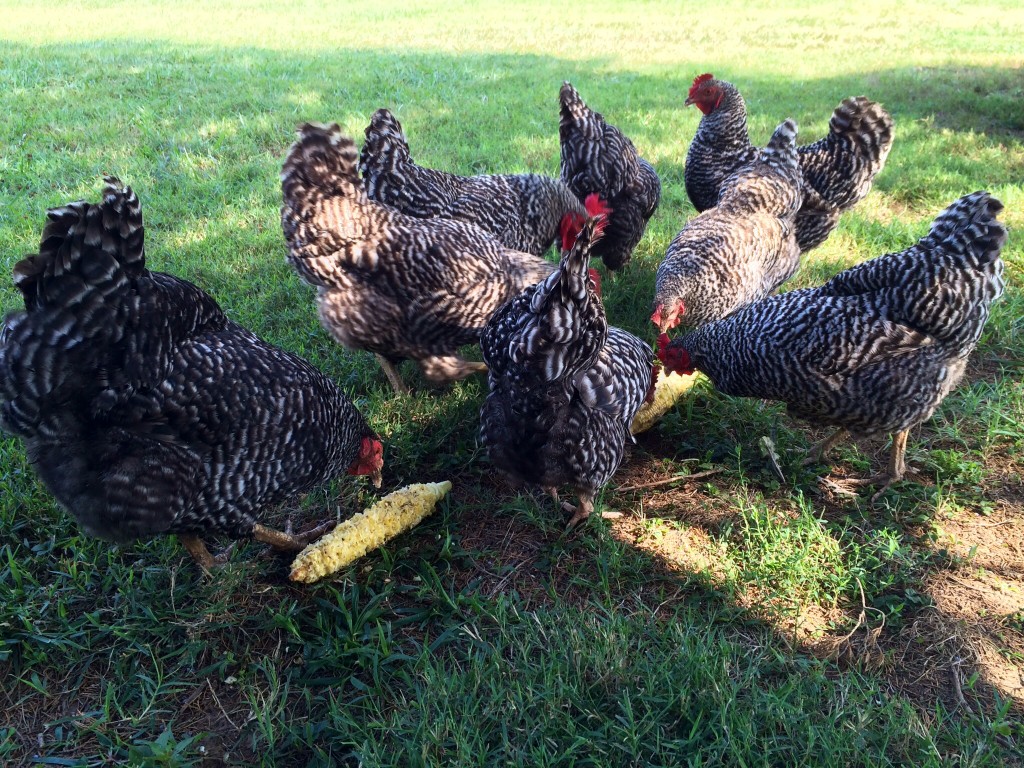 After adjusting some of the ingredients to incorporate local items, what resulted from my work was a rather thin batter that tasted pretty good but didn't look thick enough to make a muffin. But, it did look a lot like the madeleine batters I have made before. So instead of worrying any further about correcting the recipe I rationalized. A madeleine is really just a fancy name for a baked hushpuppy, when you think about it. And it looks really cute when it comes right out of the pan in the form of a lovely little shell. Really, what could possibly be more appropriate for Crab Soup? So that's what I made and they were really fun and tasty so I'd like to share this recipe with you.
Yes, I would make them again. The recipe is simple enough to have your kids help in the process. Nothing has to be perfect with this batter. It's all about oiling your little pan well with butter or olive oil and then filling to just the right place. Nine minutes later, you have fancy little baked hushpuppies.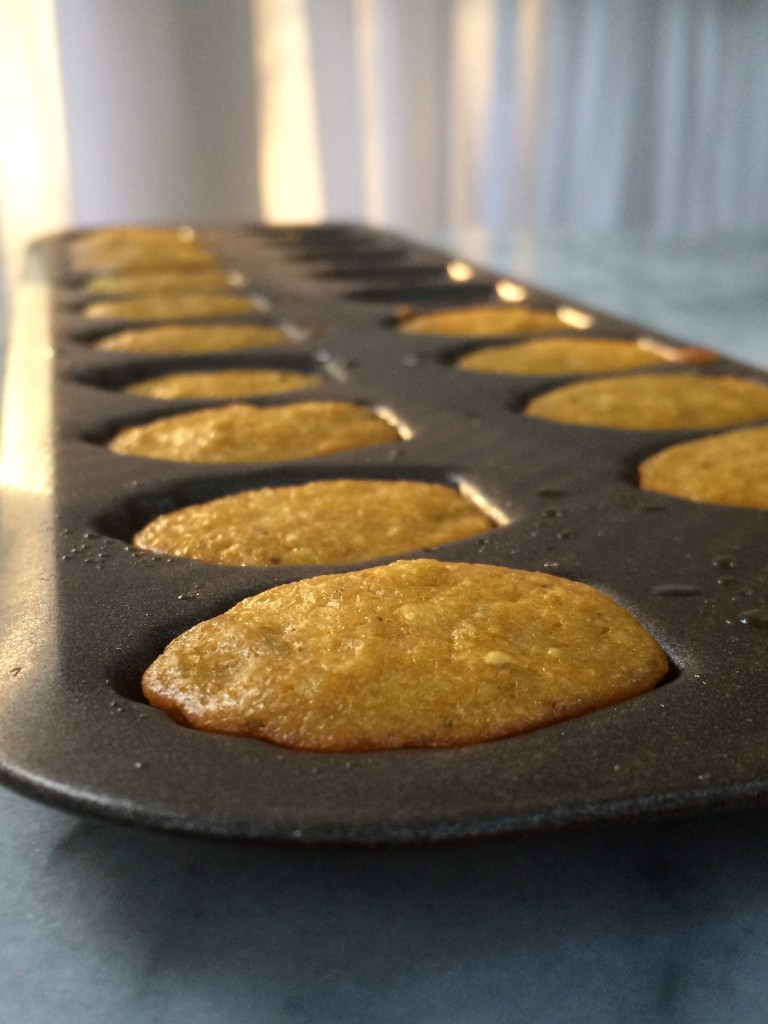 Madeleines with Fresh Corn, Sorghum & Lime Peel
Ingredients
1 T light brown sugar
1/4 cup sorghum
2 teaspoons honey
6 whole dried juniper berries, crushed/ground
1/4 teaspoon ground saffron (not saffron threads)
1/2 teaspoon fine Himalayan salt
1 1/2 tablespoons melted butter or olive oil
1/3 cup kefir
1/2 cup fine yellow cornmeal
1 teaspoon finely chopped fresh lime peel
1/2 teaspoon baking powder
1 whole large egg
1/4 – 1/3 cup fresh-cut corn
Preparation
Preheat oven to 350F
Sift yellow cornmeal, saffron, salt, baking powder together. Set aside.
Beat brown sugar, sorghum, honey together with melted butter or olive oil until creamy with whisk.
Add egg and kefir to liquid mixture, blend well with whisk.
Add ground juniper berries and lime peel to liquid mixture, blend well.
Stir dry cornmeal mixture into liquid mixture blend well with whisk. Mixture will seem very thin.
Stir in fresh corn with spatula.
Brush small madeleine pan with olive oil to avoid sticking.
Spoon or pour batter carefully into each depression, filling only 3/4. They will rise slightly during cooking process.
Bake until golden, but not browned, about 9 minutes. They should be firm when gently touched but not hard.
Cool a couple of minutes before popping out of pan with silicon spatula.
Serve warm.
Whipped butter with additional honey or sorghum optional.