Tomatoes and goat cheese are just the most wonderful pair of foods together any time of year. We are right in the middle of chèvre season here in the South. Soon it will be too late to get fresh chèvre as the goats begin seasonal breeding. I like to enjoy as much of this mild delicacy as possible while it's around so it goes in just about anything I can think of.
It's amazing to me how different each farm's cheese products can be and their changes year to year as the herds diversify. Flavors can change based on the type of goats in a herd, the pastures or grounds that the goats are set on, the way they are handled and last but not least, by the cheesemaker's skills. From start to finish, every component has to be right to get a quality product.
I was fortunate enough this week to discover a producer at the Yancey County Farmers' Market in Burnsville that I had not tried yet. OakMoon Farm & Creamery has been producing both fresh and aged goat cheeses for many years. They have a little over 80 goats of four varieties in their herd and offer classes both on animal husbandry and cheese-making several times a year in Bakersville. They have been cross breeding their herd to get a mix that they like for more than seventeen years with many of the babies being sold to other farms and going on to win show prizes.
At the same market there were several farms with beautiful heirloom tomatoes that were perfectly ripe. Technically tomatoes are a fruit. So why not pair them with other fruits in dishes? There are literally hundreds of varieties in so many sizes and shapes, it's nearly impossible to track them all. For me, it's all about trying some new varieties each year and seeing what recipes I can come up with that highlight their unique shape, color, flavor or texture.
This week while I was pulling some recipes for a chilled soup, I also pulled some recipes for tomato-based cobblers and tarts which provided some inspiration for this recipe. I ended up combining the ingredients from a couple of different recipes mainly because the ingredients and equipment that I had available to use this week was a bit limited.
If you're into easy recipes, this one  is so simple to make that it's ridiculous. The main ingredients are dehydrated from local farmers markets. For those of you that are unfamiliar with dehydrating, summer is a great time to try it out. From peaches, strawberries, and apples to tomatoes, zucchini, sweet potatoes and kale, there are a number of snacks you can make with dehydrated food and storage space takes a fraction of space required by canned or frozen goods.
Depending on the size of the little balls you roll ( I recommend 1 teaspoon per truffle) this recipe will make a half-dozen to a dozen little treats. I prefer them smaller so they are just one bite. Especially if you make one that is kid-friendly. You can add toothpicks to them or wrap them in fresh herb leaves or use them to top salads.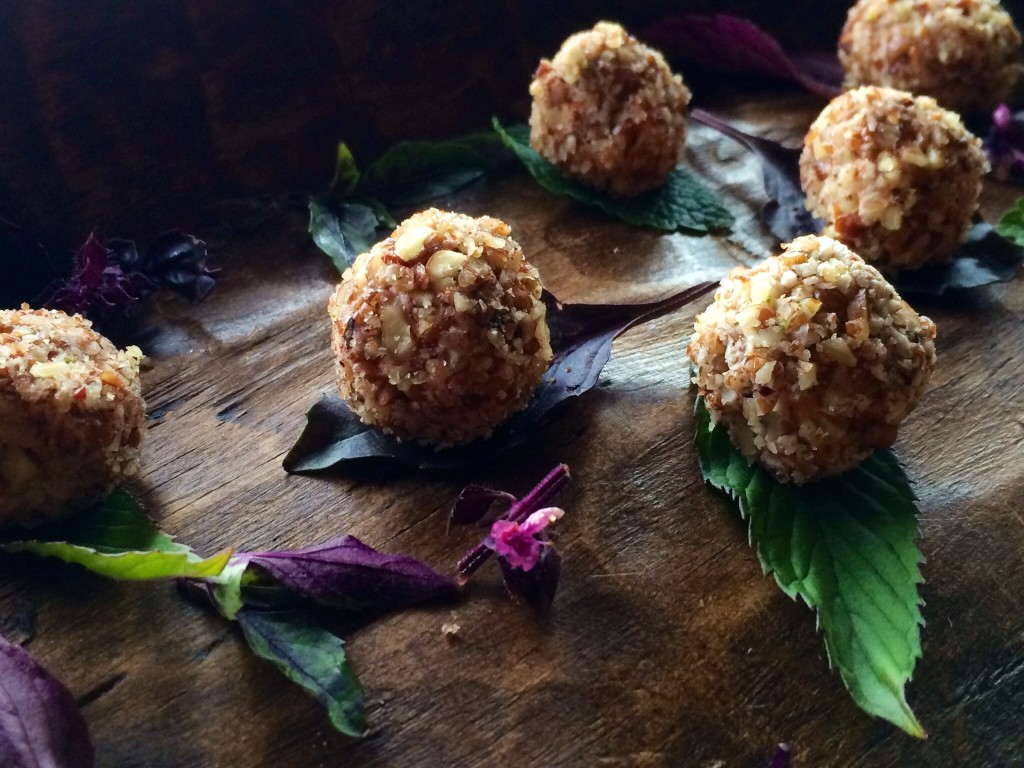 Chèvre Truffles with Dehydrated Summer Fruit
Ingredients
1/2 teaspoon dehydrated Sun Gold tomatoes, finely chopped
1 teaspoon dehydrated peach slices, finely chopped
1 teaspoon dehydrated strawberry slices, finely chopped
1/16 teaspoon fresh lime peel or fresh mint, finely chopped
2-3 teaspoons local wildflower honey
4 – 6 oz fresh local chèvre, depending on moisture
pinch Himalayan salt, fine grind
1-2 tablespoons toasted or raw pecans, finely chopped
Preparation
By hand, blend the finely chopped tomatoes, peaches, strawberries, lime or mint, and honey into the fresh chèvre. Any excess moisture from fresh wet chèvre will be absorbed by the dehydrated pieces of fruit.
Refrigerate for an hour or up to a day.
Measure teaspoon amounts and roll by hand into small balls. This works best with kitchen gloves.
Spread the finely chopped nuts or herbs on a plate and gently roll the chilled chèvre balls around to cover completely, pressing gently to set the cover in place.
Refrigerate until needed, up to a day and serve slightly chilled.
Notes
Ground pepper is not recommended in this recipe as it overpowers the fruit
Serve with fresh basil or mint leaves for additional color and flavor