Sometimes I feel like I don't get out much, except to visit farmers' markets. But let's face it, a Saturday morning spent chatting with friends, meeting new folks, discussing recipes, harvests, farm animals, pets, and family is like going out to an evening party in my mind. So you won't hear me complaining about getting up early to go out and pick up my 'groceries' in most any kind of weather, wherever I happen to be.
Which brings me to beautiful Western North Carolina this week. I'm up around 4500 feet enjoying a little cooler weather and hiking with my dogs. We are almost able to touch the stars at night with the mountain peaks floating above the clouds each morning. What a way to enjoy a sunrise breakfast made with all the fresh food we have found at the local markets.
There's been no shortage of beautiful organically grown food here! Which means, plenty of eating, especially with hikes every day up and down hundreds of feet for the most panoramic views of the mountain tops. Each time I visit the area I try to get to at least a couple of new markets.  Mountain farms typically have much shorter growing seasons and the farmers travel further to sell at smaller markets. It's critical that they make enough sales during the summer months to sustain them all year long. Many are investing in hoop houses and learning how to produce finished products to sustain year-round sales, but their largest income is still during the summer, when visitors are in town for local fairs and mountain activities. So skip the grocery store and eat seasonally for the time you are visiting. You will not be disappointed and you'll be investing in the local economy.
This year my visit coincided with the annual Mt. Mitchell Craft Fair in Burnsville, NC. This event has been held for more than fifty years. There were several local vendors under the Heritage Tent that had some unique talents for weaving, carving, soap making and animal tanning! One of the exhibitors shared a little about the local farms and cooking demos scheduled for the upcoming Yancey County Farmers' Market. It was worth a trip down the mountain to get some great new recipes from the market managers for squash fritters & kale stir-fry as well as pick up some additional veggies, eggs and 'firecracker' goat cheese!
The market also prompted some ideas for a couple of recipes using beautiful cherry tomatoes. I've been interested in combining some of the more delicate flavors of the less acid yellow tomatoes with fruit since I had a dessert at  Zely & Ritz in Raleigh from Chef Sarig Agassi using cherry tomatoes, fresh cheese and honey a number of years ago at a Farm to Table Dinner.
If you happen to run a web engine query on tomatoes and fruit, you'll get back plenty of examples of lovely salads combining the flavors of these two groups, which are brought together through herbs and honey. Basil, mint, thyme, and rosemary all work well with summer fruits. Hot peppers can add a little contrast too. Choose your favorite acid like aged balsamic, white balsamic, infused, or apple cider vinegar, and the combinations are endless. What's even better is that many of these pairings go well with  coconut milk, coconut water, kefir, yoghurt, almond milk, whole nuts, and even cheese. This increases the possibilities of what you can make from the base recipe to include frozen pops, slushy drinks, smoothies, puddings or chilled soups when the weather turns really hot or you just want something fun and different.
As a part of the beta test group for the IBM & Bon Appetit Chef Watson application, I decided to try to create a chilled soup and an appetizer that would be great for summer and show off the fresh flavors of the local farmers markets. After a few hours reviewing hundreds of recipes to for compotes, cocktails and crumbles and tarts, I tested around  a half-dozen combination ideas and came up with a couple that I liked and want to share.
On Wednesday I was able to pick up some beautiful organic cherry tomatoes in all different colors and sizes at the Weaverville Tailgate Market along with local honey. On the trip, I brought along both frozen and dehydrated strawberries and peaches from home because I wasn't sure if I could find some here at the markets. Fresh thyme, rosemary, basil and mint came from an organic community garden I visited this week. These were the ingredients I wanted to start with so that's what I plugged into the requirements for Chef Watson. I had to run the application a couple of times to find a base that I thought might work for chilled soup. The three types of recipes that seemed to have the most common ingredients included a crumble, a compote, and a cocktail. Since I'm traveling, I don't have the wide range of spices or equipment available so the recipe requirements for me included simplicity. Based on the food I found at the farmers markets and what I brought with me, I came up with a base compote mixture that could be thinned out for a soup base or just pureed for a drink or frozen pop.
Compotes are a lot like preserves. You can add them to things like fresh goat cheese to use on sandwiches like a spread, or top your pancakes with them instead of syrup. They mix them into cakes really well for texture and flavor changes, or you can puree them into velvety soups or puddings and thicken with chia seeds or mix them with sparkling water or cider for surprising drinks.
The first rendition of this compote was cooked and it turned out nice once I balanced the sweetness with a little balsamic vinegar. But the flavors were not as bright as the  original fresh fruit and reminded me more of fall than late summer. So tried again, this time, keeping everything fresh and changing out one hard cider for another and adding coconut water just to see what would happen. That version stayed light and bright with all of the flavors sharing the spotlight pretty well.
So I'll start by giving you the recipe for the raw base compote that makes a chilled soup or a frozen popsicle. And then I'll tell you how to cook this and change the flavor profile by using some alternative ingredients based on different recipes that Chef Watson suggested. This recipe serves 2 or 4 as 'shooters'.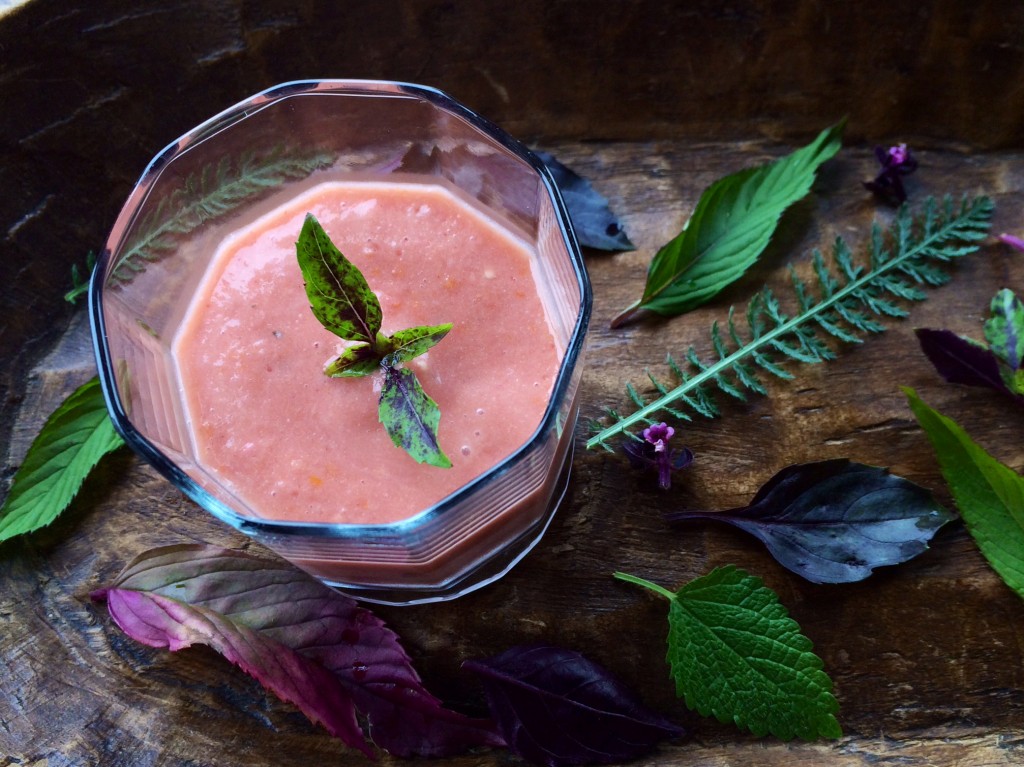 Chilled Summer Soup with Cherry Tomatoes, Peaches & Strawberries

Ingredients
1 cup yellow pear cherry tomatoes (or other yellow or orange cherry tomato)
1/2 cup ripe peaches, roughly chopped (can be frozen)
1 cup ripe strawberries, quartered (can be frozen)
1-2 tablespoons honey
1/4 teaspoon fresh thyme leaves
1/8- 1/4 teaspoon finely grated fresh lime peel
1/4 cup coconut water or plain crisp hard apple cider
pinch of Himalayan salt
pinch of ground white or red peppercorns
1 teaspoon White balsamic vinegar (Cattani)
2 teaspoons fresh goat cheese
Preparation
Quarter the tomatoes & strawberries and place in a bowl.
Slice and rough chop the peaches and place in the bowl with tomatoes & strawberries.
Add the honey, thyme, fresh lime peel, coconut water, salt, pepper and balsamic vinegar.
Let sit in refrigerator for up to a day.
Serve as chilled soup without blending, topping it with a bit of fresh goat cheese or fresh herbs.
Or, puree with chevre into blended soup and chill, serving it with some fresh basil leaves or grated lime peel.
Can be made up to a day in advance.
Notes
Frozen popsicles can be made with or without the chevre.
Hard apple cider should be clean and fresh tasting without additional flavors. I tried Crispin Apple Cider fermented with wine yeast and plain Crispin Apple Cider. Both worked, but I think the wine yeast was more complimentary with the base fruit and tomato flavors because it was not quite as sweet and allowed the true fruit flavors to stand out.
You can cook the ingredients for about 10 minutes on medium/high to reduce some of the liquid. Use a bit of coconut water to blend in 1 teaspoon of tapioca starch at the end and bring to light boil for a couple of minutes. The entire mixture will tighten up and be more of a compote. You can then refrigerate this and use it in a chilled soup or on top of waffles or as a sandwich spread.