Many of you know that I've been working as one of the beta testers for the IBM Chef Watson application. The program has come up with some lovely ideas in the past. There were two new drinks  from Chef Watson at the  Homesteading Fair at Chapel Hill's Whole Foods; a Pumpkin Pie Smoothie & Watson's Summer Surprise Punch. At the Durham Farmers' Market HomeFries Saturday Cooking Class, we made a Watermelon & Strawberry Popsicle Drink along with a Cantaloupe & Peach Smoothie based on some ideas the program generated for the kids to use.
The developers at IBM rolled out a third version of the software just before the year ended and I have spent a few hours trolling around and saving a bunch of recipe ideas. I have a whole folder devoted just to drinks now. Some of the recipes call for almond milk or yogurt. Some use rainbow chard and fennel blended with strawberries. There are several more ideas I plan to try when the weather warms up again, and I'll update this entry with notes if any of them turn out to be spectacular winners so keep checking back.
After a day of internet research and looking through recipe books here at home, I charted my plans for using carrots and turnips, maybe some greens, and balancing them with summer fruit in a smoothie as the temperature rose this week. Last year I added a high-speed blender to my kitchen equipment. My old bar blender was being used daily for smoothies or soup and it's still going strong, but the Vitamix blender I picked up during a sale does a better job pureeing the raw foods and nuts into creamy dreamy drinks and soups, where the bar blender can produce more gritty textures because the blades are smaller and don't run quite as fast.
Last Saturday while I was at Western Wake Farmers Market looking for some of the little white round salad turnips, I started talking to Patricia at In Good Heart Farm about my plans. I found out that the little salad turnips are not as cold hardy as radishes this time of year. That prompted me to make some quick changes to my drink plans. I  decided to pick up daikon radishes because I have enjoyed eating them combined with carrots, apples and greens in raw salad and slaw.
As luck would have it, radishes are quite good for the liver and kidney. They help restore balance to both organs and cleanse them of impurities that might be stored up from overeating or perhaps drinking too much of a good thing, if you catch my drift. Seems appropriately funny for 'after the holiday' New Years Resolution meal planning, doesn't it?
There are a couple of different variations on this set of ingredients. While I used Daikon radishes this week, I enjoyed the combinations I tried well enough to try some of the beautiful rainbow colored radishes in the coming weeks to see if different varieties change the flavor of the drinks. Dried apples and red beets provide most of the sweetness in this recipe. In my opinion, the red beets are more mild than the purple ones, so plan accordingly if you have a beet hater in your house. And the red beets are not as sweet as the commercially grown beets that are made into sugar. But they do have more sugar than sweet potatoes, watermelon and corn! I used both types in my test runs this week and the color varied in the final drinks from bright purple to a lovely shade of deep pink.
The dehydrated apple slices that I make at home also contain more sugar than raw apples because it gets concentrated as the water evaporates from the fruit in the process. So if you have fresh apples, you can add about half of an apple to get the same amount of flavor. Fresh apples will make the resulting juice a bit thinner, but it shouldn't be much different.
Raspberries and strawberries that were picked and frozen last year balance the flavor of the radish in a ratio of 4:1. I used the Sweet Charlie strawberries which tend to be a little on the small side but they are sweeter than some of the larger varieties you will find at the store or early in the season. After picking more than 20 lbs this past year, I'm really glad to have some new drink ideas to use them up! The raspberries come from my own yard. I started a patch with less than a half dozen plants from a mountain patch around fifteen years ago. Now I have enough to last a full year after harvesting each day before the birds get to them.
If you want to try out blueberries, blackberries or black raspberries, they should all work well. I've simply run out of them in the freezer so I couldn't test them. I did test some steamed celery that I had in the freezer. I added about 1/4 cup and it was fine. Nothing good or bad about it. It added some fiber but not a lot of flavor. I think cucumber or one of the red sweet melons would work nicely in this recipe as well. Some of the suggested recipes called for cumin and mint, others called for changes from honey to maple syrup and changes in liquids from almond milk to yogurt & buttermilk. Here's the IBM Chef Watson Strawberry Radish Dessert Recipe that was the inspiration for this Resolution Juice.
There's another recipe coming that uses carrots and peaches with the radish along with some chai spice and coconut water. I wish I had put up some of the Yellow Doll Melon to add to that recipe. That will be a good test for 2016! Look for the other recipe in the next day or so after I get some pictures taken. In the meantime, enjoy this and order some popsicle bags or molds if you like the flavor well enough to have this in the summer when radishes and beets are out of season.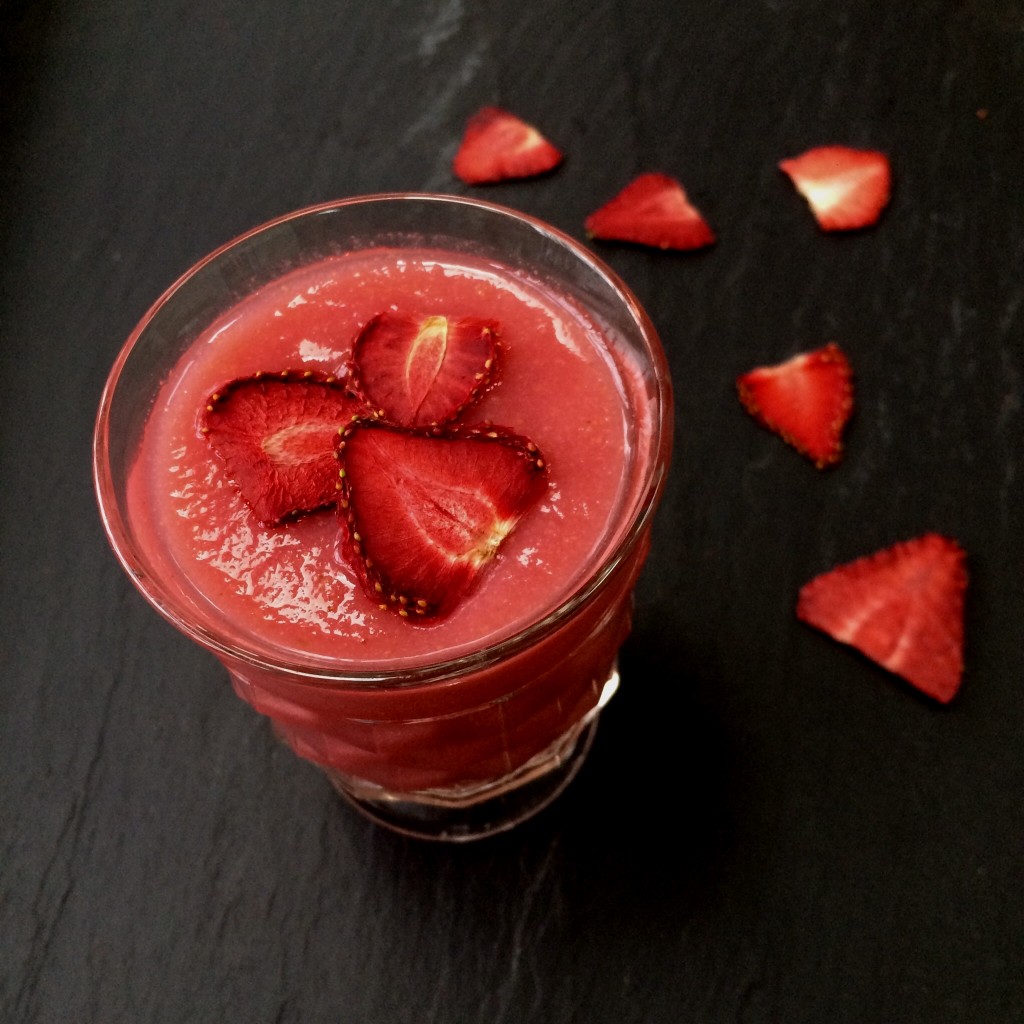 Berry, Beet & Radish Resolution Juice
Ingredients for 1 serving
1/4 cup raw daikon radish chopped
1/2 cup frozen chopped strawberries (Sweet Charlie variety)
1/2 cup frozen raspberries
1/8 cup dehydrated apple (or 1/2 cup whole apple, chopped) (Fuji variety)
1/4 cup frozen roasted red beets, chopped
1 cup chilled plain coconut water
1 – 2 teaspoons honey (with comb if possible)
Options
1/4 – 1/2 cup coconut milk replacing coconut water
Freeze into popsicles for the summer. Add some whole fruit to the mix at the end to create a pretty molded popsicle
Preparation
Put everything into a high-speed blender and starting on the lowest setting and moving up, blend it until smooth. You will need a lot of speed to blend this up. It will take no more than 2 minutes to blend.
NC Farm Notes
Strawberries – Whitted Bowers Farm
Beets – Durham Farmers Market
Apples – Eastern Carolina Organics
Radishes – In Good Heart Farm
Honey – Ever Laughter Farm