It's been raining off and on for four days now and the temperatures have not been exactly inspiring me to go outside or make cold drinks. But the sun came out early and burned off the remainder of the ugly weather so I was able to get out and hike a bit, working up an appetite for something healthy & colorful, I opted to fool around with some new smoothie recipes that I have been thinking about now that I'm getting better at using the new high-speed blender.
Orange is the color of the day. It's warm on the color wheel, but we associate it with chilly temperatures and 'winter' squash varieties. Kind of an interesting contrast. Using the IBM Chef Watson application this week, I was able to ask for several different types of recipes that would produce creamy orange drinks combining common winter ingredients from the farmers' market in unusual ways. One of the biggest issues I always face with this program is getting it to eliminate processed foods and those that are not local or in-season for me. I really try hard to make the most of what's available seasonally or items that I have put up in the freezer earlier in the year.
Fortunately, many of the recipes that looked tasty to me this week also had components that I had on hand or could get easily at the market. There's a bit of learning curve with this program, on both sides. The program learns from what we  create and the changes we make to its original instructions and recipes. There are some obvious errors that occur sometimes and have us all laughing; like the time a recipe of mine requested more than 20 pig feet! Ugh. No thank you.  But on the human side of the learning curve, we learn about new combinations that it is able to pull together from many more sources than we could ever view in our lifetime. For instance, I learned this week that I could ask for recipes in three different ways and each type of recipe I requested gave me more or less ability to ask for more or less number of ingredients without the program coughing and complaining. Ultimately, there were several recipes that balanced acidity and spices better than I could naturally.  The original recipe that inspired the smoothie was for Sweet Potato Cheesecake.
For the last couple of days, my test smoothies have focused on pairing daikon radishes with orange veggies like carrots, sweet potatoes & winter squash, along with chai spices  that the folks from Savory Spice Shop sent home with me on my last visit. I used coconut water and coconut milk as well as a blend of veggies with kefir and yogurt. I tried steeping hot coconut water in whole spices and chilling that overnight, which worked very well. Then I tried using ground chai spice with the raw veggies and liquids, which was much quicker and had great results too. But all of the initial recipes turned out a bit on the grainy side because the veggies were raw and the natural water in the raw veggies made them seem less potent than a juicing machine might create. Not bad and something I might enjoy on really hot summer days, but not something for cold rainy weather. So the next set of tests included part raw and part roasted to get the creamy texture that I love, along with more concentrated flavors since the water is essentially roasted out already.
And it worked! But here's the thing. It tastes and looks more like dessert than a smoothie….. Some of you are probably thinking, what's the problem with that? This is like a lovely soft-serve version of pumpkin ice-cream without all of the processed sugar. The fruit and sweet potato bring the sugar. Texture comes from the coconut milk and the roasted veggies which were roasted in olive oil and coconut oil (either will work for the orange winter squash varieties or just bake them plain and add the oil later if you need it). And the goat cheese adds that bit of tang. When you get it fresh from the dairy, it doesn't have that strong flavor you associate with goat cheese from years past. You can stick a spoon in it and just eat it right from the container. It's probably one of my most favorite foods when it comes in season. The good news is that it freezes and thaws incredibly well without loosing much of the texture or flavor.
So here's the lesson for today: Don't tell anyone what you put in this 'smoothie' when you make it. Dress it up with some chopped toasted pecans, maybe some ginger cookie crumbs and keep your mouth closed! Seriously. There's radish and fresh raw turmeric, real baby carrots and a ruby sweet potato along with fresh goat cheese, cinnamon, peaches, raw ginger and a date. If you need to make it a little sweeter you can add 1-2 teaspoons  of sorghum, honey or maple syrup. I think you could even swap out the cinnamon for chai spices, but I'll try that later in the weekend. And I want to try eliminating the goat cheese and heating it up for an alternative drink to the Sweet Potato Latte and Turmeric Tea recipes I love this time of year.
Here's the version that is my favorite so far. I used my own ginger-infused maple syrup in my test run, but I've made some allowances in the directions for some other ways to get all that flavor in the drink. I hope you enjoy it along with your weekend shopping at your local farmers' market!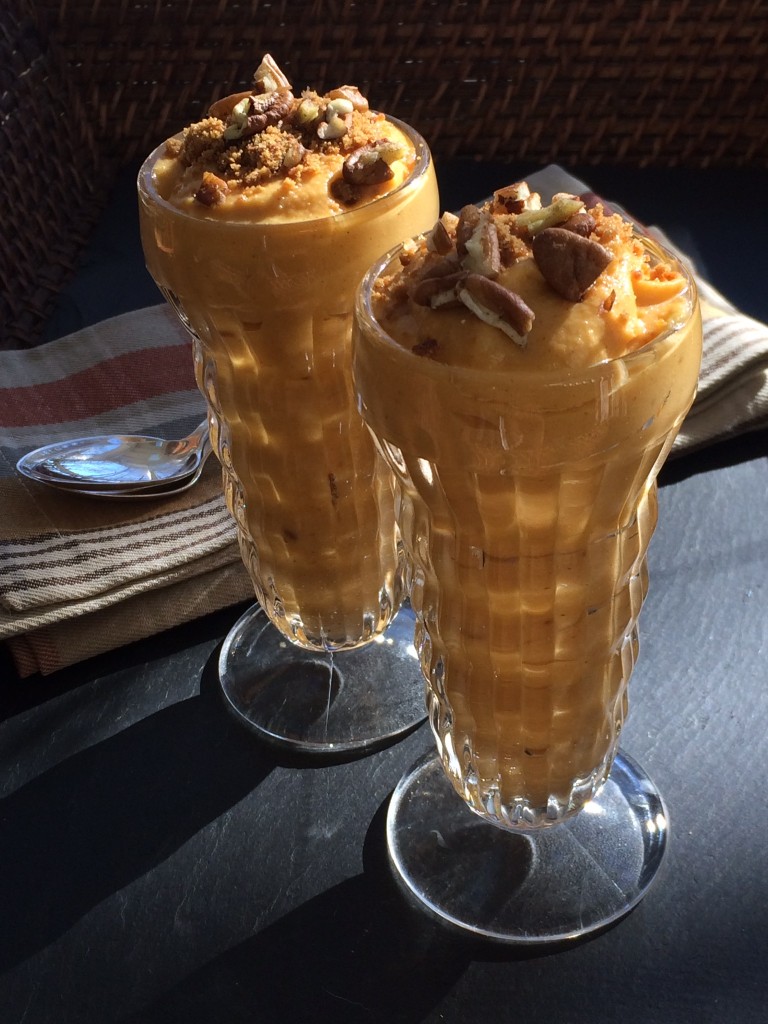 Orange Soft-Serve Smoothie
Ingredients for 2 servings
1/2 cup coconut milk
1/2 – 3/4 cup plain coconut water (more if you want thinner drink version)
1/4 cup fresh chèvre (eliminate if you can't get it locally)
1 teaspoon finely chopped raw turmeric root
1/4 – 1/2 teaspoon ground ceylon cinnamon (less for stronger variety)
1/2 teaspoon fresh ginger (outside should be pink & white) ***
1 teaspoon maple syrup, sorghum, or honey
1/2 cup chopped raw or roasted carrots
1/4 cup chopped fresh raw daikon radish
3/4 – 1 cup roasted sweet potato (can be roasted with coconut or olive oil)
1/4 cup frozen peaches, rough chopped
1 medjol date, chopped (remove the pit inside)
Optional Ingredients To Add
1/2 teaspoon vanilla extract or vanilla powder
1/4 teaspoon ground chai spice blend (will vary by maker)
Candied ginger can replace the fresh, but check sweetness levels
Ground ginger can replace fresh, use 1/4 of the amount to start
1/4 cup of pecans can be blended into the smoothie, but balance with liquid
Roasted butternut squash or other winter squash can be substituted with a slightly different result in flavor.
*** Fresh ginger from the market is delicate and tender and much less fibrous than store-bought. The flavor is much brighter than the dried out root you get at the store.
Preparation
Put everything into a high-speed blender and pulse for about 15 seconds. Then move through blending on low to medium high until you have a thick almost frozen consistency. This should take between 1-2 minutes. Add more coconut water to thin the drink or cut back the sweet potato to 1/2 cup. Serve immediately.
Notes
Most commercial coconut milk contains gum-gar or some type of thickening agent and it's processed at high temperature and put in cans that some of you might consider unhealthy. I have recently started making my coconut milk using a simple technique that I found on the internet on WellnessMama.com using shredded coconut. But there is another version using whole brown coconuts on NourishedKitchen.com that looks even more amazing, but a little more work. I used a bit of cheesecloth to really squeeze out my coconut and the remaining was very dry but great added to recipes like smoothies and soups. You'll probably still have some leftover that you might add to granola or French Toast.