Around the beginning of the year, market managers start looking for local chefs to teach summer classes. I used to do a couple of demos a week around the state from early spring to early winter. That's the sort of schedule that makes you appreciate what local farmers do to prepare for multiple markets each week of the year.  Now I teach a lesson a month with a group of young folks and it's a lot of fun because many of the kids cook at home and bring their own experiences to class.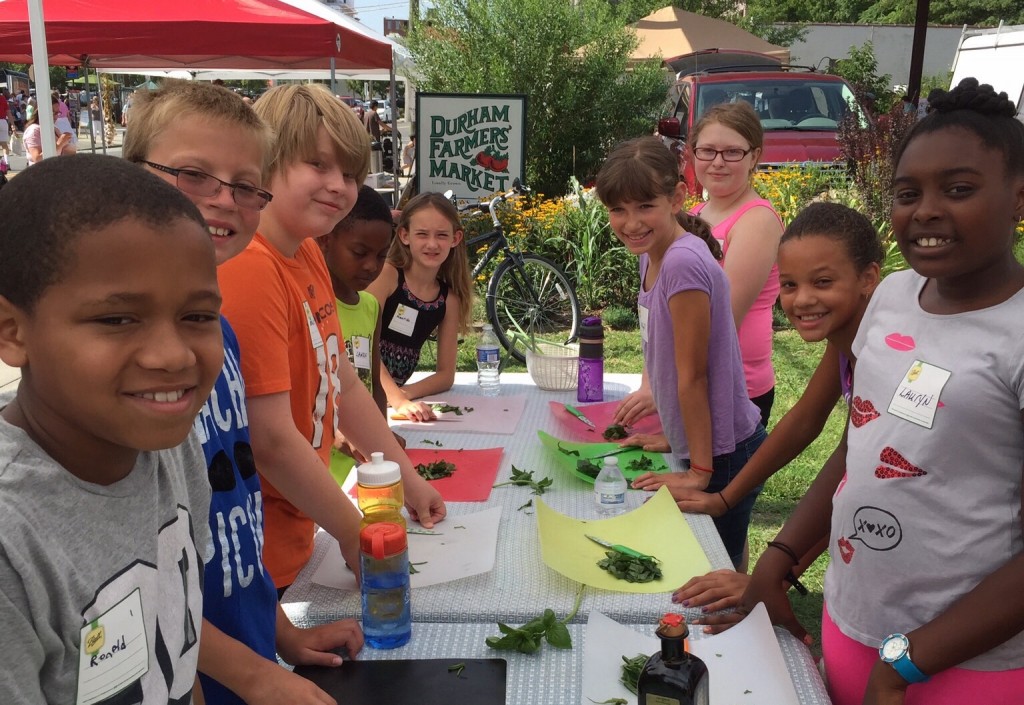 The Durham Farmers' Market has been giving these free classes for a few years. Some other markets have added classes over the years, gathering local chefs to teach. Carrboro Farmers' Market program was so popular that they filled all the spots in their summer program before summer even started! Western Wake Farmers' Market has paired with the UNC/Wellness Center in Cary to deliver classes in a kitchen space designed for teaching. Most classes are outside. We use a combination of camp stoves, butane burners, and charcoal grills for cooking.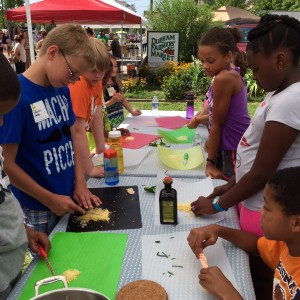 All three of these markets offer hands-on classes where the kids get a chance to shop, clean, cut, blend, grill, and cook local ingredients. It's an opportunity to connect with creative young minds and explore food pairings and techniques they might not have tried at home or at school. This is the beginning of a path based on local food that they will hopefully build on and adapt throughout their life.
Normally there's just an hour or less to do the actual cooking after we gather up the ingredients and talk about the recipe. The knives, cutting boards, and other 'essential' tools we find in our own kitchens are diversified, but at the market, you've got miniature versions of these items to fit smaller hands. Giving each participant time to practice each step means you need a recipe that is fairly easy and flexible in case someone dislikes one or more of the ingredients or needs some extra time to engage in a new skill.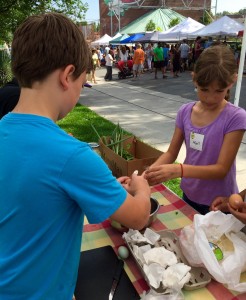 Saturday was toasty and humid by 10 am and most of the farmers had already been up a few hours packing the trucks, driving, unloading and filling orders from local restaurants and market patrons. The market was crowded, so it was kind of a challenge to take a dozen of us around the market together. The kids were great and we managed to pick up our ingredients from each of the farms quickly. All of the farmers graciously spent  time talking with us. I don't think you can replace that sort of interaction at any grocery store.
Gathering up our food in a little card board box, we went to our tents and spread out around both sides of the tables. The kids put on gloves, which didn't last long in the heat. And they got their knives and boards ready. A few volunteered to wash and dry the veggies and eggs. We try to give each of the kids time to try out every part of the process. Most of them enjoy chopping up veggies and carefully pulling the leaves off of herbs. But not all of them want to break or whisk eggs, so they get to do other things like grate the cheese or cook the pasta.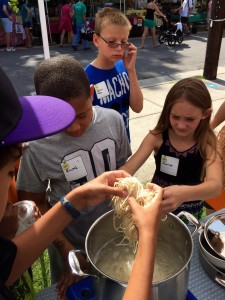 So far, I've had fun teaching classes on smoothies, frittatas, raw noodle salads, grilled flatbread pizzas, tapas, and this week, spaghetti for breakfast at the Durham Market. AKA Carbonara as the adults know this dish. Any season is perfect for carbonara. Fresh and aged cheeses are plentiful at the farmers' markets, along with an assortment of meats and vegetables throughout the year that can be used.
Carbonara started life as a simple meal that shepherds could make while herding their flocks across the landscape for days on end. Using cured meats, foraged eggs, dry pasta and cheese, this meal is typically made in one pot. It's the perfect recipe for any season if you think a little outside the box. Perfect for Chef Watson too, because this class required a vegetarian recipe. Gone was the smoky pork you normally think of using in a traditional carbonara recipe. My standard sub for this element is shiitake mushrooms sliced thin and cooked fast in hot olive oil with Alder wood smoke salt and Mesquite & Applewood smoked peppercorns. This combination seems to yield a crisp texture and smokey flavor to contrasts the creamy cheese sauce.
After a year of working with Chef Watson as a beta tester, I am pretty good at manipulating the program to find substitutes on my own, but the latest version, the one all of you can sign up to use, provides a window for each ingredient where you can select an alternative. The program will reconfigure the recipe each time you make a new selection. Easy, even for young chefs to use!
This is where IBM's Chef Watson and the teacher blend. Giving kids permission to break out of a standard rule book of recipes and create something new on their own. The teacher brings some easy techniques and parameters to help the kids be successful in the kitchen. The computer application helps identify new combinations that we might not have originally considered. Experimentation with local farm food. I can't imagine anything more fun!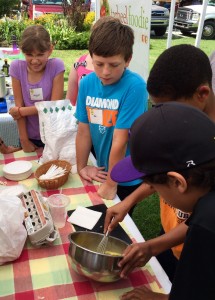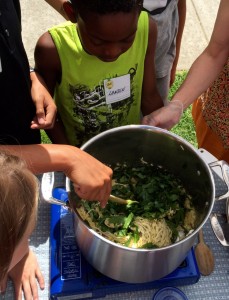 All the kids had a wonderful time sharing stories about summer farm camps and their cooking adventures. Spreading the word about local food is part of the charm of these classes and what makes this experience unique among others.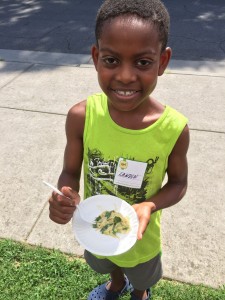 Most of the kids came back for seconds or grabbed a plate for their parents which was a good sign. Remember that you can change the greens with each season. The mushrooms can be cooked and refrigerated or frozen in advance and any local ones will work. Fresh herbs are available almost year round, but dried will work just fine. And this is great with or without the farmers' mustard. The one I like to use is most like a Country Dijon, but not quite as spicy. Our eggs were fresh, but frozen, beaten eggs tend to be more creamy from freezing, so consider putting some up for this and other baked recipes when they are plentiful at the market.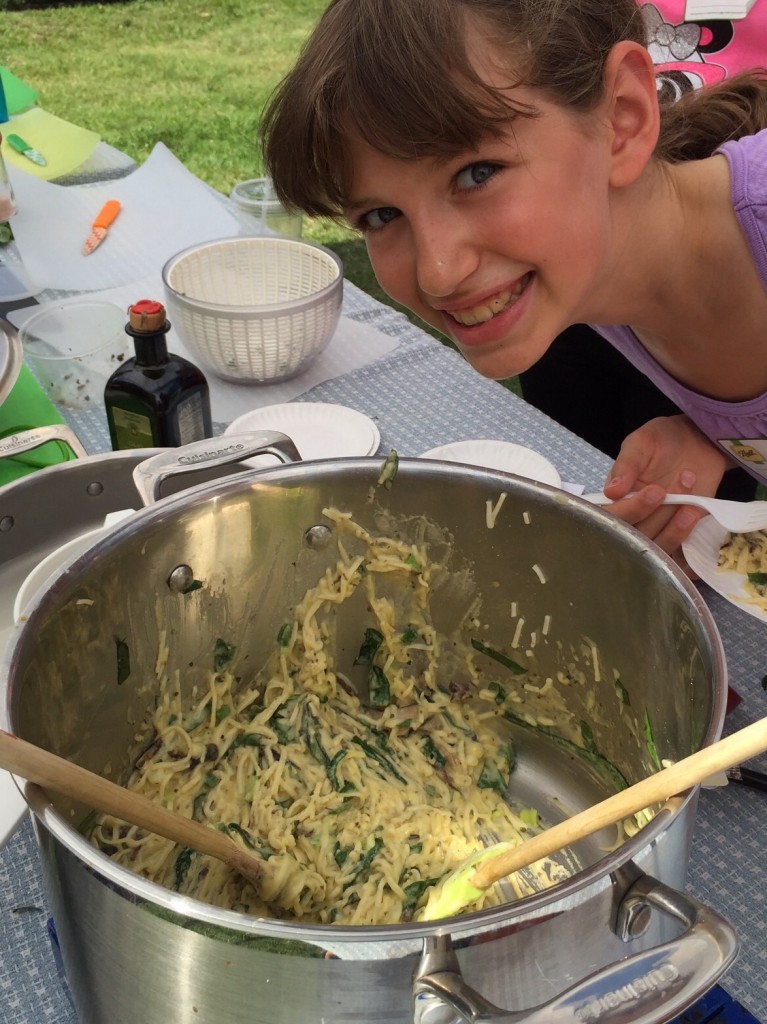 Spaghetti for Breakfast or Carbonara at the Farmers' Market
Ingredients
1 lb fresh spaghetti or 6-8 oz dry spaghetti
1/2-3/4 cup cooked chopped shiitake mushrooms
2 cups julienne cut spinach
1/4 cup julienne cut fresh basil or parsley
1-2 teaspoons farmers' mustard (or dijon country style)
3-4 eggs at room temperature
1/2- 3/4 cup grated Chapel Hill Creamery Calvander grated or Asia type local cheese
1 cup pasta water
Optional Addition:  1/4- 1/2 cup grated smoked local Farmers' Cheese from Chapel Hill Creamery, Lindale / Gruyere from Goat Lady Dairy or Campo from Boxxcar Creamery
Optional Addition: 1/4- 1/2 cup bacon pieces (or slab cut up into pieces)
Olive Oil
1/2 teaspoon Salt &  1/4 teaspoon Pepper
Preparation
Rinse & cut all of the greens and herbs. Set aside.
With a damp paper towel, gently clean the mushrooms and thinly slice the tops (save the stems for stock or to cook slowly until tender for another meal).
In a large bowl, lightly beat the eggs until they are blended. Add the grated cheese, salt & pepper. Set aside.
Sauté the mushroom slices in olive oil for a couple of minutes on high heat, until they are cooked through and a little crispy. Remove from heat and chop. Set aside.
If you are using raw meat, cut it up into bite size pieces and cook on medium heat until completely cooked through, about 5 minutes
Cook spaghetti according to the package directions in boiling water.
Drain the spaghetti, saving a couple of cups of the hot pasta water to temper the eggs & cheese.
Put the drained spaghetti back into the hot pot with a splash of pasta water so it doesn't stick and add the mushrooms and greens.
Add about 1/4 cup of hot pasta water to the egg and cheese mixture to temper the eggs, bringing them up in temperature so they do not scramble when they are added to the hot pot. Quickly pour the eggs and cheese into the hot pasta. Stir vigorously so the eggs adhere to the pasta and form a creamy sauce. Thin the sauce with more pasta water if it appears to be thick. The hot pasta will cook the eggs in a matter of a couple of minutes.
Serve warm.
Notes
Frozen, beaten eggs that are thawed create a more creamy sauce than fresh eggs. The freezing process changes the consistency of the egg yolks. Dry pasta will absorb the egg sauce better and is more authentic for this dish that was historically prepared by shepherds in the field moving flocks.
Alternatives
Try adding chopped dehydrated Sun Gold tomatoes, herbs and bacon pieces with some greens – think BLT.  Or, change the original recipe to oyster mushrooms and add chopped chicken and thinly sliced greens – think Chicken Florentine. How about leftover meatloaf crumbled into the dish with sautéed onions or fresh chives and thyme?  I've added links to some other alternatives that Chef Watson came up with when I was planning my class.
Durham Farmers' Market Vendors 
Other Chef Watson Recipes for Carbonara by a different name:
Mushroom Spaghetti with Creamy Eggs & Herbs
Spaghetti Pasta with Fried Eggs & Goat Cheese