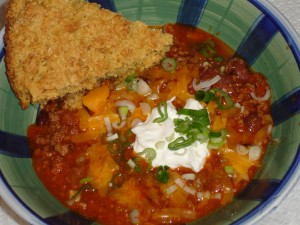 When I travel, I take lots of recipes with me because I never know what sort of pots and pans are going to be available or what local ingredients I might find when I arrive. Looking through my recipe files I have several recipes that I actively use for chili and a couple different ones for cornbread and most of the time I take these with me because they are easy to cook for a crowd.
As it happened last week, the house where I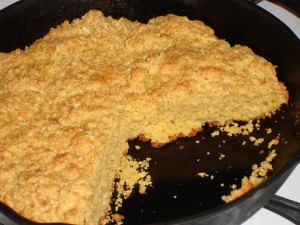 stayed was equipped not only a cast-iron griddle for pancakes, but a cast-iron frying pan which was just the right size for skillet cornbread. There were also huge old pots along with a great assortment of gadgets and a big pull-out butcher block that you use to shell beans or to hold extra items when you run out of counter space. Later I learned that the home owner was the granddaughter of a couple that owned a large beach hotel and this was the salvaged kitchen gear from the hotel was torn down years ago!
This recipe comes from a dear neighbor who recently passed away after a relentless battle with lung cancer this past year. She always made this for our annual Halloween party. She loved being at the beach more than any other place so it seemed appropriate to make it in her honor last week for our family and visiting friends.
Kack's Corn Bread
Ingredients:
2 large eggs, beaten
1 (8 1/2 oz) low-fat sour cream
1 (8 1/2 oz ) can cream style corn
1/4 cup vegetable or olive oil
1 cup self-rising cornmeal
More oil for the cast-iron pan
Preparation:
Preheat the oven with an 8″, or thereabouts,  cast-iron pan in it to 400F.
Mix the eggs and oil together until well blended
Then add the sour cream, and corn to the eggs. Mix until it's smooth.
Add the wet mixture into the cornmeal and quickly blend with a spatula until it's just folded together and everything is incorporated.
Pull the hot pan out of the oven and carefully put about 2 tablespoon of vegetable or olive oil in the pan. Swirl it around to coat the sides and bottom of the pan.
While it's still hot, quickly pour the batter in the pan and put it back in the oven to bake for 30-40 minutes until golden brown.
Notes:
If you don't have self-rising cornmeal than you can mix 1 tablespoon all-purpose flour, 1 tablespoon baking powder and 1/2 teaspoon salt added to 1 cup of regular corn meal.
This recipe was originally intended to be poured into a 9″ square pan and it works equally well cooked in that manner.
You can add  hot peppers to this as well as 1/4 cup of grated cheese.