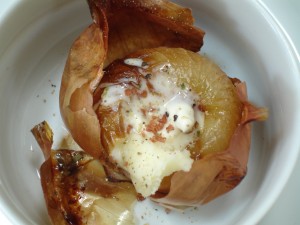 This recipe from Andrea Reusing's new book "Cooking in the Moment".  I tested it this past week on a whim because the photo was lovely, and, well, I really like onions. I decided to use some sweet onions from the stash I purchased at the farmers' market a few weeks back. I selected some small ones ranging from 3.5 to 4.5 ounces. They fit easily in your hand and are a great side serving to a steak, meatloaf, veggie casserole. Seriously, these are good! The upside is that they take less than the hour to roast if you choose some smaller ones. You can roast these in the oven or on the grill  and the smaller size take anywhere from 35 minutes on up. They won't be totally brown at 35 minutes, but they are certainly tender and cooked all the way through. The smell is amazing.
You know I hate clean up in the summer so I decided to put these in some aluminum foil in a  little aluminum pan and shoved them into the grill with the lid down while I was roasting some other vegetables. The temperature varied a bit, but I can report that these still turned out great despite the fluctuations and there wasn't much to clean up.
The result of this method of roasting the onions in their skin is outstanding and only gets better when you add a little local butter and creme fraiche which I happened to have for another recipe. Sour cream would be nice, but not nearly as interesting. It only takes about a teaspoon of each on the smaller onions for added flavor. I also used a Red Hawaii Kai Sea Salt and some mixed fresh peppercorns. The recipe is simple.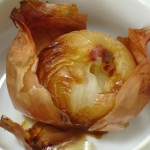 Andrea Reusing's Whole Roasted Onions from "Cooking in the Moment"
Pick good onions ranging in size from 3.5-4.5 ounces
Leave the skins on but brush off the dirt
Place upright on some aluminum foil
Roast at 425F for at least 35 minutes and up to 1 hour
If you choose larger onions your roast time will be closer to 45-1 hour or more
Let them cool 5 minutes
Pierce with knife and spread them out a bit
Add your creme fraiche, butter, salt & pepper
Enjoy