This salad is all about emptying out the veggie drawer in the refrigerator and finding a couple of remaining items from last weekend that you forgot about. Luckily, it's colorful, simple, versatile and fast to throw together.  It stores in the fridge for a couple of days and you can fake everyone out by using golden beets and heirloom carrots of every color. The way the flavors meld together, people will have a hard time figuring out if they are eating shreds of carrots or beets. The toasted pumpkin seeds add some lovely texture and the apples add a fragrant sweet juice to the mix. While this salad looks like the butternut squash salad, it tastes much different because the dressing doesn't have mustard and the beets and carrots provide a different set of flavors from butternut squash.
I also tried adding some organic raisins, chives, a little green onion, and some chevre in the salad so check out the notes below on when to add which ingredient. The flavor changes pretty dramatically with each one but they all had their merits. This can be served on a bed of baby greens with a bowl of soup or a toasted cheese sandwich. It also makes a  healthy topping for a shredded pork or grilled chicken sandwich at lunch.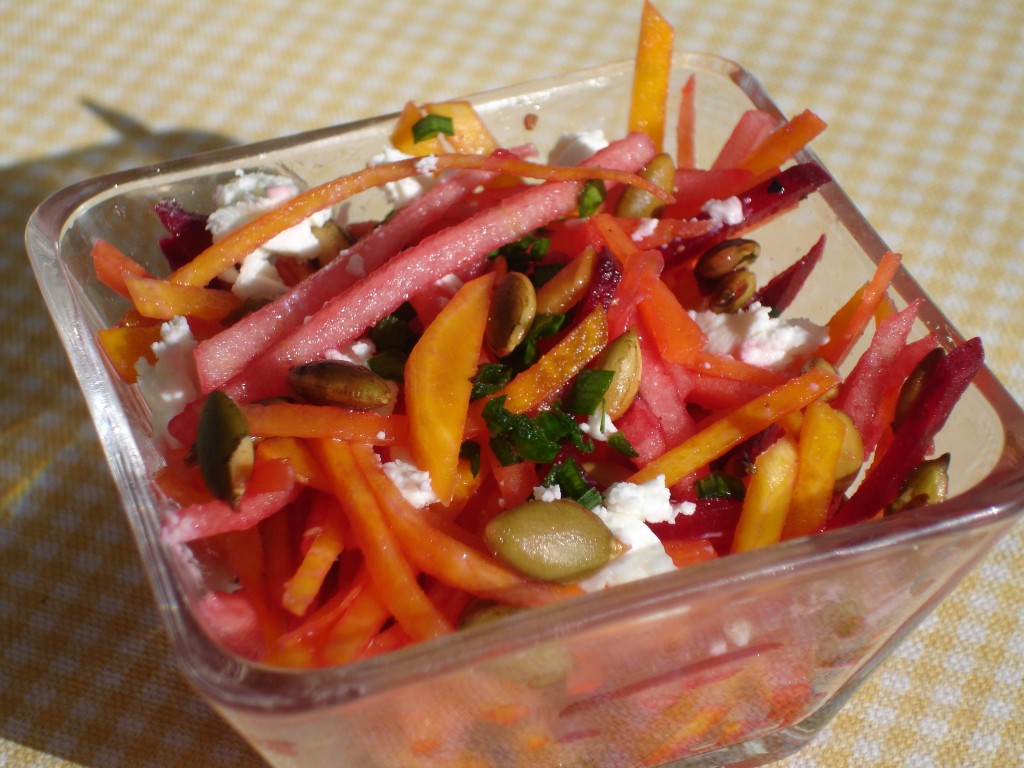 Beet, Carrot & Apple Salad with Pepitas & Chevre

Ingredients
12-16 oz golden beet
8 oz red beet
4-6 oz carrot
4-6 oz crisp firm sweet apple (Fuji)
2 tablespoons raw unsalted pumpkin seeds
1 teaspoon chives, finely chopped
2 teaspoons green onions, finely chopped
Optional
1 tablespoon chevre
1 tablespoon organic raisins
Dressing
1 teaspoon maple syrup
2 teaspoons white balsamic vinegar
1 teaspoon olive oil
1/4 – 1/2 teaspoon Murray River Flake Salt
1/8 – 1/4  teaspoon fresh ground pepper
Preparation
Julienne the beets, carrots and apples. Mix them together in a bowl and set aside.
Toast the pumpkin seeds in a dry non-stick pan on medium-low heat or in the toaster oven until they start to turn light brown and pop. Add to the mixed vegetables.
Finely chop the chives and green onions and add to the mixed vegetables.
Mix up the dressing and adjust the taste. If you prefer tart dressing, add 1 teaspoon of balsamic vinegar. If you like more spice, add 1/4 teaspoon mixed fresh ginger. You can eliminate the oil if you want stronger flavor all around. The oil helps "deliver" the other elements to the vegetables.Add the dressing to the mix and toss lightly to coat.
If you are going to use this as a side salad to a sandwich, try some raisins and chevre in the salad right before you serve it to keep those flavor and colors distinct. If you are going to use it on a pulled pork sandwich, it might be better to leave the raisins and chevre out of the salad.