While I'm a fan of licorice, I can't say that I know many people who are, especially in my family. So you can imagine the noises and faces that were presented when I came home with a half-dozen fennel bulbs and substantially more in onions. In the end, I had one convert, but that's not to say you shouldn't try this. If you don't absolutely hate licorice, this is a recipe that might change your mind about cooking with it. The licorice flavor all but disappears in my mind as the onion and fennel give way to a delectable golden brown color of rich sweetness. Honestly, I can eat this stuff plain with a fork right from the pan.
One thing to note when you go to make this is that the recipe calls for "wet" sweet onions. The term refers to the way that the farms harvest onions. When they are first pulled from the ground they have a lot of water in them and they have not been "cured" outside in the sun to dry them out. They are delicate and they will rot if you hold them too long. So the farms start to cure them so they can continue to bring them to the market. What really works well about the "wet" onions is that the moisture content is so high it allows you to really slow cook these without adding a lot of oil or worrying about burning them. So opt for the wet onions on this recipe if you can still get them. They tend to go out about the same time as the fennel bulb begins to bolt.
Going in search of something to pair the final recipe with was a challenge. There are not many sustainable farms making  chicken sausage and that's what this is really good on. I found Rainbow Meadows Farm at the NC State Farmers Market and picked up a package of the Italian spice chicken sausage.  Get yourself a  lovely local hot dog bun and you're set for a late spring Sunday afternoon dinner or and early supper.
This is a super simple recipe and one we're going to make at the market this week. What I love about this one is that it freezes so you can make up a bunch and have it for months. I think this would be really good with sausage served over German spaetzle with a bit of sauce created by adding a touch of cream at the end or after you pull it from the freezer. It also lends itself to a grilled sandwich with some cheese like Chapel Hill Creamery's Hickory Grove with the leftover cooked sausage being sliced on a diagonal  or using some pulled chicken with fresh herbs like thyme and rosemary. And for an easy appetizer, just slice up some New Moon from Chapel Hill and place it on a cracker or baguette with the roasted fennel. You may need to add a bit of salt to this one because in other situations, the sausage and chicken spices provide some salt, but depending on the cracker or baguette, you'll need to add  a touch.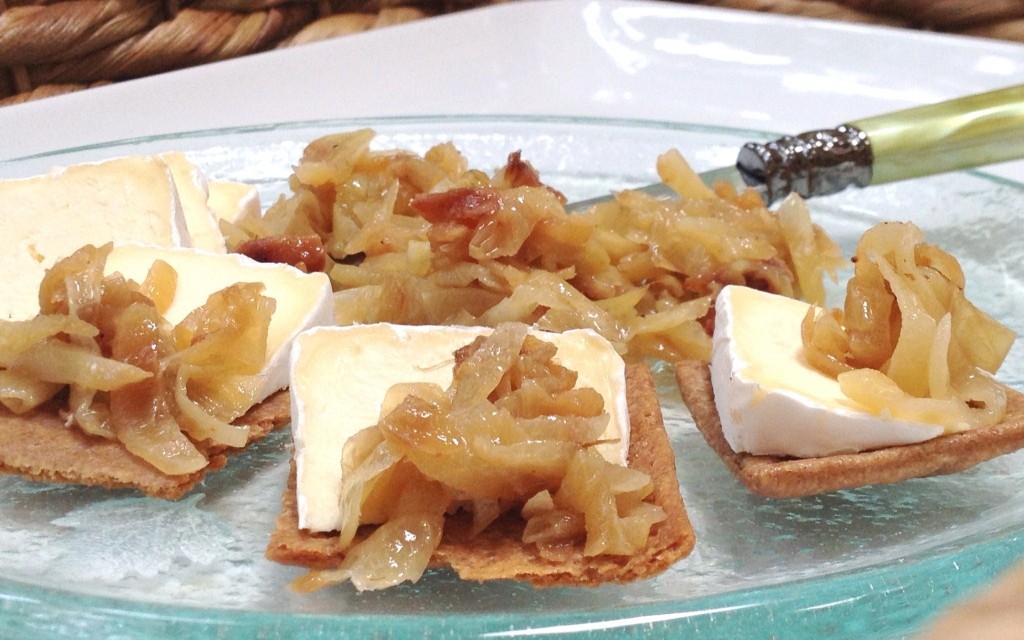 Slow Cooked Fennel Bulb & Sweet Onions
Ingredients
4 cups thinly sliced fennel bulb
4 cups thinly sliced "wet" sweet onions (Candy variety works well)
2 tablespoons olive oil
Chardonnay Oak Barrel Smoked Salt
Mixed peppercorn blend
1 tablespoon local unsalted butter
Preparation
Heat a Using a stainless flat bottom casserole type pan on medium heat until warm and add olive oil and butter to melt.
Once melted, spread the sliced fennel and onions in a single layer across the pan and toss to coat with oil and butter.
Cover and keep the mixture cooking at medium to low, stirring occasionally to keep from burning. The onions should provide enough water for the mixture. If it starts to stick or cook too quickly, reduce the heat to low. The goal is to slowly cook this over a 45 minute period. Too fast and the fennel won't soften enough and the onion will turn bitter instead of sweeter.
Notes
To make a sauce for noodles with chicken, add some cream at the end and blend well. Then add pieces of pre-cooked chicken and blend until the chicken absorbs some of the sauce.
Works well on top of Chicken Sausage with Italian type spices or paired with a young soft brie
Mix into goat cheese and add some fresh thyme or rosemary chopped fine along with a little salt & pepper for a super fast appetizer
Use on a grilled cheese sandwich along with some fresh chopped cabbage on local bread.
Will freeze for you to use later or travel with it.