This recipe was inspired by a lovely breakfast I had at Cafe Helios a couple of weeks back. It really hit the spot on a chilly Sunday morning when I didn't feel like cooking but I did feel like eating well. The original dish used purple potatoes but I wanted to use all rutabagas because they are in season where potatoes have been stored since the end of summer.  And, Murray Cohen (Cohen Farm) had gone out to the garden to dig me out some very fresh rutabagas when I was at the farm picking up the sausage and eggs.
For those of you that visited the Remodel Expo at Kitchen & Bath Galleries in Raleigh, this is the base recipe that was served in the Sub-Zero / Wolf Kitchen. You can make this vegan, vegetarian or add some local sausage. It's a hearty meal anytime with a couple of poached eggs on top and some wonderful baby arugula from the market under all of it. Have some fun with your family by using different colored carrots and sweet potatoes for this recipe. You'll have everyone guessing as to what each vegetable piece really is in the dish.
The great thing about this recipe is that you can basically make up all of the ingredients ahead of time and portion out smaller amounts as you need them from the freezer or you can bake this in a casserole dish and serve to a group of folks (remember to use a little parchment in the bottom of the casserole to avoid sticking).  I know you hear that from me a lot, but if you're on the go, these simple strategies of making ahead and portioning food in the freezer saves you a ton of time later. You'll also find yourself eating healthy in a fraction of the time using seasonal ingredients. Either way, this is simple and requires nothing but olive, good salt & fresh ground pepper. You can add some fresh herbs like thyme and rosemary if you have them along with roasted garlic and slow cooked onions to customize this for your own family.
Normally I roast all of the veggies separately in large batches and portion them out for freezing. This allows me to cook each one perfectly. But if you want to just make a large batch with everything combined, that is possible too and I've written the directions to accommodate that technique. You will just need to add the vegetables to the cooking mix at different times so you don't over-cook any of them. Rutabagas will take the longest to roast and I like using some blend of rosemary, thyme and oregano along with smoked salt and smoked peppercorn on these with the olive oil.  An Italian Blend of dry spices will work just as well if you don't have fresh in your garden.
The sweet potatoes will go in second and then the parsnips and lastly the carrots. Typically I prefer just a simple treatment of Himalayan salt & Four Peppercorn Blend on these three veggies with a light coating of olive oil. All of the veggies roast at 425F and I prefer to use some parchment paper in the bottom of the pan to avoid sticking and minimize the use of the olive oil. This allows for browning.
All of the veggies should be chopped to bite-size pieces about 1/2-1 " in size. Smaller pieces can take less time but may fall apart when you go to reheat. If you choose to go smaller, don't fully cook your veggies so they can finish in the pan when you re-heat them later. I've written a recipe to easily feed two people so you can increase  the amounts for more servings or leave it the same for a side dish for four people.
If you have some concerns regarding glycemic values of the different root veggies, there's a wonderful article posted at NCSU's site for sweet potato cooking methods and starch content. There's some additional information at the Whole Foods Website on cooking methods for sweet potatoes as well. And lastly, here's a great  list of sweet potato descriptions based on their skin and flesh colors. Two of my favorites for this recipe are Beauregard and Garnet because of their rich orange color. But be my guest to use the purple ones too!
To add some additional color, I have used the red, yellow and purple carrots and baby parsnips tend to be an ivory color and less spicy than older larger ones. Rutabagas are a great substitute for potatoes and they roast up well with a hint of sweetness to them. I find they hold up better in this dish than potatoes. I save the potatoes for the Potato & Beef Hash recipe that uses a little milk instead.
Select whatever sausage you would like for your meal if you are inclined towards meat. Local Pork and Venison (hunting friends) sausages have worked well so far in tests. I think chicken sausage might be a bit light with the root veggies but if you try it, please let me know what you think!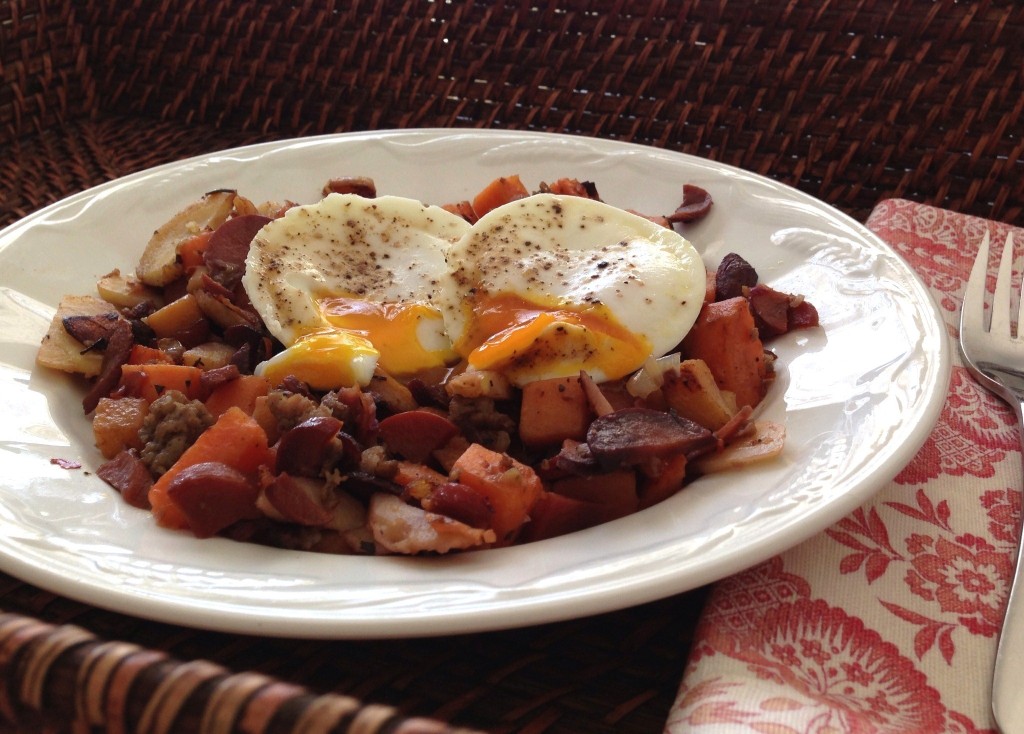 Root Vegetable Hash with Sausage & Eggs
Ingredients for Two-Person Serving
1 1/2 cups rutabaga: washed, skinned & cut into 1/2″ – 1″ cubes
1 cup sweet potato: washed, skinned & cut into 1/2″-1″ cubes
3/4 cup parsnips: washed, skinned & cut into 1/2″ cubes
3/4 cup carrots (darker colored red & purple if available): washed well, cut into 1/2-1″ cubes
1/4 cup sautéed onions (optional)
1/2 teaspoon roasted garlic (optional)
1/4-1/2 cup olive oil
1 teaspoon Himalayan Salt (substitute 1/4 teaspoon of Chardonnay Oak Barrel Smoked Salt with rutabagas if you have it)
1/4 teaspoon fresh cracked pepper (Four Blend Peppercorn)
1/2-1 teaspoon fresh chopped rosemary (for rutabaga only)
1/2 teaspoon fresh chopped thyme (for rutabaga only)
or 1 teaspoon dried Italian Herb Blend
2 teaspoons butter (optional)
1/2 lb sausage, cooked (optional)
Preparation to Serve Immediately
Pre-heat the oven to 425F
Line a heavy-duty baking sheet with parchment paper spread the rutabagas on the sheet. Turn lightly with 1/4 portion of the olive oil, 1/4 of the salt & pepper. If you have spices, toss these with the rutabaga. The vegetables should be lightly coated in oil.
Bake at 425F for about 7 minutes.
Add the sweet potato and parsnip cubes and 1/2 of the portion of salt & pepper and enough oil to coat lightly.
Bake all three vegetables for another 7 minutes or so.
Add the carrots and toss with remainder of salt, pepper and oil to coat.
Bake all of the vegetables another 7 minutes or until they are lightly browned or soft to your preference.
Serve with poached eggs and arugula.
Alternate Preparation Method with large stainless or cast iron skillet
Separately toss all of your veggies with olive oil, salt and pepper. Toss the rutabagas with herbs if you have them.
Bring the skillet (you may want a lid for this) up to medium heat.
Pre-cook your sausage if you plan to use it. Wipe out the skillet with a paper towel when you are done, pulling out most of the leftover grease.
Reheat the stainless skillet a little more than medium because it will cool down faster when you add the veggies. Be careful heating the cast iron skillet too hot so you don't burn the veggies when you add them.
Add a teaspoon of olive oil to the warm skillet. Start the rutabagas in the skillet. You won't need to toss these too much. You may want to add a lid to keep the mess down. Cook for about 5 minutes.
Add the sweet potatoes and the parsnips and cook another 7-10 minutes.
Add the carrots and finish cooking all of the veggies until they are lightly browned or cooked all the way through. Using the lid will keep the pan warmer so watch for burning or cooling and adjust your heat.
Serve with poached eggs, sausage and arugula or as a side dish.
Notes
Onions come into season in the summer and we roast more than 50 lbs of them for our household alone. They take a while to slow cook and caramelize but in a recipe like this, they are invaluable for flavor. If you don't have onions pre-cooked, start the recipe off by cooking your sausage if you are using it. After you clean the grease out of the pan, add the onions with a little bit of olive oil and butter and slow cook them for about 15 minutes and then you can add the vegetables and continue to cook them with the root vegetables, just being careful not to burn them.